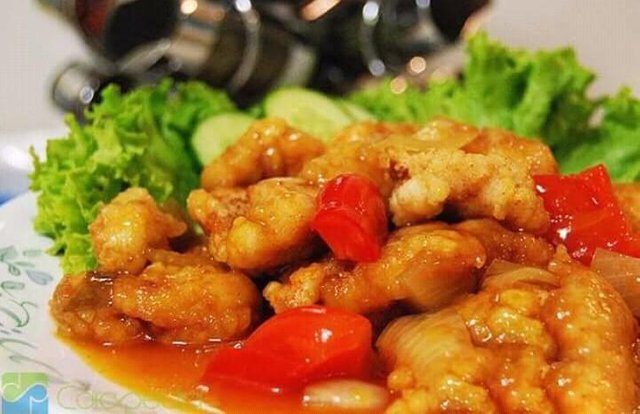 Chicken main ingredient:
200 grams chicken thigh filter, cut into small pieces
1 chicken egg, shake off
right amount of oil
¼ teaspoon pepper powder
½ teaspoon of salt
2 cloves of garlic, puree
Seasoning of kuluyuk chicken coating:
100 grams of medium protein flour
20 grams of cornstarch
¼ teaspoon pepper powder
¼ teaspoon chicken powder broth
Kuluyuk chicken sauce ingredients:
1 tbsp of sago flour, mixed with 1 tbsp of water
100 grams of pineapple, cut into boxes
½ teaspoon vinegar
300 ml of water
2 cloves of garlic, finely chopped
2 tbsp cooking oil
¼ teaspoon of salt
¼ teaspoon sesame oil
½ onion, cut the box
½ teaspoon vinegar
100 grams of tomato sauce
1 teaspoon of sweet soy sauce
1.5 teaspoons of sesame oil
How To Make Chicken Kuluyuk Sweet Spicy Sauce:
Spread the chicken with salt, pepper powder and garlic. Then dip into the eggs that have been in the shake off then roll in the available coating material.
Hot cooking oil, after hot fried chicken that has been full of flour until it changes color and matures.
For sauce ingredients: Heat cooking oil and then stir-fry onion large red peppers and garlic until fragrant, then add the pineapple to stir again until wilted.
Enter tomato sauce, sugar, chicken powder, sweet soy sauce and salt and stir until all the ingredients are well blended.
The next step, boil water until boiling then dissolve the sago flour until thickened, then cook until bubbling and add sesame oil and stir vinegar until blended.
Prepare kuluyuk chicken meat that has been cooked and pour the sauce.
Enjoy the chicken kuluyuk delicious sauce.
Thank and do not forget follow me @romialfian01