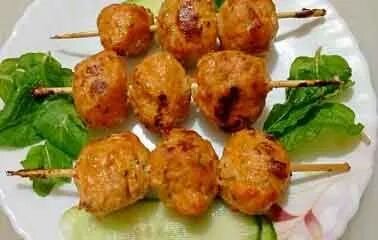 Elements:
Chicken Kima - 1 cup

Egg-1

Salt to taste

Testing salts - Wish

Flour - 2 tea tea

Cornflower - 2 tea tea

Koti pepper bata- 6

Round Chilli Powder - 1 tea tea

Lemon juice - 1 tea tea

Sugar - 1/2 tea tea

Ginger, garlic paste - 1 tea tea

Tomato sauce - 1 tea tea (wishes)

Oil is like the amount for frying

Method
Take one spoon of chicken in it and add one ginger, garlic, salt, lemon juice, sugar, testing salts, sauce, glassware, and pepper coconut.
Eggs will be well mixed with kima. After all the flour and corn flower must be mixed. Kima will be a little glue type, but there is nothing to worry about.
Boil water in a bowl. Take a little bit of oil in the hands and take a little minus. When you put it in the hand, you will see the kimata in the shape of a small ball, then you have to cut the ball with a little oil in a small spoon. After that, you have to leave the stove in the water that is boiling before.
In this way, all the balls will be made in the boiling water. The balls themselves will swell a little swelling. Give the ball a little bit. After 10 minutes check whether the balls have been boiled. If not boiled, leave it for 4/5 minutes. With the help of holes in the holes, the balls will be lifted and released in cold water with ice. This will be 10 minits.
After that, water will be taken away from the water. Heat the pancakes with oil in the stove, so that the balls should be lighted in color.
See if you have spongeji like spicy chicken balls ???
Then serve the hot sauce with a wooden sauce in a wooden stick, and the delicious chicken ball in the taste of the sipi.