No Bake Chiffon Cupcake with Ube Boiled Icing
No Bake Chiffon Cupcake with Ube Boiled Icing
What's up guys! I am excited to share my other skills here in steemit. I love to bake cakes and pastries but i don't have an gas range oven so i made an option to bake on a steamer. Yes, i used steamer for this recipe and i will show you how i did it. Hope you enjoy, let start...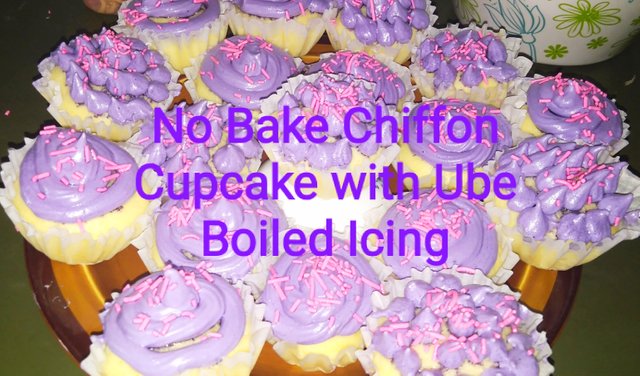 Ingredients:
---
For the Batter
1 ¼ cup of APF
1 cup of granulated sugar
3 egg yolks
½ cup water
1 tsp of baking powder
½ tsp of baking soda
¼ cup of oil
1 tsp of vanilla extract/lemon zest
A pinch of salt

For the Meringue
3 egg whites
¼ tsp cream of tartar
¼ cup of granulated sugar
---
For the Boiled Icing
3 egg whites
1 cup of granulated sugar
1 tbsp purple yam flavoring
1 tsp of voilet liquid food coloring
¼ cup water
¼ tsp cream of tartar
---
Procedure:
Batter:
Mix the wet ingredients. (APF, b.powder, b.soda and salt,) set aside.

Mix the wet ingredients. (Egg yolks, sugar, oil and water)

Combine the wet to the dry ingredients. Gently fold in using a spatula or a whisk. Then add on the vanilla and mix it well. Set aside.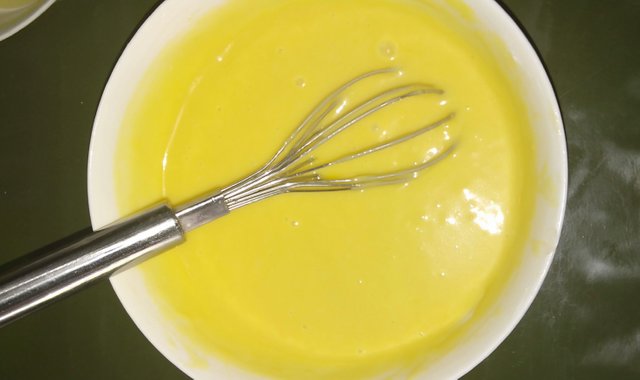 Meringue:
Whisk the egg white using an electric mixer on a medium speed until it is foamy. Gradually add the sugar and adjust the speed to high until you see a stiff peaks like this.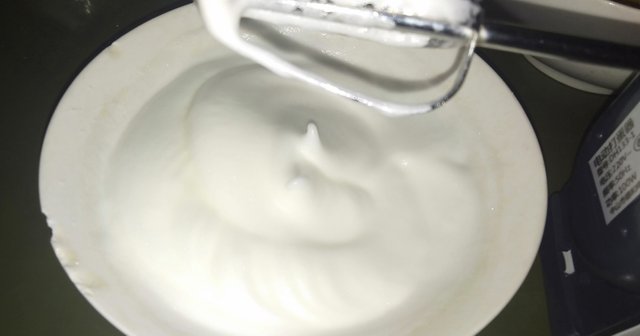 Combine this mixture to the batter using a spatula. Gently fold it and be carefull not to over do it because it will affect the bubble/air that we created on the meringue. It will not rise that much if we lose it like a chiffon/sponge cake.

Pour out the batter on a cupcake molder with liners and put inside the pre heated steamer and cook for 10-15 minutes on medium to high heat. Do the toothpick check if it is done.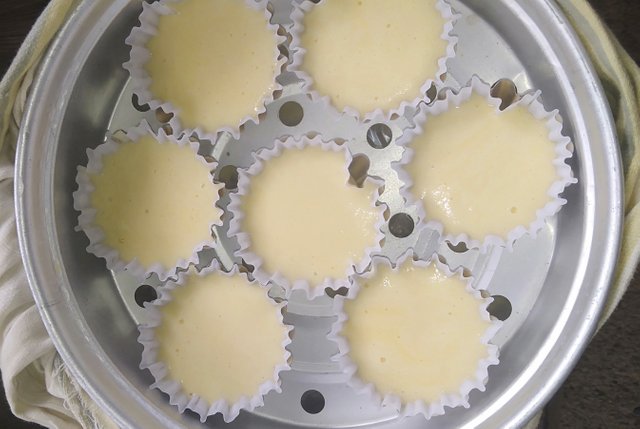 Boiled Icing:
On a sauce pan melt the sugar with ¼ cup of water and bring to a boil.

Beat the egg whites and cream of tartar until foamy.

While whisking, pour out the melted sugar to the meringue and beat on high speed until stiff peaks form.

You can now add any food flavorings or food colors you wish to do. I made and ube flavor icing here.

---
Here is my finish product! Makes 18 pcs. Hope you like it and give it a try.