My friend started to grow mushrooms in her house. One day when they grew she was amazed (and so were we) when she saw she had 4 different colored mushrooms. Pink, yellow, white and grey. She was selling them for 90 pesos 1/4 kilo. I requested the colored ones but they were already reserved so I got a mix of the grey and white. I grabbed her pictures with her consent so I can show them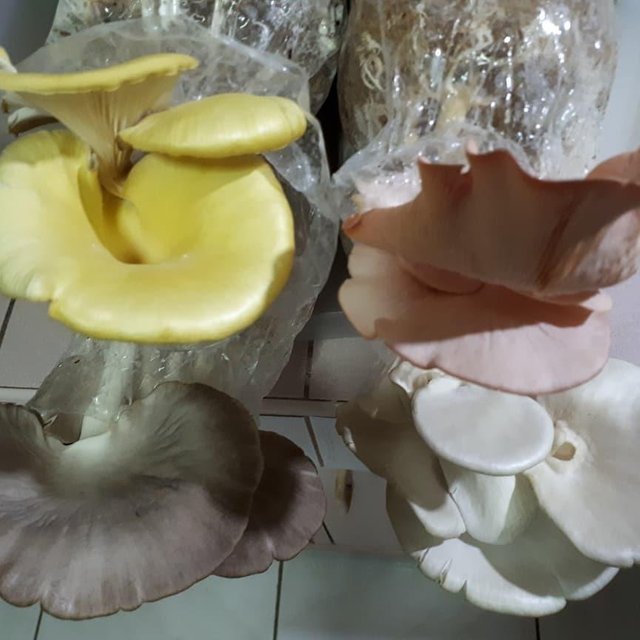 source
Here is a close up of the pink;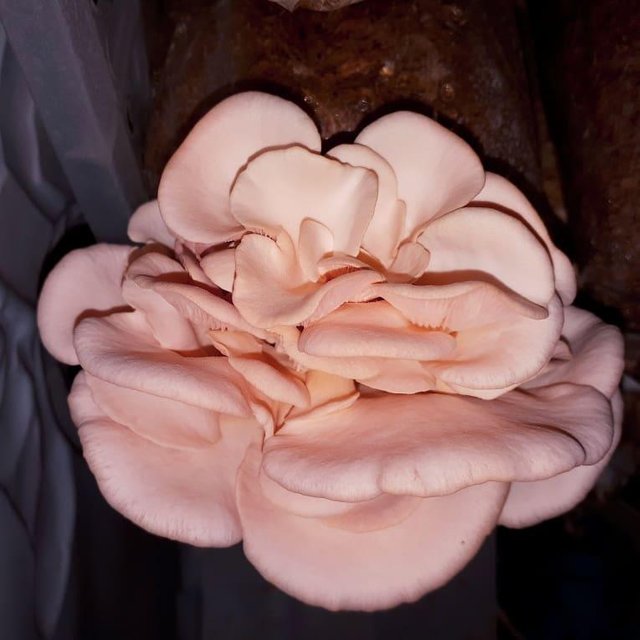 source
Don't they look too beautiful to eat? Well I bought some last Thursday 3-29-18 and decided to cook half of the mushrooms I bought, grey and white.
I cooked some on Thursday. Plain stir fried mushrooms. My ingredients: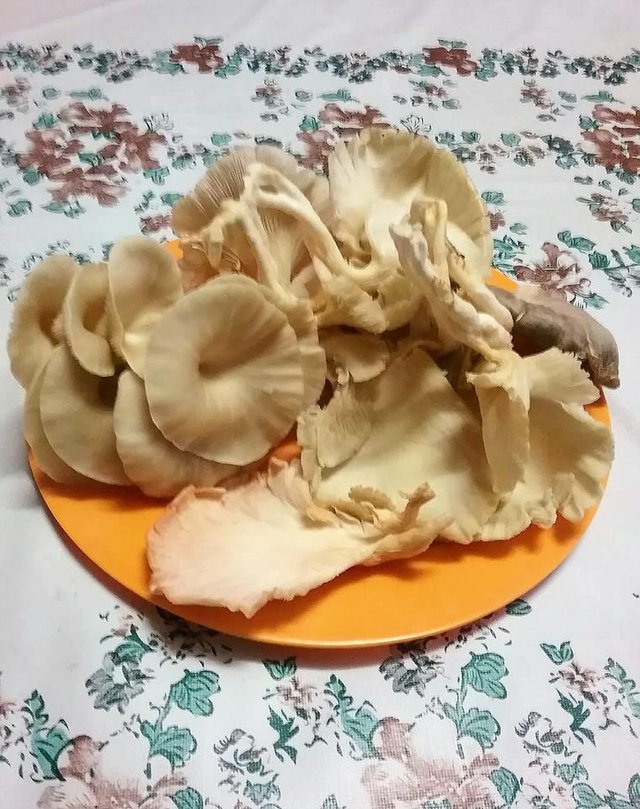 Half of these organic mushrooms. Washed and air dried. Don't need to wash hard just pour over some water and shake off the excess.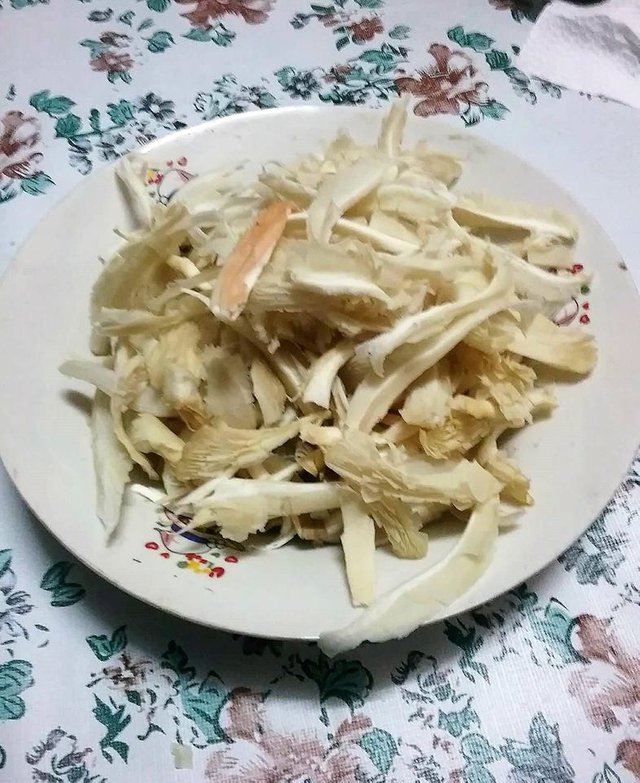 I shredded them with my hands instead of slicing. Much better.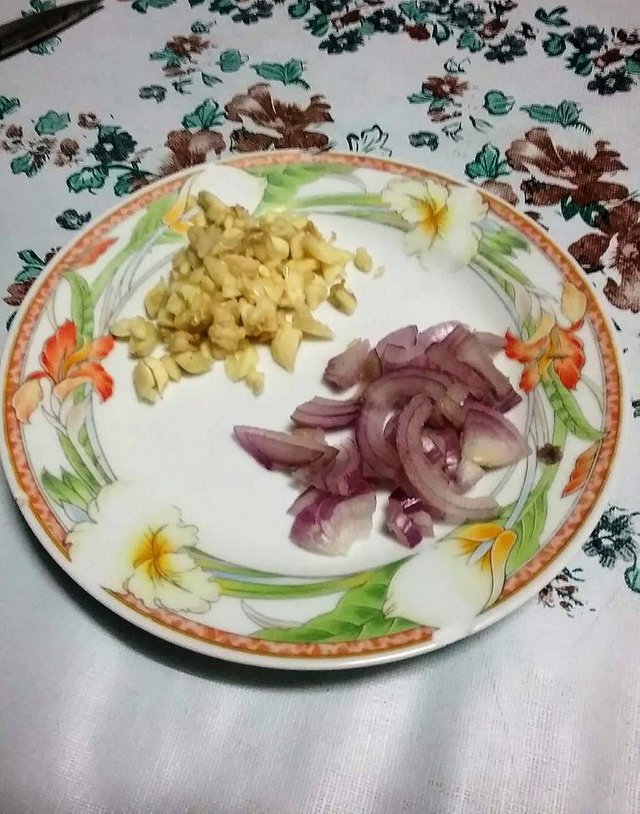 Onions and garlic, a necessity for me. I love a lot of garlic. It's good for the heart.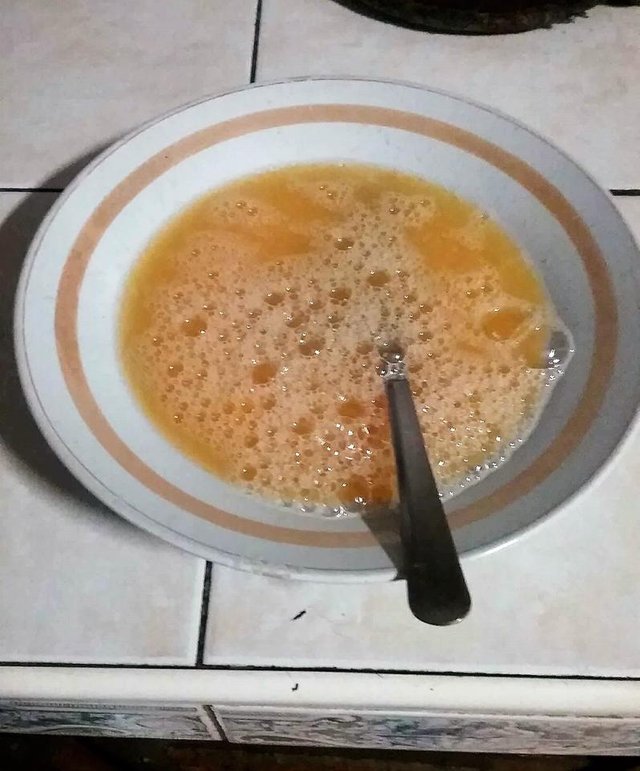 1 or 2 eggs beaten well, add just a little salt.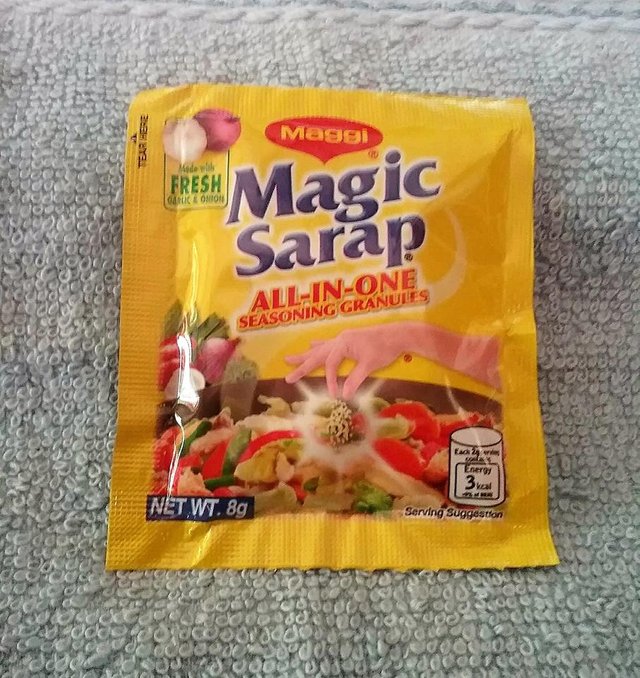 The "magic seasoning" , very practical and easy to use.
First I stir fry the onions and garlic, then add the shredded mushroom, after a while I put the magic seasoning. Continue to stir fry until the mushrooms are almost cooked.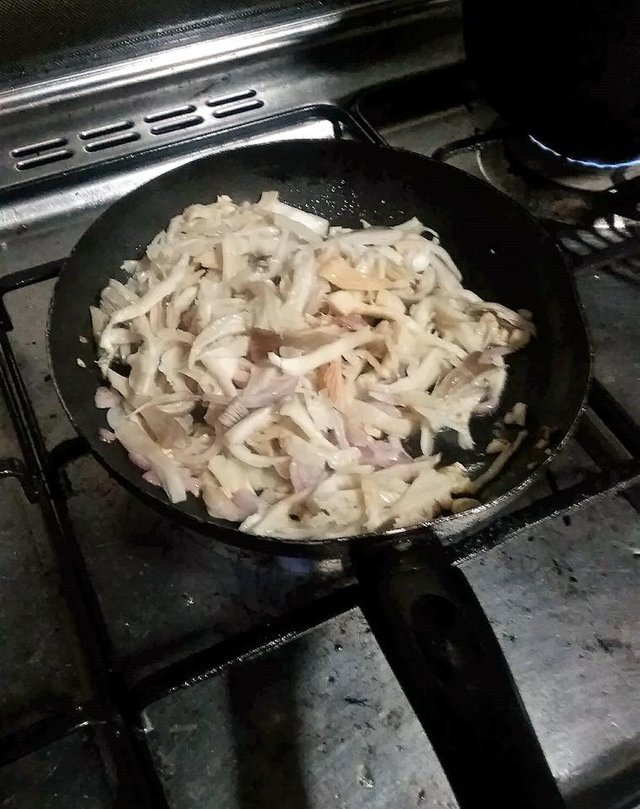 Then I pour the beaten egg and continue to stir fry till the egg is cooked. That will also continue the cooking of the mushrooms. They say the mushrooms are cooked when slightly transparent and soft.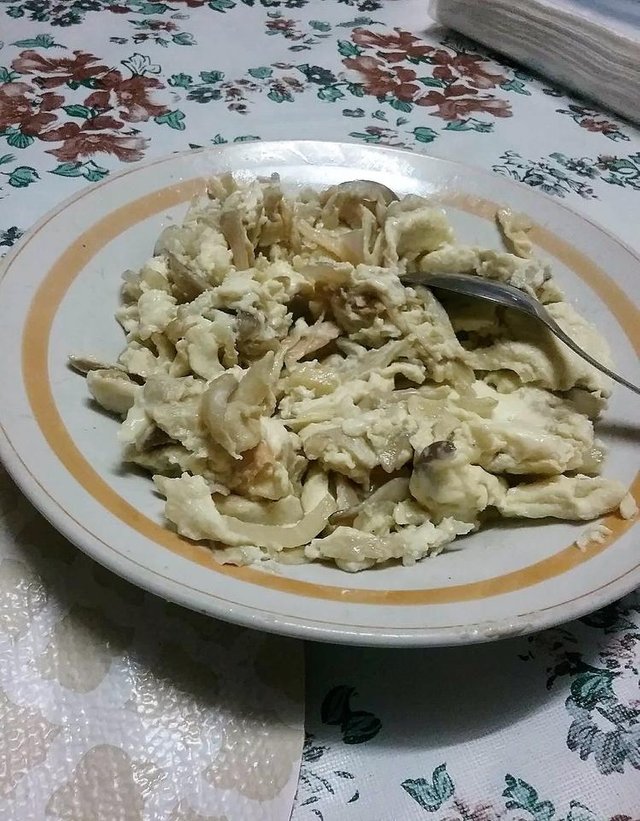 The finished product.
But today (Saturday) 3-31-18, I decided to cook the remaining mushrooms because I bought more this time with some color. My friend said they will stay good for a week in the refrigerator but I don't think it will last 1 week heheh.
I decided to add some protein, ground meat. Same ingredient but just add ground meat. But I sauteed the ground meat first with a little soy sauce and salt so I won't over cook the mushrooms.
Same technique. After I stir fried a little the mushrooms, I added the ground meat till they were cooked. This time I used a wok.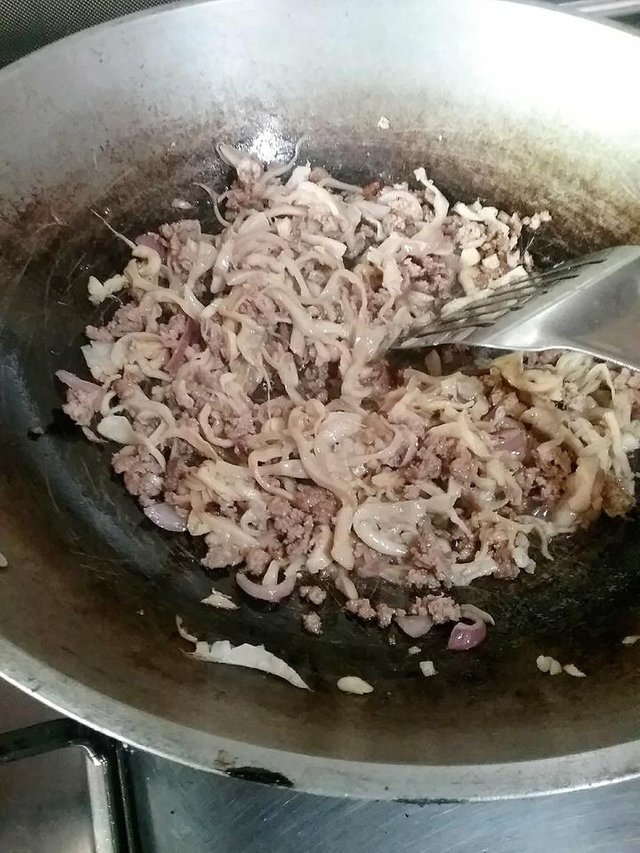 I also added the magic mix in the mixture before adding the beaten eggs. Just continue to stir fry till everything is mixed and cooked.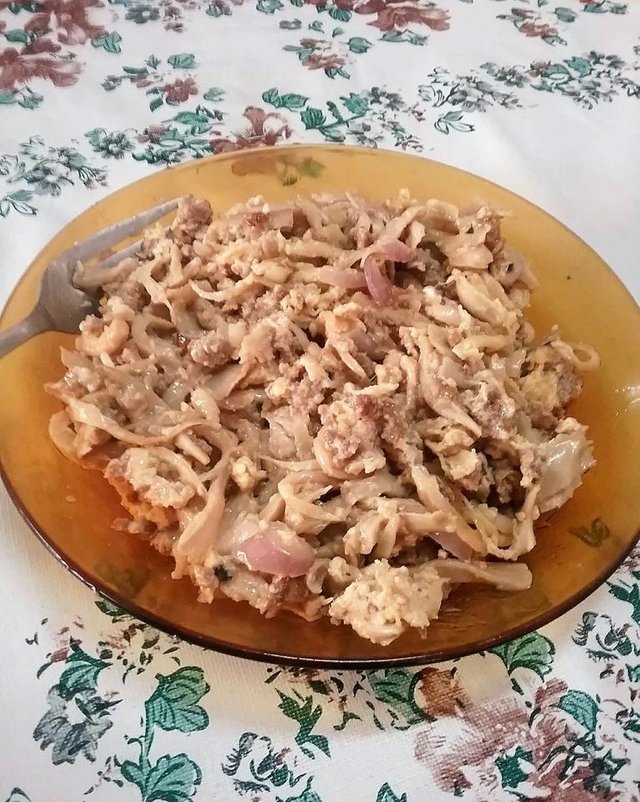 My lunch for today, healthy with some protein. I will think of other ways to cook the mushrooms. Maybe will cook it in chop suey. I will also post about it, if successful heheh. Or next time make an omelet. There are a lot of ways to cook it and experiment. Hmm will try using oyster sauce or sweet and sour...the ways are endless.
Voila! My lunch! Bon Appetit!

PICTURES ARE MINE unless stated
Our mentor @surpassinggoogle has been very supportive of our group #SteemitDiversify and other groups too. Please support him as a witness by voting him at https://steemit.com/~witnesses and type in "steemgigs" at the first search box.
If you want to give him witness voting decisions on your behalf, visit https://steemit.com/~witnesses again and type in "surpassinggoogle" in the second box as a proxy.
Others that we should support are: @henry-gant, @kenny-crane, @beanz, @teamsteem, @good-karma, @busy.org, @esteemapp, @hr1, @arcange @bayanihan, @acidyo, @anomadsoul, @steemitph, @jerrybanfield, @darthnava, @paradise-found, @geetharao, @stephenkendal and @richq11; they also have supported us; also the many others who have visited My posts. Pls. support them too. Thank you very much.
I am grateful for them and for everyone who has helped me and my friends. (Quote made by @purpledaisy57 permission given to use for members of SD family)
Please like @teardrops on Facebook and Twitter:
https://www.facebook.com/teardropstokens/
https://twitter.com/teardropstokens
Please like the Facebook page: https://www.facebook.com/steemgigs/
& Twitter: https://twitter.com/steemgigs
PLEASE SUPPORT: https://steemgigs.org