Happy Saturday my friends! I hope you are all enjoying the weekend so far. I had a fantastic start to the day with a wonderful trip to the farmers market (I'll definitely share some of the new seasonal things popping up!), a run on another stunning day, and in just a little while I'm heading out with some of my best gals to celebrate my birthday next week. No complaints from my small part of the world!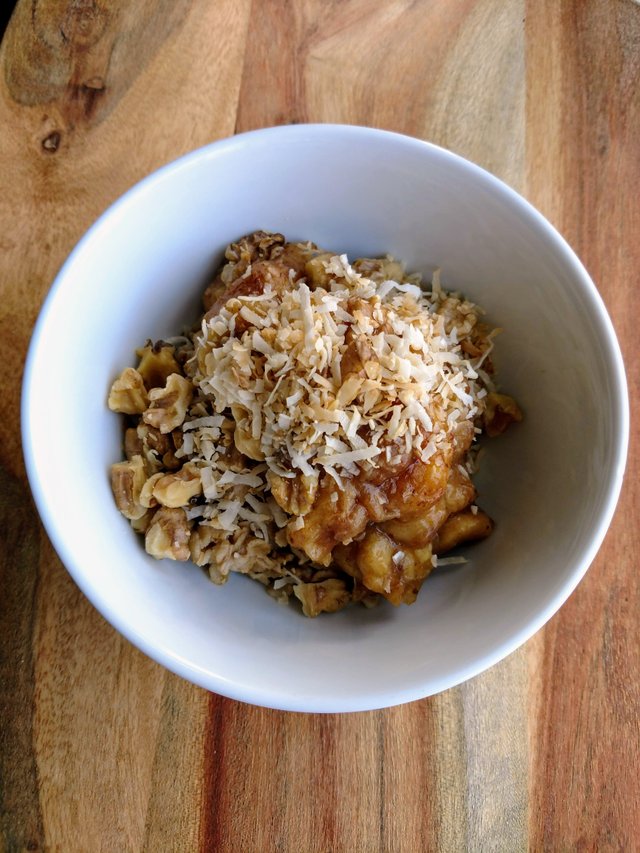 I was going to share this oatmeal recipe yesterday for #fff, but I was just too whipped to take the time to do it justice. Because this bowl of oats was so darn delicious it deserved a proper write up! I've made a lot of oatmeal in my life, but I can assure you this was my favorite combination so far. No refined sugar needed with nature's best sweetener in this one. Dates are seriously one of my favorite little fruity powerhouses. I eat them a lot to fuel my runs and other workouts, but they are also an excellent way to sweeten up a dish without anything processed. They also add fiber and magnesium for those of you wondering what else they bring to the table.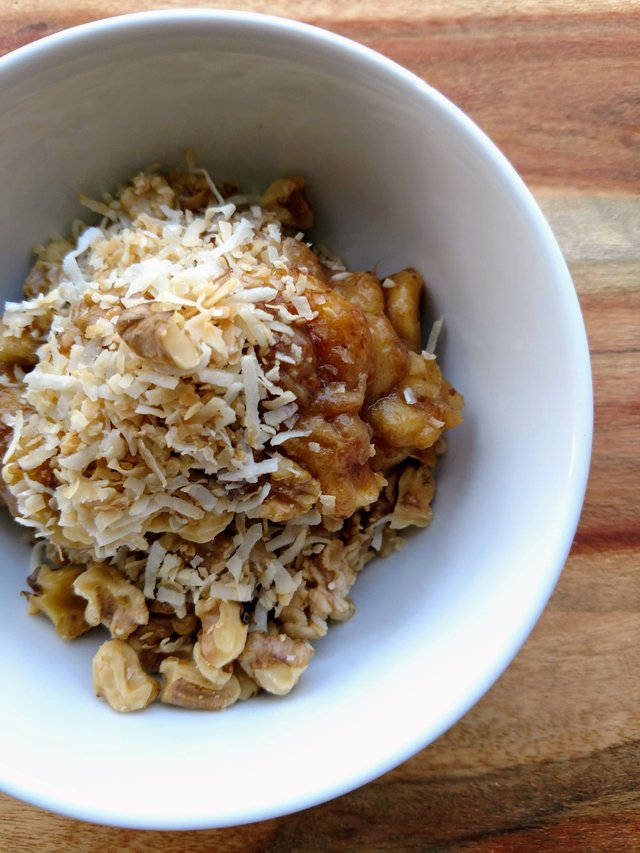 I had seen a few posts around social media recently with bananas foster-type oats, so the idea had been stuck in the back of my mind for a while. Since I had off yesterday morning, I decided to give my own variation a go. Instead of using sugar or any type of syrup, I made my own syrup with dates soaked in filtered water and then blended up. The bananas were also nice and ripe, so they added a bit of sweetness, as well. Of course I couldn't forget some nutty crunch, thus the toasted coconut and walnuts were the perfect topper!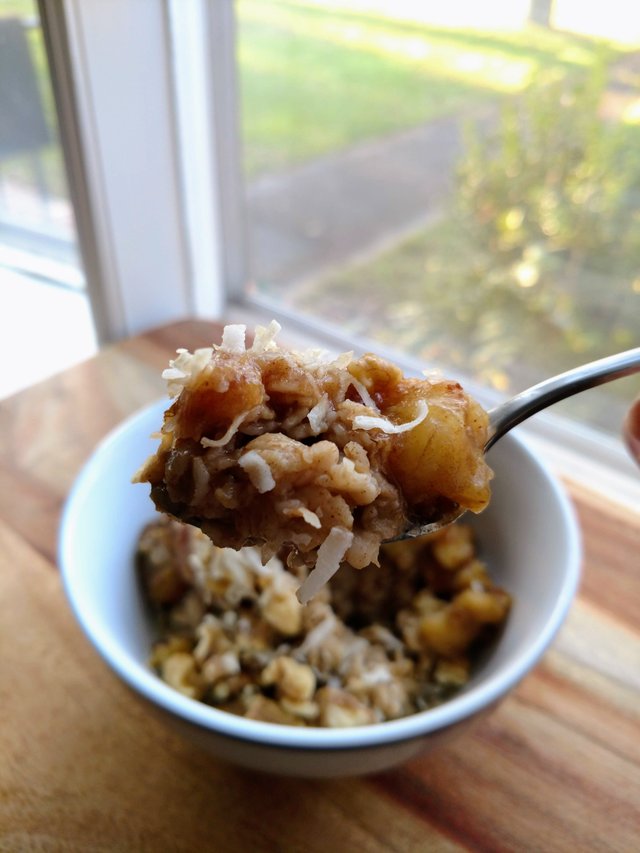 A bite with everything mixed together was just pure heaven! I was going to see my energetic little niece yesterday, and this definitely did the trick to hold me over to keep up with her. The banana topping would also be perfect over some nice cream or just about anything else, haha. Though it seems a bit fancier than my usual avocado toast breakfast, it was simple to put together for a truly heart-warming morning meal! I will be making this again very soon!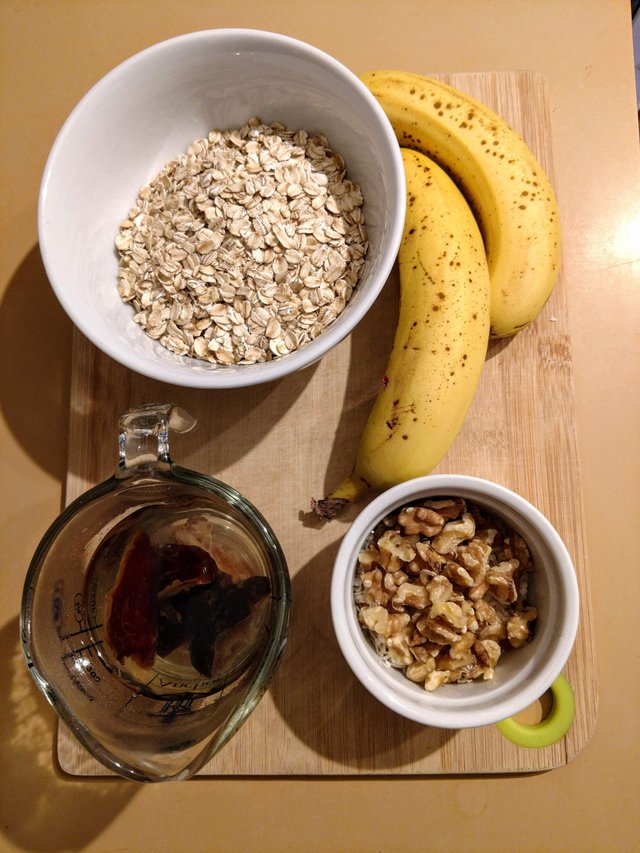 Best Damn Banana Oats
Makes 2 servings
3 pitted medjool dates soaked in 1/2 cup warm water, blended into a syrup
1/4 cup unsweetened shredded coconut
1/4 cup raw walnut pieces
1 cup organic rolled oats
1/2 teaspoon ground cinnamon
1/4 teaspoon ground ginger
1 3/4 cup water
2 small ripe bananas, peeled & sliced
Soak your dates for 15-30 minutes in warm water while you prepare your other ingredients. Once soaked, blend together until combined into a syrup. Set aside.
Warm up a medium-sized skillet over medium heat. Add in your coconut and walnuts. Toast for 3-4 minutes, stirring frequently or until just starting to brown and become fragrant. Remove from pan to use as a topping.
Place the skillet back on the heat and add in the date syrup and bananas, plus some extra cinnamon if you like. Reduce heat to medium-low and cook for 8-10 minutes while your oatmeal cooks. Remove from heat if the bananas start breaking down too much.
Bring the water to a boil in a medium saucepan and add your oats, cinnamon and ginger. Reduce to a simmer and cook for 5 minutes, or until the water is absorbed and the oats are cooked through.
Split your oatmeal into two bowls, then top with half each of the banana mixture and the toasted coconut and walnuts. Gobble it down before your other half tries to steal any of yours!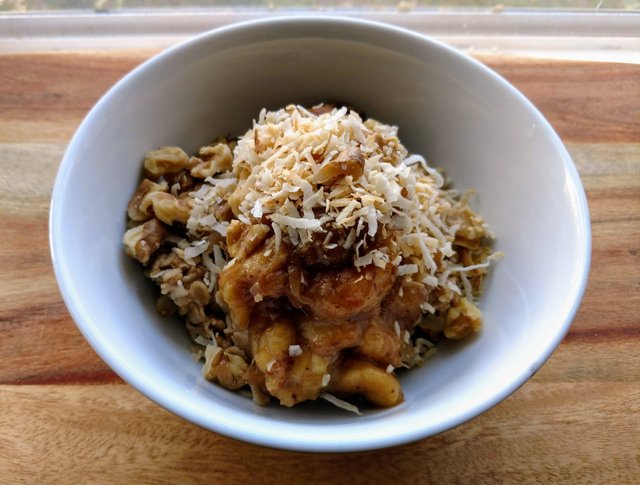 Though this tasted really indulgent, it is definitely healthy enough to make any day of the week! Now I just need to teach @dksart how to make it so he can treat me some time soon. 😉 Have a great rest of the weekend everyone!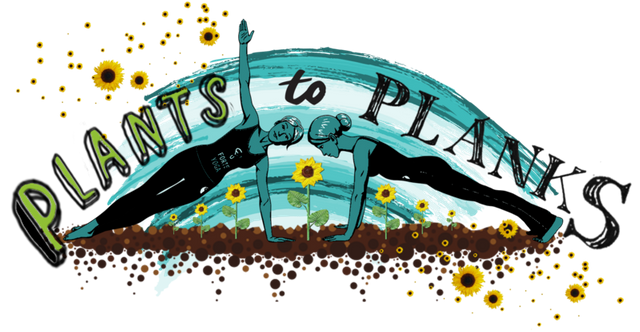 Banners by @zord189, @woman-onthe-wing, @dksart and @bearone for @steemusa