Okay hear me out-- I know that it may sound like a strange combination, but if you want to make this famously pungent cruciferous veggie more appealing to those who are not it's biggest fan, this is the way to do it.
The small amount of brown sugar in this glaze really brings out the sweet caramelization of roasted brussels sprouts. It's an easy way to make something like brussels sprouts as decadent as dessert. Of course I use one of my favorite ingredients, balsamic vinegar, to add a little tang to the dish.
The result is these irresistible little bites of yummy vegetables that will be gone from your plate in no time, so make plenty!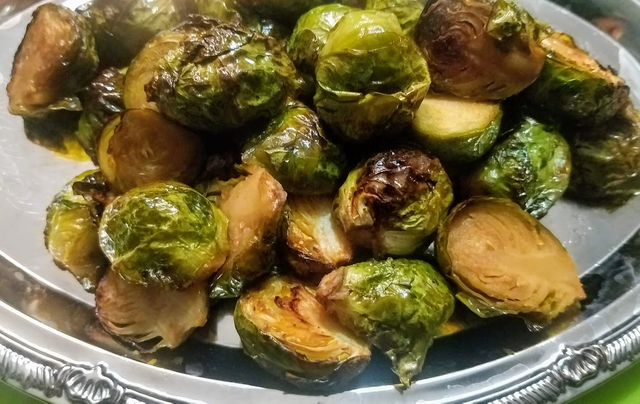 Ingredients:
2 pounds brussel sprouts
1 teaspoon brown sugar
1 tablespoon balsamic vinegar
1 tablespoon olive oil
½ teaspoon garlic powder
¼ teaspoon kosher salt
¼ teaspoon pepper
Preheat oven to 450℉. Halve the brussels sprouts lengthwise and place them in a medium baking dish.
In a measuring cup, combine the olive oil, balsamic vinegar, brown sugar, garlic powder, kosher salt, and pepper. Whisk vigorously until fully combined. Drizzle on the brussels sprouts, then stir to coat each brussels sprout.
Bake in oven for 30-40 minutes until desired level of caramelization is achieved.