Hunting Unique Snacks at Yogyakarta Arts Festival, From Baby Octopus to Dinosaurs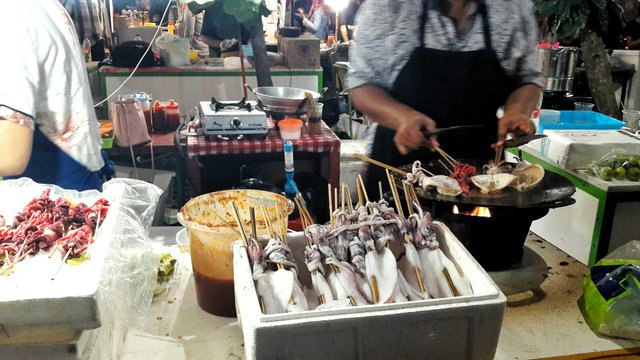 Yogyakarta often holds cool and exciting festivals or annual events. What is currently taking place is the 30th Yogyakarta Arts Festival. As in previous years, the festival featured various arts, culture, local creative products, and other entertainment. And what attracts visitors the most is the culinary bazaar.
Various kinds of culinary from rare traditional culinary to unique modern culinary can be found in this bazaar. Not even a few stands with snaking lines. What are the unique, rare and popular snacks that must be tried when going to the Yogyakarta Arts Festival?
1. Boiled and Fried Meatballs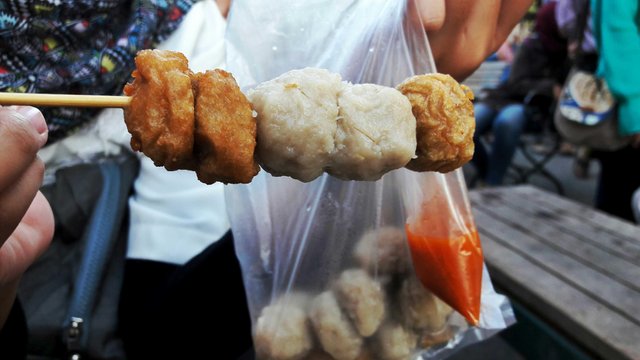 You could say this stand is the busiest stand, namely Meatball Tusuk Mrs. Sainah. Even to get it, you have to wait a long time until your name is actually called according to the purchase list. A portion of enough to pay Rp. 10,000 already has boiled meatballs, fried meatballs, or can be combined with tofu. To be more perfect don't forget to add spicy sauce.
2. Cork Ice 90's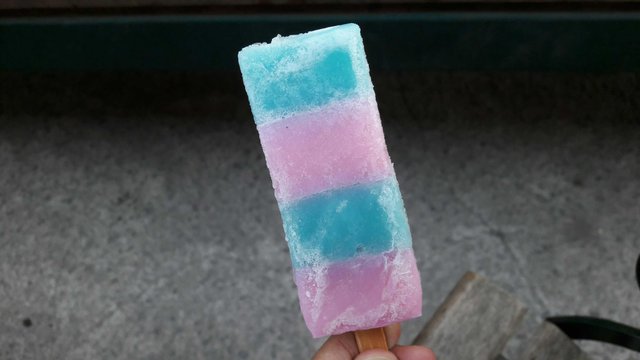 Sweet and refreshing, ice cork. Having a soft and soft texture, this snack is indeed rare to find. This bazaar is our chance to return to nostalgia with ice that has hit the 90s. The cork ice offered here has an interesting color and of course the cork ice taste is still typical like the old taste. The price is also quite cheap, Rp. 6,000 to taste the ice of this legend again.
3. Dinosaur Fried Cakes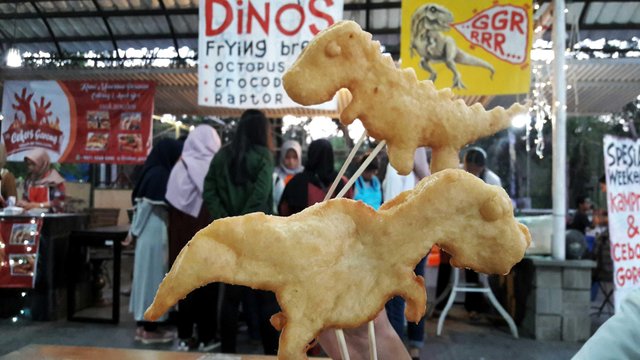 Frying bread or Dinosaur fried cake is a favorite both for children and adults. The shape is unique and unusual, this fried cake is an attraction to get it to queue for a long time. Besides being a dinosaur, the seller also offers other unique forms such as raptor, crocodile, and octopus with a price of Rp 5,000.
4. Indian-style Shawarma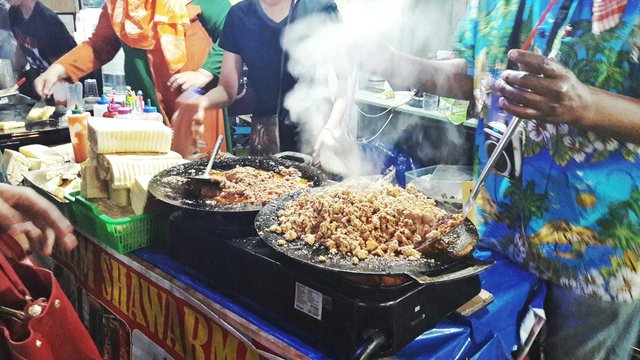 Of the many booths in the bazaar area, this is a great stand. How not because the seller here turns on Indian music to attract the attention of buyers. Shawarma here is also unique because it uses bread commonly used for toast. For meat using tuna and chicken.
5. Pentol Joged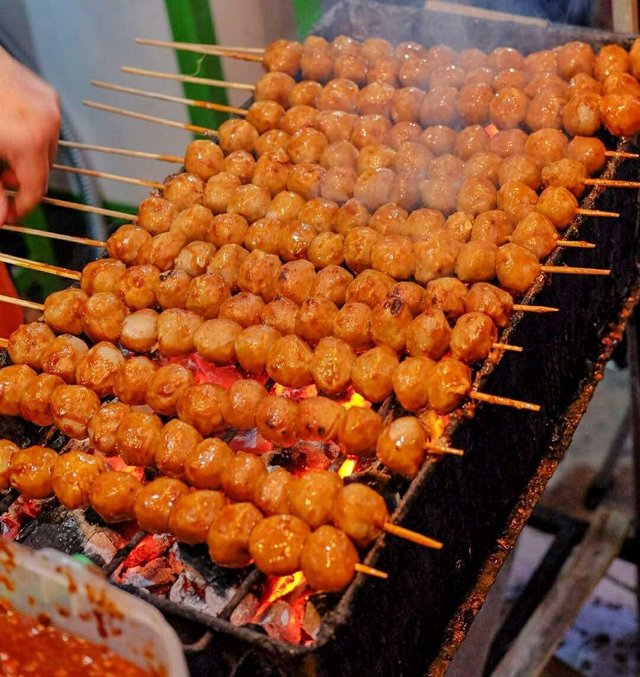 Pentol or better known as skewer meatballs, is indeed a favorite for all people. There is a pentol stand which attracts many visitors, none other than Pentol Joged. This pentol is different from the usual, namely the pinol as many as 11 seeds pierced with bamboo sticks about 50 cm long. Throughout that time the teapot was given spices and burned. With a price of Rp. 15,000, we can already get a Joged Pentol, which tastes definitely delicious and filling.
6. Candy candy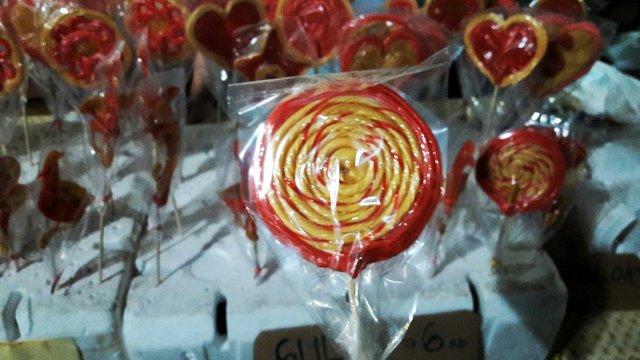 Being one of the traditional snacks that is rarely found, Gulali must be bought. The sweet taste makes us reminisce about this snack in childhood. The shapes are funny, like stars, hearts, flowers, and various animals. For one gulali, the price is Rp. 6,000.
7. Baby Octopus and Grilled Squid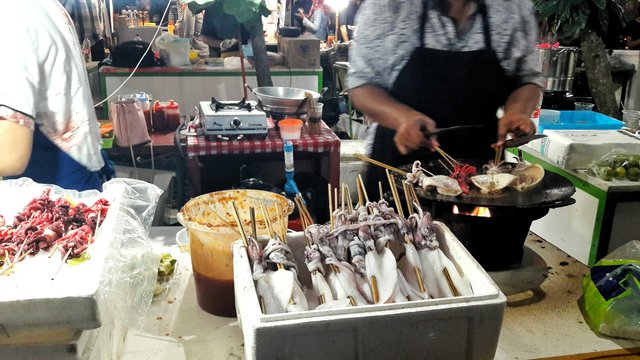 Stalls that are also crowded are peddlers selling street food, namely Baby Octopus and grilled squid. From a distance even the burnt aroma of octopus and cuminya was smelled. The fresh meat becomes delicious with the mixture of the spices. Moreover, more complete when served with sauce and mayonnaise. One squid stick or two skewers of Baby Octopus burns priced at Rp. 25,000.
8. Roll Egg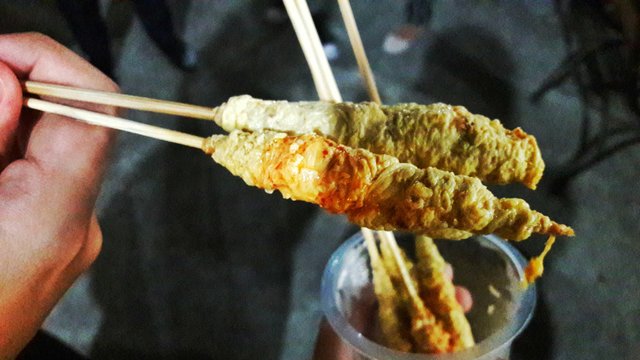 Who doesn't know about this one elementary school snack. Looks like this egg-based snack is still a prima donna. In this bazaar there were not only one stand but many booths that sold even all of them were crowded with buyers. One portion is enough to spend IDR 5,000 to IDR 6,000 with one cup containing 5-8 sticks.
9. Tempura Spongebob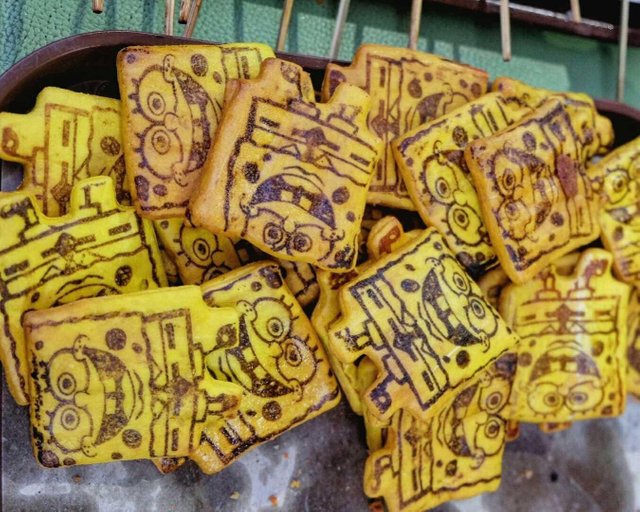 This form of tempura is not as common as it is in the form of one of the famous cartoon characters, Spongebob. The funny shape is a pity if we eat it. This stand can be found near the Dino Fried Cake stand. This stand is also crowded with buyers who are curious about this unique tempura.
10. Lemonade Ice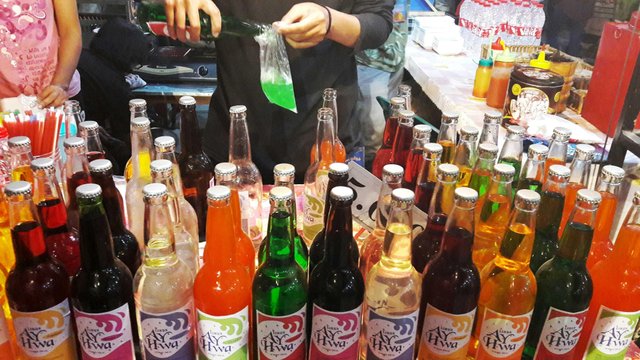 Having tired of traveling around the bazaar area, there is one drink that must be tried, namely Lemonade Ice. For the 90s generation, it is certainly no stranger to this one drink. Having attractive colors and a distinctive refreshing taste, sellers offer lemonade ice with various flavors such as pineapple, citroen, frambozen, orange, and lychee. A traveler who wants to reminisce with this drink can prepare Rp. 5,000.
Snacks above are only a small part of the many snacks sold at the Yogyakarta Arts Festival. Not only full, we will also feel nostalgic with childhood snacks that we rarely find. For a friend who is a culinary lover, take the time to visit the Yogyakarta Arts Festival on Planet Pyramid, Jalan Parangtritis Km. 5.5, Bantul, Yogyakarta. From 3:00 a.m. - 10:00 p.m. This art will last until 9 August.
Meet there huh!