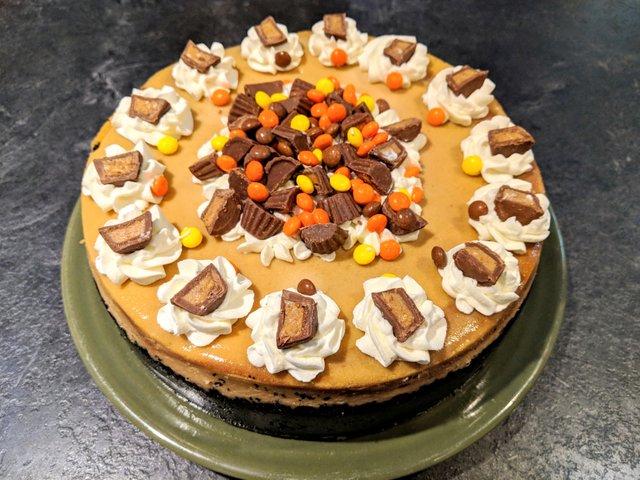 Oh yes, we will get to this beauty in a moment, but first...
How was everyone's summer?!
I can't believe how quickly it went by. We spent basically all of August doing a big road trip, visiting with all our family and a few close friends, similar to the trip we did last summer. (Which I still haven't finished sharing with you guys! 🙈) We arrived home at the very end of the month, and basically had the long weekend to get ourselves organized: unpack, organize, shop for school supplies, get ready for wee man's birthday, and plan his bday party! It's been a little nutty, to say the least.
Now that we are back, and getting into a bit of a routine, I've got loads of things I want to share with you guys! In the next little while I'm hoping to not only finish sharing the trip from last year, but also share some of the things from our trip this year. Plus the little dude's birthday cake, and some upcoming shenanigans (including my own birthday) that I want to share with you all as well!
But first, it's Tuesday, so let's get back into the swing of things, and get your mouths watering, as I show you how to make this Tasty Treat!
For anyone who doesn't remember, my food blog posts are image heavy!
Pls be patient and let the images and gifs load. 😘
---
---
---
As with any cheesecake, the first thing you're going to need to do is prepare the pan. You can see how I do that back in the last TTT post. Once your pan is prepped, it's time to get the crust in there. This time I went with a simple Oreo crumb crust. I even bought the box of crumbs, so just mix it with some butter, and press it into the pan - no food processor required! (Sometimes it's just worth taking the easy way out.) I neglected to bake the crust, but I wish I had, and suggest you do, to get a little extra crunch factor. (350 F for about 8-10 min, then allow it to cool completely before filling.)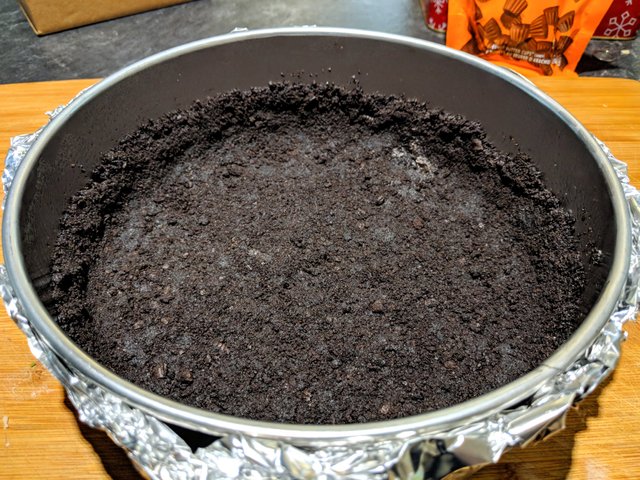 Set that in the fridge while you mix your filling. Start by beating the cream cheese and brown sugar until creamy.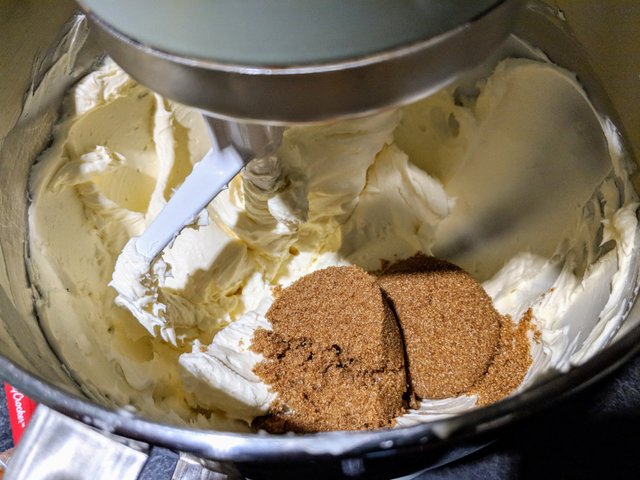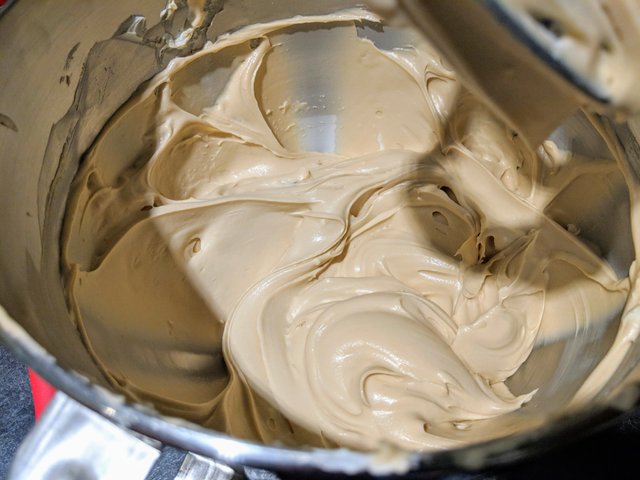 Then mix in some smooth peanut butter.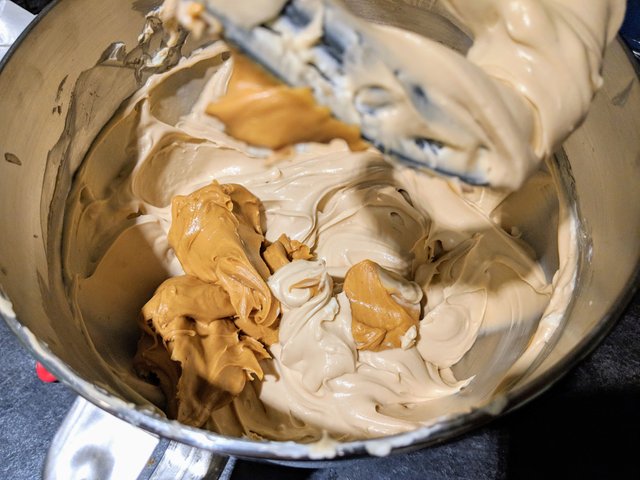 Slowly drizzle in some heavy cream. I know it may be tempting, since it's whipping cream, to whip it and make it all fluffy, but when it comes to cheesecake, extra air is actually not your friend. So take your time!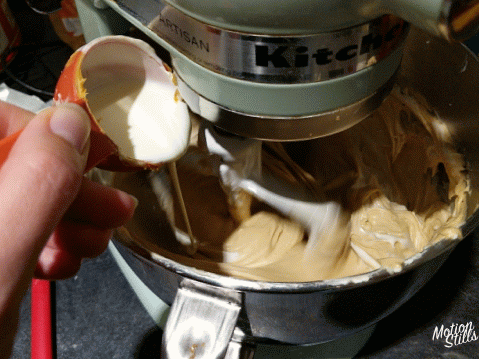 And then, very gently stir in the eggs. Again, we don't want any extra air incorporated, so do not beat them! The batter may look a bit separated at first, but just keep mixing gently, until it comes back together.
See how beautifully creamy it looks? No air bubbles to make any crazy cracks in the finished cake.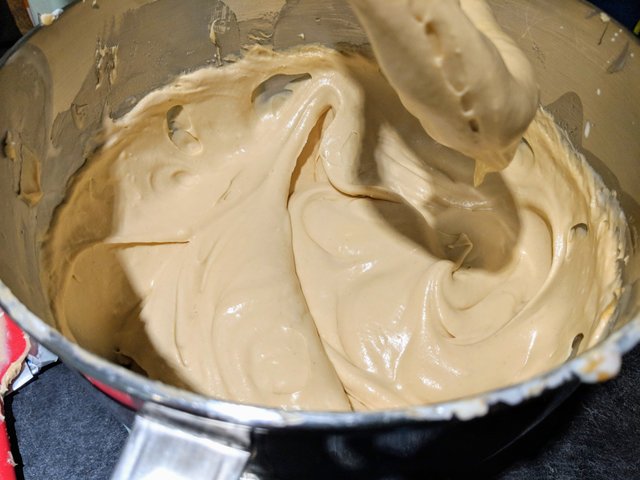 Now, put half of that batter into a separate bowl, and stir in some cooled melted chocolate. I used milk chocolate, because I wanted the peanut butter to sing through, but you could use whatever chocolate sounds good to you!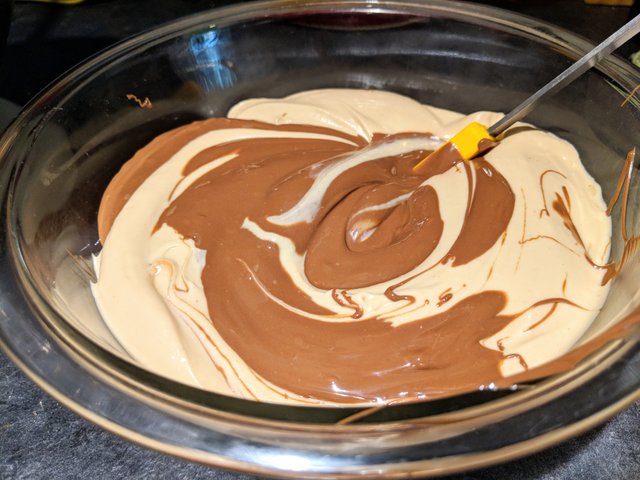 Next, I chopped a bunch of mini pb cups in half, and folded those into the peanut butter batter, for a little surprise .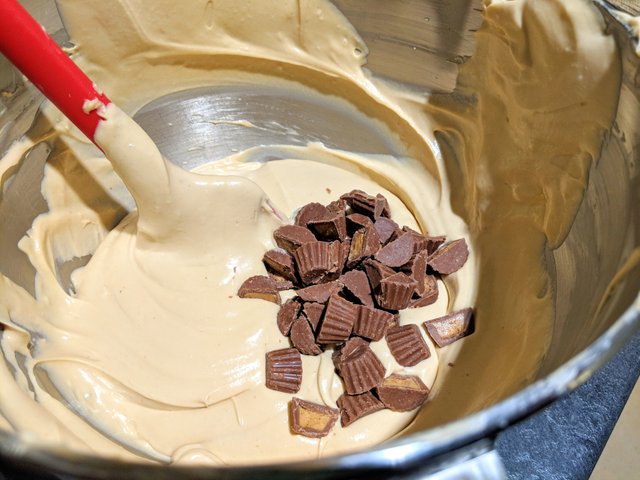 And then the fun part - I used a scoop to pour alternating globs of batter into the crust.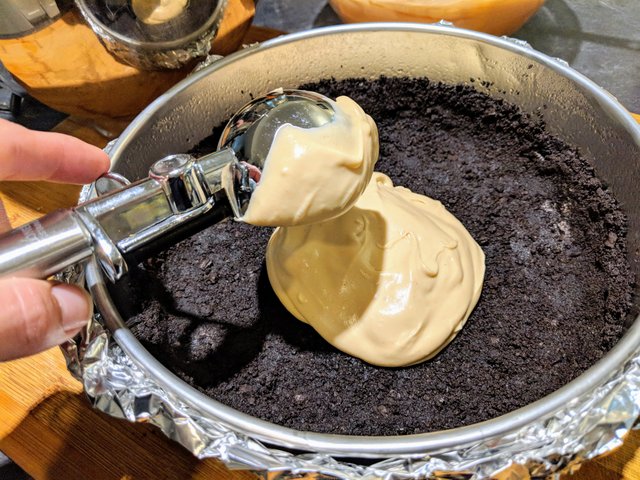 I used 2 scoopfuls of pb, then 2 scoopfuls of chocolate, then pb, and so on, piling them on top of one another and letting them spread on their own.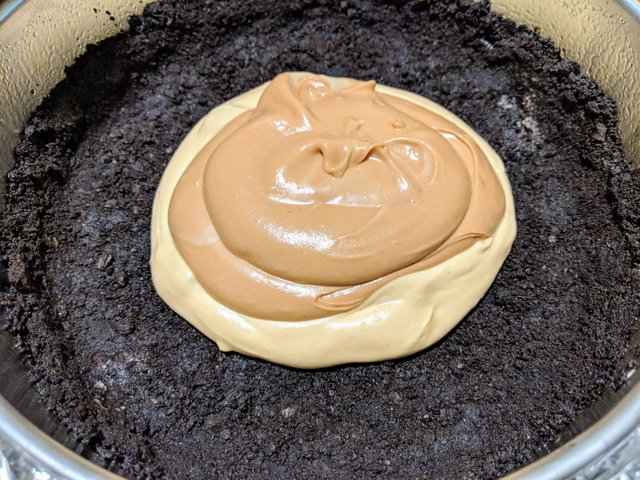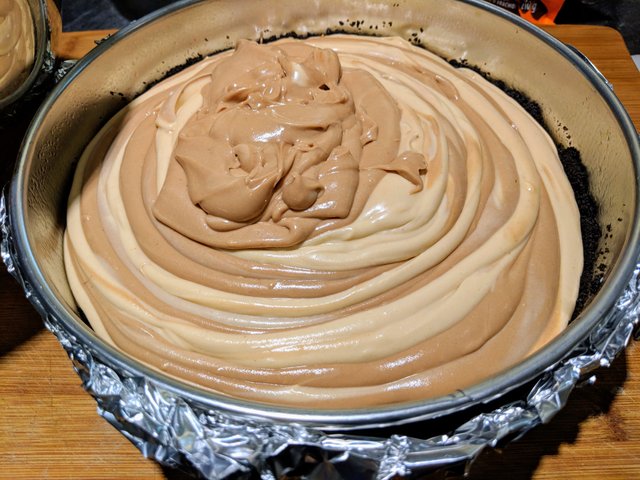 Once you've used up all of the batter, smooth out the top as best you can, without smearing the colors together too much.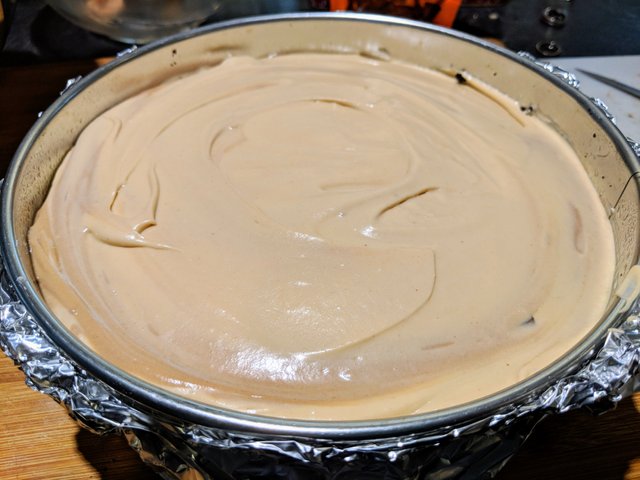 Set the cake onto a pan and pour boiling water around it, to form a "bain-marie" or water bath, to allow the cheesecake to cook gently. (Ideally the water should come about halfway up the sides of the pan, but I don't have a roaster that will fit a 9" pan, so I use a sheet pan.)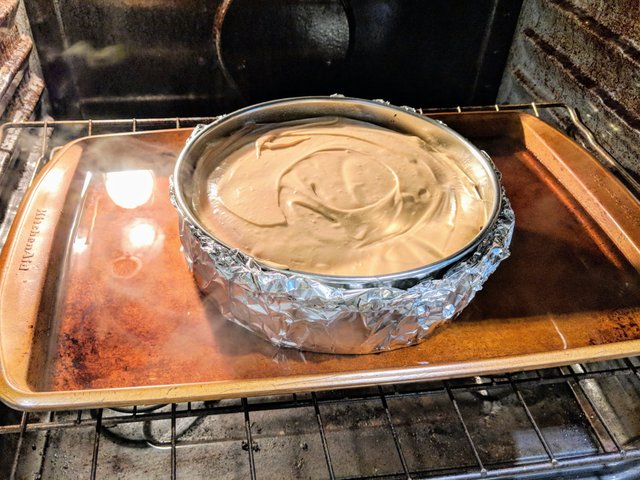 Bake it in a 325 F oven, for about 90 min. If it starts getting too much color, you can loosely cover the top with some tin foil. You'll know it's done when the edges are set, and the center has a slight "jiggle" to it.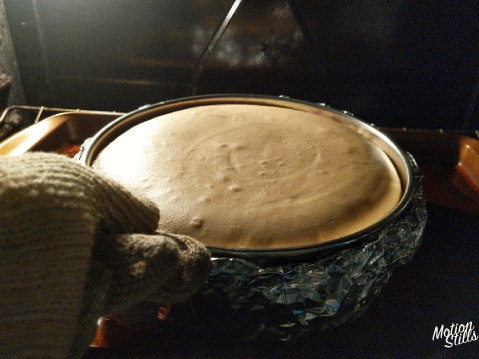 The trick now is to be patient. Turn off the oven, and leave it open a crack (I use the handle of a wooden spoon, or a silicone oven mitt to prop it open), and allow the cheesecake to cool in there for an hour. After the hour, pull it out of the water bath and set it in the fridge, for a minimum of 4 hours, or preferably overnight.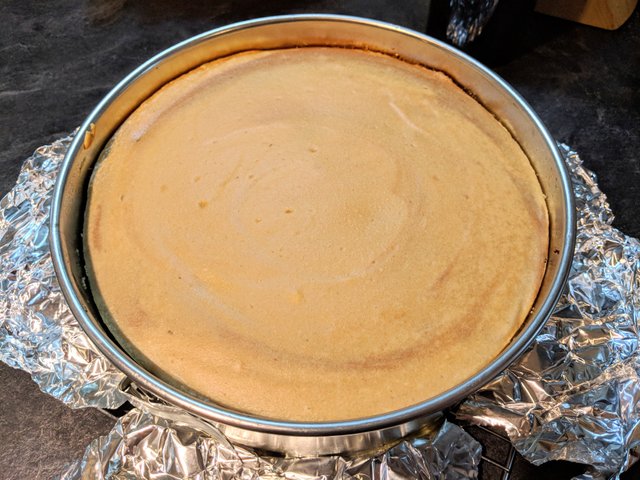 Now we get to have some fun and be creative! I love a bit of whipped cream with my cheesecake, so I whipped some up, and piped it on in little rosettes, plus a pile in the center, to give the candies something to stick to... it makes for great glue! 😉I placed a half of a mini peanut butter cup on each rosette, and piled on a bunch more mini peanut butter cups as well as mini Reese's pieces in the center, to make the whole thing extra tempting and indulgent. (And because I have a Reese's addiciton. lol)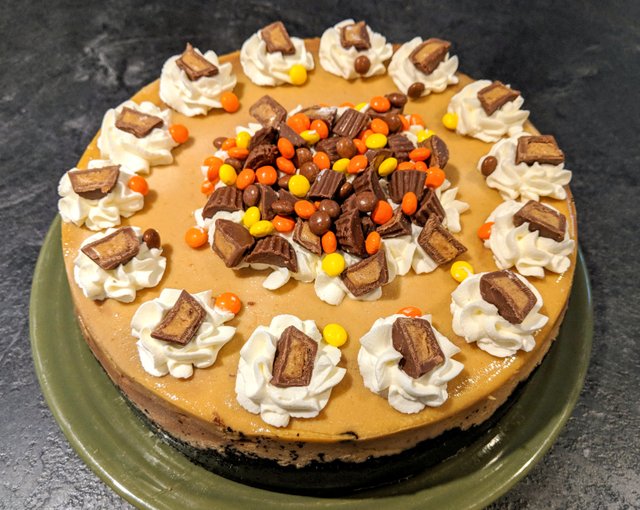 And when you slice into it, you get to see what all that scooping was about...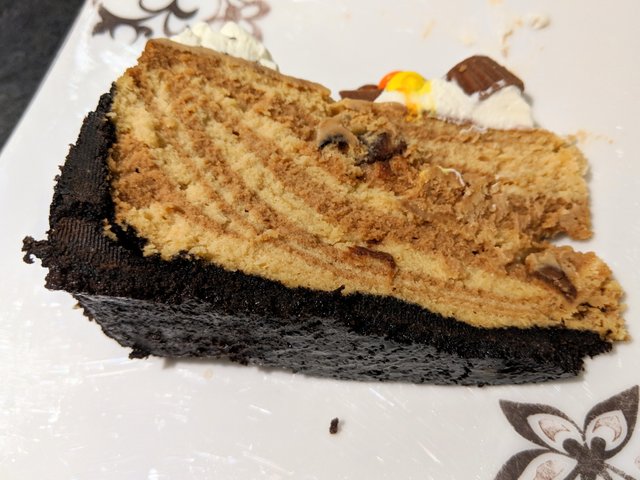 ZEBRA STRIPES!
Of course, you could save yourself the time of scooping, and go for a regular marble effect, but I think the stripes are so much more fun. Plus, it ensures an even amount of both flavors in every piece.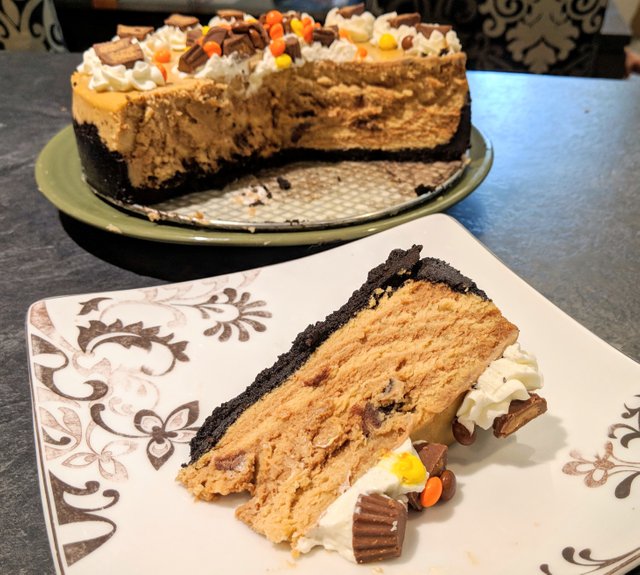 It's creamy, rich, tangy, sweet, peanut-buttery, and very decadent. If you're going to bake one, make sure you're having company, because a small slice will satisfy all your cravings, but it may take more than a small amount of will power to resist having more. 😅
Are you a cheesecake fan? Are you a chocolate & peanut butter fan? If so, this is sure to tick all the boxes.
What's your favorite flavor combination?