Tutti frutti is a colorful confectionary containing various chopped and usually candied fruits. They can even be artificial which contain flavour of different fruits.
Natural Tutti Frutti are madeup of papaya cubes colored into green, red and yellow. Tutti Frutti is used in many recipes like icecreams, cakes, etc.
Cookies are loved by many.
If u love cokkies, this post is for you.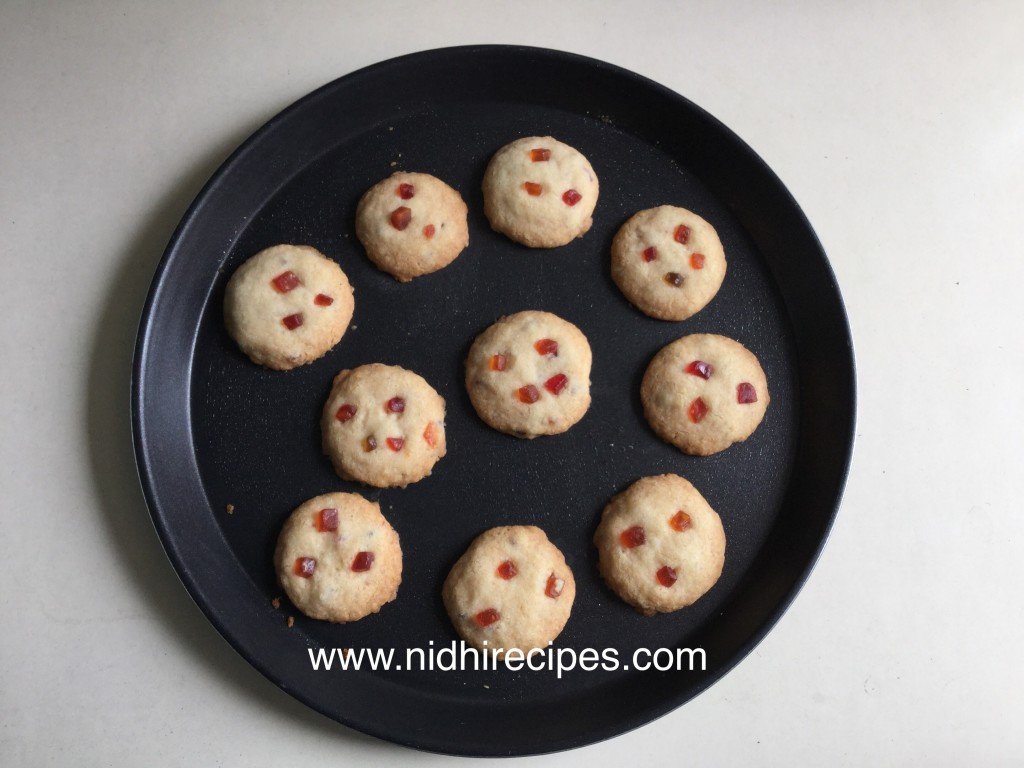 Ingredients (12-15 cookies)
Maida (All purpose flour) – 1 cup + ⅛ cup
Baking Powder – 1 tsp
Salt – ⅛ tsp
Powdered sugar – ½ cup
White Butter/ Ghee – ½ cup
OrangeZest/Lemon Zest – 1 tsp
Vanilla essence – ¾ tsp
Tutti Frutti – ½ cup
Milk – 1-1½ tbsp
Method
1.Preheat the oven at 180°C for 10 minutes.
2.Line the baking dish with parchment paper or take non stick baking dish.
3.Sieve maida, baking powder, salt together.
4.Add sugar to it and mix well.
5.Add soft butter to the maida mixture and mix thoroughly with hands.
6.Now mix in vanilla essence, orange zest and tutti frutti.
7.Add milk and bind the flour mixture together to make a soft dough.
8.Divide the dough into 12-15 equal parts.
9.Shape them into balls and flatten a little, put 3-4 cherries on top of each ball.
10.Arrange them on the baking dish keeping distance in between each cookie.
11.Bake in preheated oven for 14-15 minutes
12.Let the cookies cool in the sheet for 5 minutes then remove it to a cooling rack to cool down completely.
Once cooled, tutti frutti cookies are ready to eat.
All the photos are my own.
UPVOTE/FOLLOW/RESTEEM FOR MORE SUCH AWESOME RECIPES AND BE UP TO DATE.