Phirni - An Indian Milk Pudding
Phirni is made of full cream milk, fine grain basmati rice and sugar. You can add some nuts, saffron, rose water, cardamom powder in Phirni to enhance its flavour.
It is a very popular Indian milk pudding.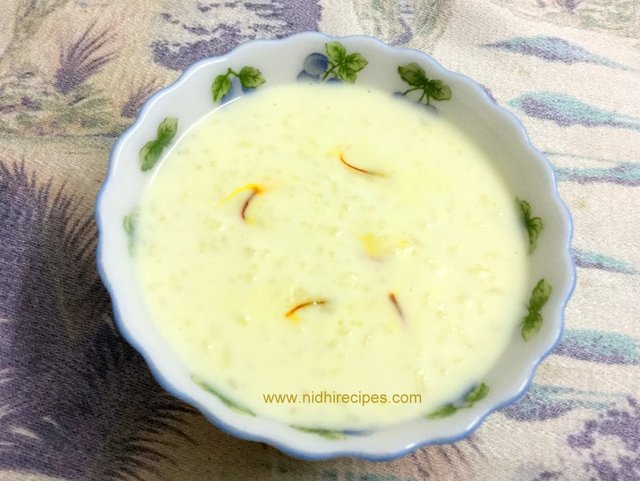 Ingredients
Full Cream Milk - 1 litrs
Basmati Rice - ¼ cup
Saffron- Few Strands (soak in 2 tbsp milk)
Sugar- ½ cup
Green Cardamom - 3(powdered)
Instructions
Rinse rice with clean water and soak it in water for an hour. Spread it over a kitchen towel to absorb excess water. Later grind the rice in a grinder.
After grinding the rice should be neither too small nor too large. Keep it aside.
Heat milk in a heavy bottom pan and bring it to a boil.
Simmer the milk and add grounded rice in it, stir well and let it to cook on medium flame for 20-25 minutes. It will start to thicken by this time.
Keep stirring at regular intervals so that lumps are not formed. Also keep scraping the cream that forms around the vessel and put it back into the milk.
Now add saffron milk into it and mix well. Cook for another 4-5 minutes on low heat, stirring occasionally.
Add sugar and mix well. Cook for another 8-10 minutes, till sugar dissolves.
Add cardamom powder, mix well. Cook for a minute more and turn off the heat.
Allow it to cool down to room temperature.
Refrigerate it for at least 1 hour.
Serve chilled.