Khaman Dhokla
Khaman Dhokla is a savory cake. Khaman dhokla is soft and fluffy, mildly tangy and sweet. This is a great snack from Gujrati cuisine. The addition of fruit salt to the batter, and water to the tempering, are the two main factors responsible for this soft and spongy dhokla.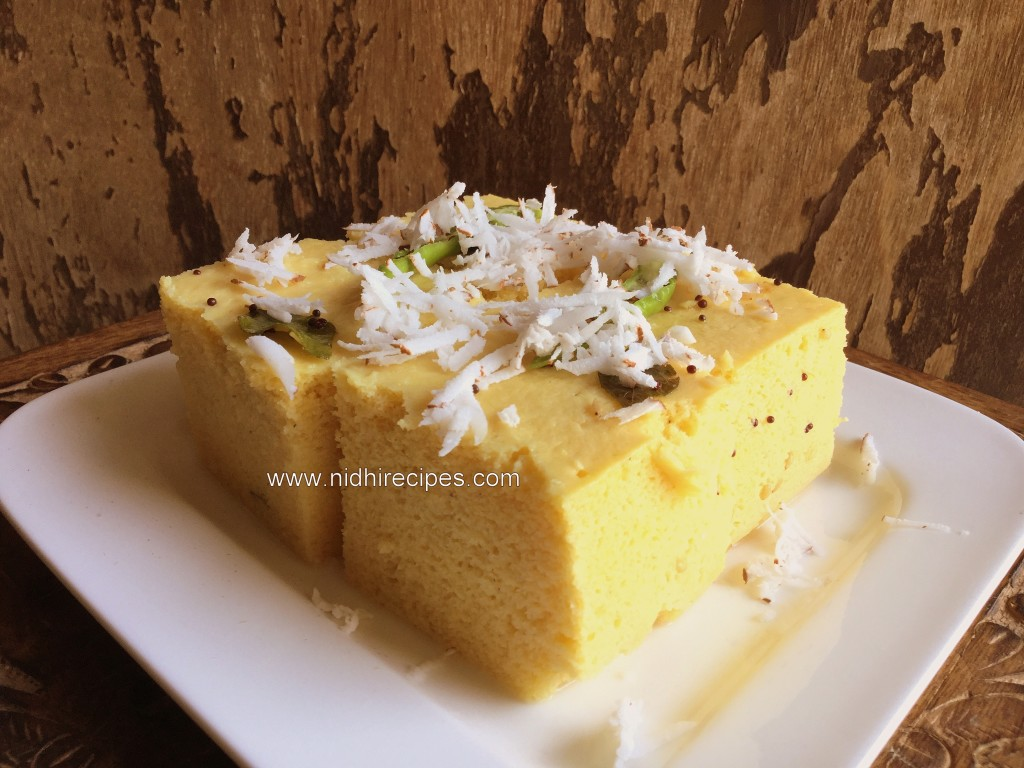 Prep time : 5 mins
Cook time : 10 mins
Total time : 15 mins
Serves: 4

Ingredients
Gram Flour - 1½ cup
Lemon Juice - 1 tbsp
Turmeric Powder - a pinch
Salt - 1 tsp
Sugar - 1 tsp
Ginger - ½ tsp (grated)
Green Chilli - 1 (finely chopped)
Fruit Salt (Eno) - 1 tsp
Fresh Coconut - 4 tbsp (grated)
Coriander Leaves - 2 tbsp (chopped)
For Tempering:
Water - 2 cups
Oil - 1 tbsp
Mustard Seeds - ½ tsp
White Sesame Seeds - ½ tsp
Green Chillies - 3 (cut lengthwise)
Curry Leaves - 7-8
Salt - ½ tsp
Sugar - ½ tsp
Lemon Juice - 1 tsp
Instructions
In a deep bowl, add gram flour, salt, sugar, turmeric powder, lemon juice, ginger, green chillies. Add water to make a thin batter as that of pancake.
Now add fruit salt and mix gently.
Grease a microsafe bowl, pour batter into it.
Cover with the lid and micro for 5 minutes on 100%.
Give standing time of 3 minutes in microwave.
Remove from microwave and let it cool.
Tempering:
In a small pan, heat oil.
Add mustard seeds and allow them to crackle.
When the mustard seeds are crackling, add curry leaves, green chillies.
Stir and then add sesame seeds.
Fry till the sesame seeds becomes pink in colour.
Then add water, salt, sugar.
Stir and allow the mixture to come to a boil.
Then pour this tempering mixture evenly on the khaman dhokla.
Cut it into desired pieces and garnish with coriander leaves and grated coconut.
Delicious Khaman Dhokla is ready to be served.