I love freshwater eel (unagi), everytime I ate at a Japanese restaurant I had to order this one, regardless of how expensive it was. Unagi is ridiculously expensive in here, sometimes it's even twice the price of lobster tail. I barely cook unagi at home because it's also hard to buy fresh eel from the market, depends on the season and depends on how lucky I am, but they have frozen eel as well as frozen precooked eel in marinated sauce (I'll show you how to prepare them in both versions fresh and frozen later in this post. Keep reading).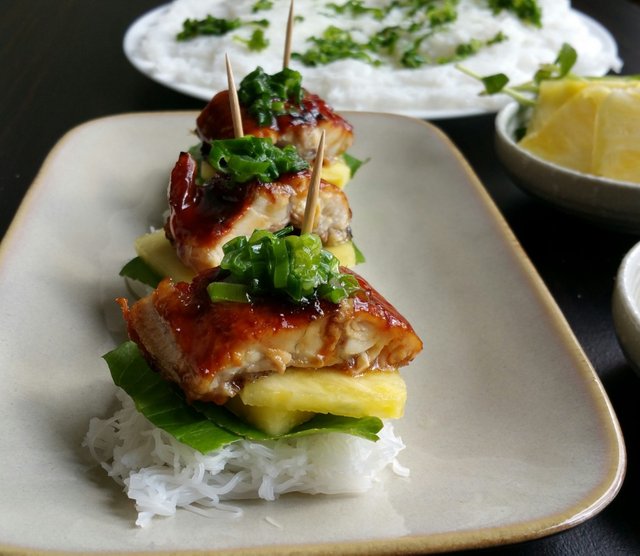 So today I was able to buy 1 big-ass fresh water eel then i decided to make something nice with it. I made a Vietnamese & Japanese fusion style unagi which means I grilled it with nitsume sauce (nitsume is a condensed sushi sauce – also known as eel sauce) and served with Vietnamese fine rice vermicelli noodles (instead of a traditional Japanese style over a bed of steam rice or as a sushi). It was so yummy and delicious, i'm actually craving for more now. 
 To begin with, if you were lucky like me, you could buy a fresh eel. When you're at the market, ask the butcher to save the eel's bones for you, and only butterfly the eel not cut it into pieces. You will use the bones to make nitsume sauce. As for the eel, you will grill it two time (the same steps with frozen uncooked eel). The first time, you only need to season just a little bit salt and pepper (remember just a little bit – like a small dash) and then grilled it on hot charcoal or hot electric grill. Then you will let it rest for 30 minutes, continue to grill the second time and glaze your eel with nitsume sauce. If you buy frozen precooked eel in marinated liquid, you only need to do step 2 above. Some people like to microwave it instead, but i found that way is less appeal for my appetite so i rather spend a little bit more time to have a wonderful unagi instead.
Ok, let's start cooking.
 
Ingredients:
1 fresh eel or frozen uncooked eel or frozen cooked eel
Bamboo skewers, as needed
Nitsume sauce, for glazing
Serving with:
Vietnamese fine rice vermicelli noodles (Banh hoi)
Pineapple or start fruit
Culantro (not cilantro)
Scallion
Rice paddy herb (preferred) or any kind of Asian herb
Fish sauce

Steps: 
 1. Skew 2-3 skewers across eel body to make sure it's not curl up while grilling.
For fresh and frozen uncooked eel:
2. Season 1 small dash salt and pepper, make sure your grill is hot, brush one thin layer of vegetable oil on each side and grill each side for 5-8 minutes.
3. Set aside and let sit for 30 minutes or keep in the fridge until you're ready to grill the second time.For frozen precooked eel: proceed from this step. Take the precooked eel out of package, wipe down excess sauce, put skewers across the body and be ready to grill Just don't put too much glaze as you do fresh and uncooked frozen eel.

4. Continue to grilled the second time, but the skin side down first, when it gets crispy, glaze the top with nitsume sauce then upside down this side. Then glaze the skin side. Try not to over turn the eel, only need to flip it one-two times maximum. Glaze whenever you flip.
5. Take it off the grill and let it rest for 5 minutes before serving. Eat with Vietnamese fine rice noodle, pineapple, fish sauce and Asian herb.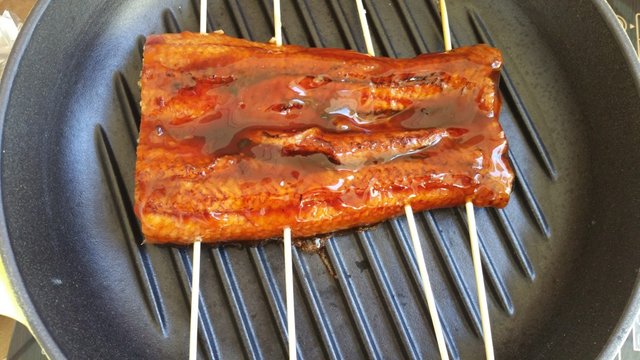 Eel on my grill. Skin side down first, in a mean time glaze the top size.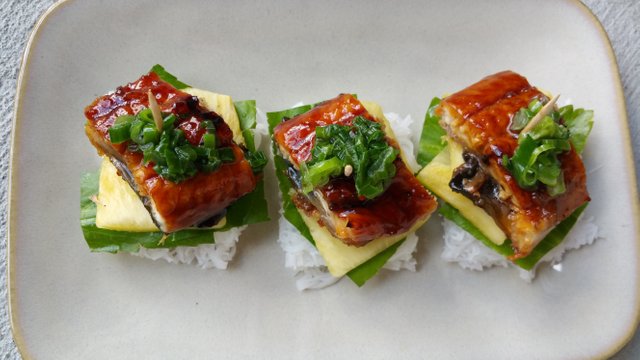 Assemble: rice thin noodle on the bottom, culantro, rice paddy herb, pineapple, unagi and scallion 
 I hope you like this recipe and enjoy it. @mynameisricky