Hey! Today is a simple idea for a plant based food that will provide us with all the necessary nutrients. Two basic products: quinoa and tempeh are one of the best sources of vegetable protein.  
Do you know what is tempeh? Tempeh is from Indonesia. Produced from fermented soy, it is a great source of easily digestible protein. If you can not find it in any store, you can easily make buy it online. 
I invite you for a delicious vegan lunch!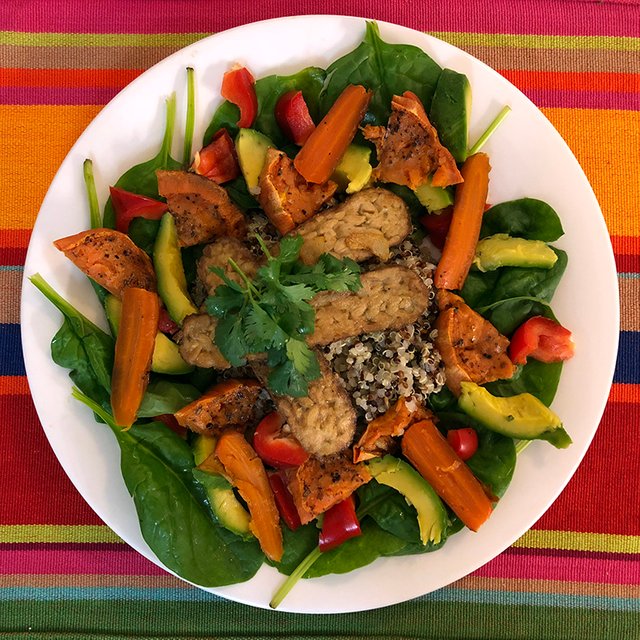 Ingredients:
1/2 cup of quinoa (I used three-color) 
200 g tempehu (alternatively we can use tofu) 
clove of garlic 
1 sweet potato 
2 carrots 
2 big handfuls of fresh spinach 
1 avocado 
1 small red capsicum
 a handful of coriander or parsley 
refined coconut oil for frying 
freshly ground pepper
Himalayan salt 
a mixture of herbs, e.g. Provencal or Italian 
Preparation:
1. Preheat the oven. Wash the potatoes and carrots, peel and cut into pieces. Using a brush, grease the vegetables with oil, sprinkle with salt and herbs. Bake about 20 - 30 minutes, until the vegetables are slightly soft.

2. Rinse the quinoa several times under water. Then cook in salted water until it absorbs all the water. Leave after covering.

3. At the time when the vegetables are baking, and the quinoa are cooking, prepare the tempeh.

Tempeh cut into slices. Heat the oil in a frying pan, add the sliced

garlic, and place the tempeh on it. Fry on both sides of the golden color, taking care not to burn garlic.

4. Cut the avocado and capsicum into pieces.

5. On the plates put a cooked quinoa, and around it arrange spinach leaves, roasted sweet potatoes and carrots, avocado and capsicum. Place the fried tempeh on top, sprinkle with freshly ground pepper and garnish with coriander or parsley.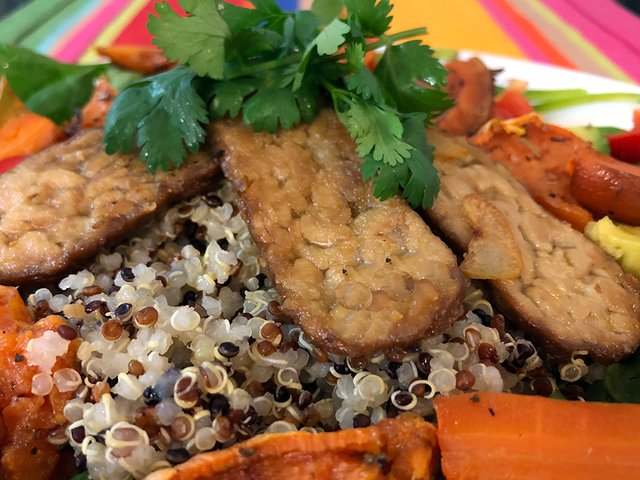 Bless you!
Moni 😍