Pork Veggie Stir-fry!! Recipe included
My darling made a delicious stir-fry that I am absolutely obsessed with. It's so good and it's relatively inexpensive which is fantastic when you're as broke as we are 😋
I didn't take many pictures during the whole process as it was my boyfriend making it, but I thought I'd share nonetheless. It's so good, I'm fangirling so hard.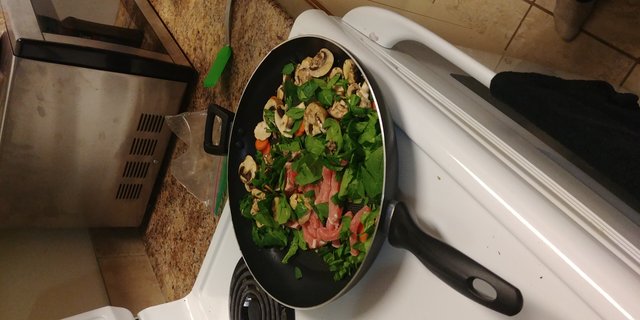 Ingredients;
1 carrot
2 cups mushrooms (we used a blend of white and crimini)
2 cups spinach
2 pork chops
we added leftover roast beef as well
Sauce
salt & pepper
1 teaspoon turmeric
1/2 teaspoon garlic powder
1/2 teaspoon onion powder
2 tablespoons sweet & sour sauce
2 tablespoons soy sauce
1 tablespoon HP sauce
1/4 cup of water
Basically just slice up all the veggies and cut the pork chops onto strips. Add to frying pan, cook until porkchops are no longer pink and spinach starts to wilt. Add ingredients sauce (& water!) combine and let simmer. Slow cook until liquid starts to evaporate and your left with a think delicious veggie/porky/delicious sauce.
Meanwhile, make your rice (we just made white rice because that's all we have, but you can use whatever you'd prefer!).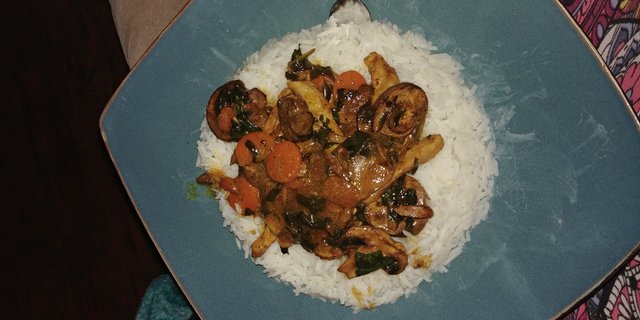 The final product! Excuse the white on the plate, I think it's steam that my camera caught, or rice reside from pushing it all in the middle of the plate.
It was SO good!
Thanks @dizzyjay !
If you recreate or make something similar, please tag me in it so I can see!!