Pumpkin Muffins with Nuts and Citrus Frosting
Pumpkin Muffins with Nuts and Citrus Frosting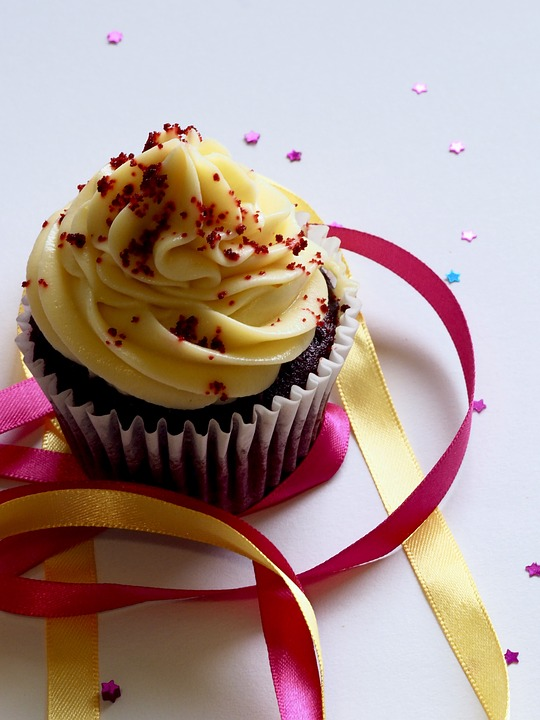 Image source
Ingredients for 12 cupcakes
400 g of peeled pumpkin;
350 g of brown sugar;
4 eggs;
a pinch of salt;
300 g of flour;
2½ teaspoons of baking powder;
a handful of walnuts;
1 teaspoon ground cinnamon;
175 ml of olive oil;
1 vanilla pod;
1 mandarin;
1 lemon;
140 g sour cream;
2½ tablespoons powdered sugar;
Lavender petals - optional.


Cooking


Grind the pumpkin in a blender. Add sugar, eggs, salt, flour, baking powder, nuts, cinnamon and olive oil and beat well.
Spread the resulting dough into paper cups (they must first be put into the hollows of the baking dish of the muffins) and put into an oven heated to 180 ° C for 20–25 minutes. Check the readiness with a toothpick: it should come out of the cupcakes clean.
Slice the vanilla pod along and take out the seeds. Mix almost all grated mandarin zest, grated lemon zest, half lemon juice, sour cream, powdered sugar and vanilla seeds to a uniform consistency.
While the muffins are cooling, put the icing in the fridge. Then smear cupcakes on it and sprinkle with the remaining grated mandarin zest and lavender petals.
---

Thanks for following. Hope you like the article.