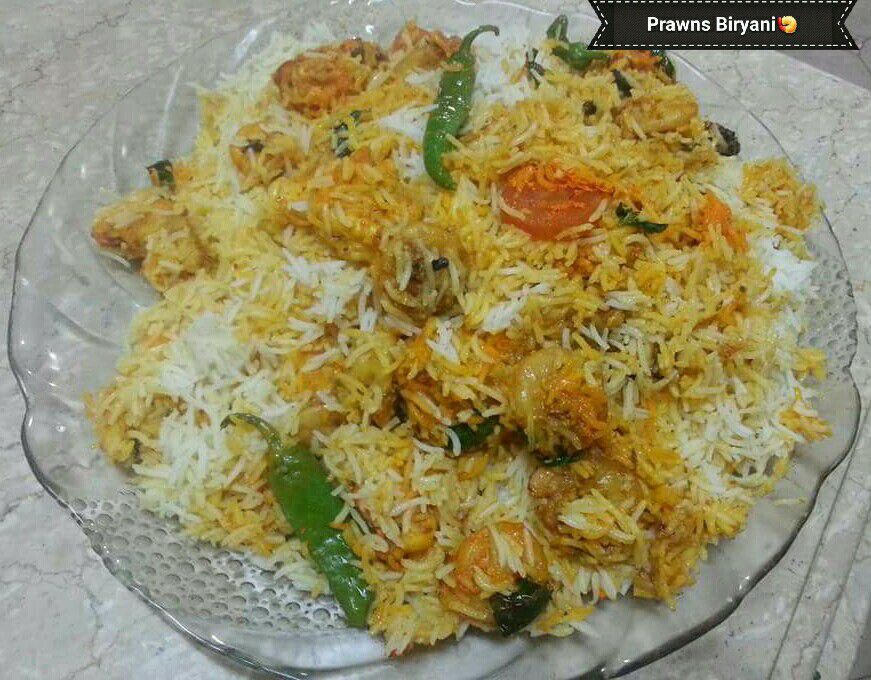 source
Ingrediants:
For rice:
2 cups of Basmati or any perfume rice
Cinnamon 1
Salt 1/2 teaspoon
Clove 4/5
Cardamom 4/5
Heat 1 liter of water and heat hot spices and salt. If the water rises, pour the already soaked rice. When rice moves, keep water aside. Due to the soaking of the rice, due to the hot water, very quick rice will be boiled.
For shrimp:
400 grams of shrimp
Ginger-garlic spoon 2 teaspoons
Little salt
1 teaspoon of peppercorn powder
Cinnamon 1
1 teaspoon of ghee
Baypatha 1
5 out of 5
Onion Beaver 1/2 cup
Cupcakes are 1 cup
Oil 1/2 cup
Coriander leaves
Frying spinach (optional) 1 cup
Mushroom 1/22 cup chopped (optional)
Method:
Wash the shrimp and wash the water thoroughly and keep aside the ginger paste, garlic paste, chilli powder and salt with 30 minutes.
Heat oil in the pan and give hot spices.
If the fragrance comes out, then the shrimp, mushroom with 3/4 minutes, Bhajuna medium Ace.
Keep the fried shrimp separated.
Give the same oil, onion beaver, coriander leaves. Cook for 5 minutes and fry it with fried shrimp.
Cook for 2 minutes, cover the pan at this time.
Unfreeze the lid and let it be cooked, let the pulp grow.
Cook only for 5 minutes. Check the lube, if you feel less, more days.
Serve warm hot dish shrimp!