Hi everyone!!

As you may guess I'm fully recovered and back with another SundayCook delicious!!
I'm more than pleased to share this dish recipe because I consider it typical of my hometown and center region of Portugal.

Olá a todos!!

Como podem bem deduzir, já estou completamente recuperada e de volta com outro SundayCook delicioso!!
Estou mais do que feliz por partilhar a receita deste prato que considero típico da minha cidade natal e da região centro de Portugal.
For this SundayCook I prepared | Para este SundayCook preparei:
Grilled meat with rice and beans and Portuguese kale crumbs | Carne grelhada com arroz de feijão e migas de couve Portuguesa e broa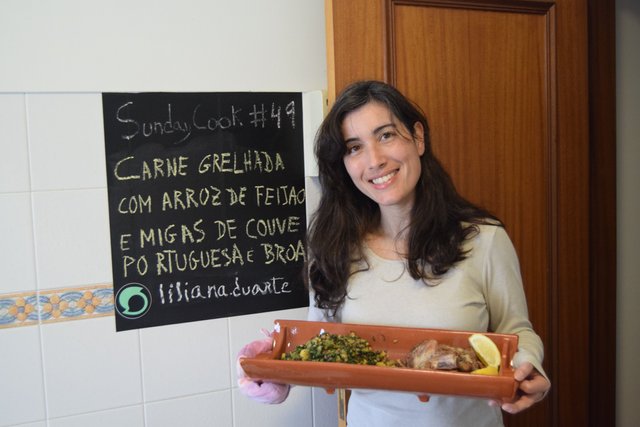 (What a large name...sorry about that, but it's needed! | Os Portugueses saberão compreender a razão de um nome tão grande)
| | |
| --- | --- |
| This recipe has different tasks, but it is easy to prepare, and the result is incredible! Did you got curious!? | Esta receita tem diferentes partes, mas é simples de preparar, e o resultado incrivelmente bom! Ficaram curiosos!? |
Ingredients | Ingredientes:
pork chops or whatever meat you love to grill | - costeletas e entremeada de porco ou qualquer outra carne que gostem grelhada
Rice and beans
2 medium onions | - 2 cebolas médias
2 garlic cloves | - 2 dentes de alho
50 g bacon | - 50 g bacon
240 g unpeeled tomato | - 240 g tomate pelado
260 g boiled red bean | - 260 g feijão vermelho cozido (ou manteiga, como usei)
1 bay leaf | - 1 folha de louro
salt, pepper and white wine (to taste) | - sal, pimenta e vinho branco (a gosto)

Portuguese kale crumbs
2 garlic cloves | - 2 dentes de alho
400 g shredded Portuguese kale | - 400 g de couve Portuguesa cortada
150 g corn bread | - 150 g de broa de milho
260 g boiled black-eyed bean | - 260 g feijão frade cozido

Preparation | Preparação
| | |
| --- | --- |
| 1 - Season the pork meat with salt and set aside. The meat will be grilled on coals while the rice cooks. | 1 - Temperar a carne com sal e reservar. A carne vai ser depois grelhada no carvão enquanto o arroz estiver a cozer. |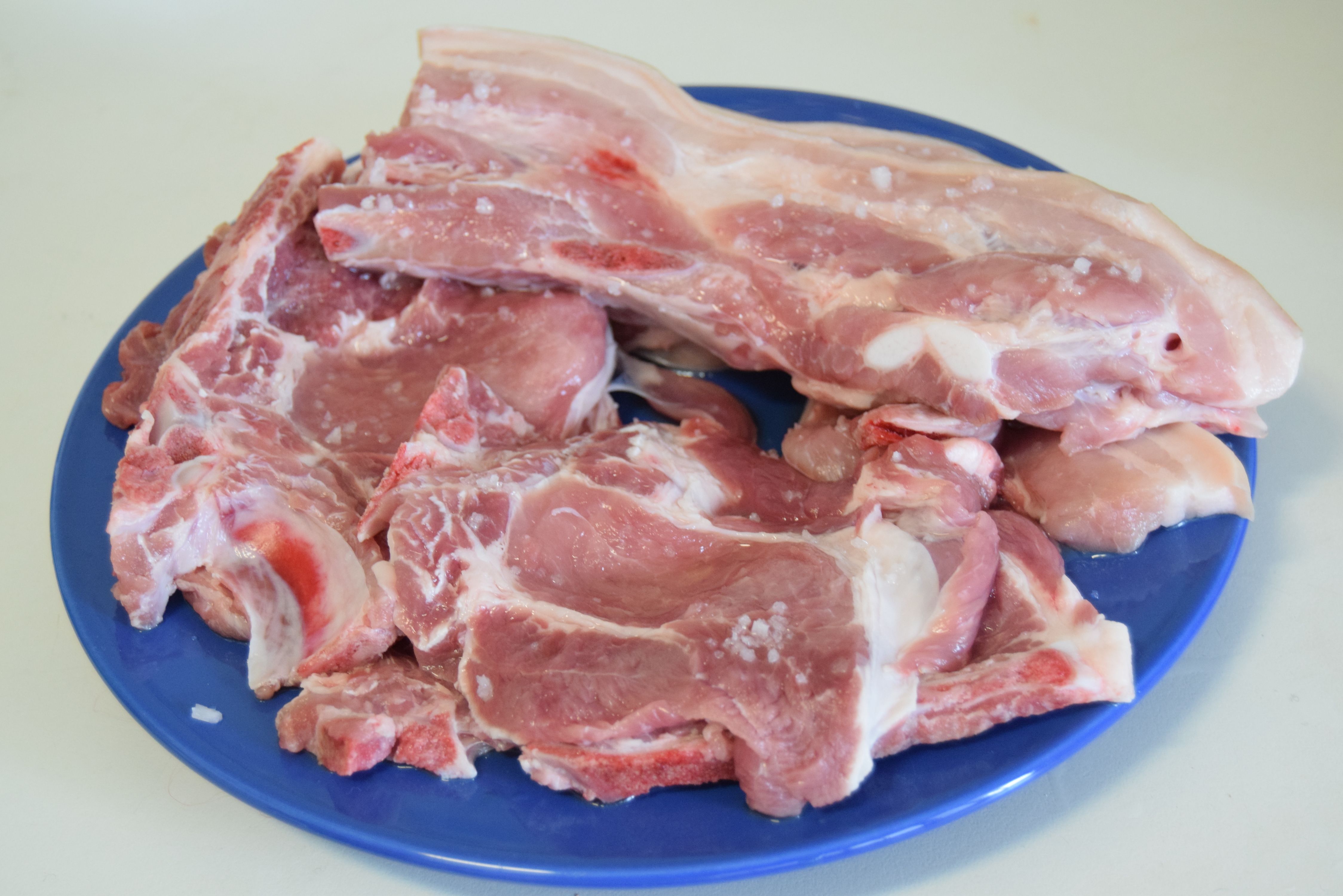 Rice and beans
| | |
| --- | --- |
| 2 - In a saucepan, place the olive oil, the chopped onion and garlic, and the bay leaf and let fry for 3 minutes. Add the bacon, let fry for another 5 minutes, and finally add the chopped tomato. Season with some salt and pepper and cook over low heat for 10-15 minutes, stirring occasionally. Add some white wine. | 2 - Num tacho, colocar o azeite, a cebola e alho picados e a folha de louro e deixar fritar por 3 minutos. Juntar o bacon, deixar fritar durante mais 5 minutos. e por fim juntar o tomate picado. Temperar com sal e pimenta e deixar cozinhar em lume brando por 10-15 minutos, mexendo ocasioalmente. Juntar um pouco de vinho branco. |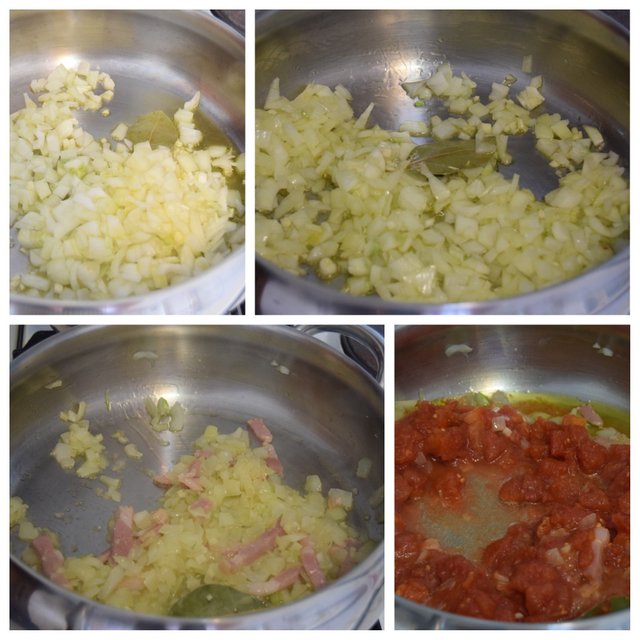 | | |
| --- | --- |
| 3 - Add the beans, and water (tree cups for one of rice). Season with a little more salt. When it starts boiling, add the rice, and when it starts boiling again, reduce to low heat and cook for about 10 minutes. | 3 - Juntar o feijão vermelho (ou manteiga). Temperar com um pouco mais de sal. Quando começar a ferver, juntar o arroz e depois de re-começar a ferver, reduzir o lume e cozer por cerca de 10 minutos. |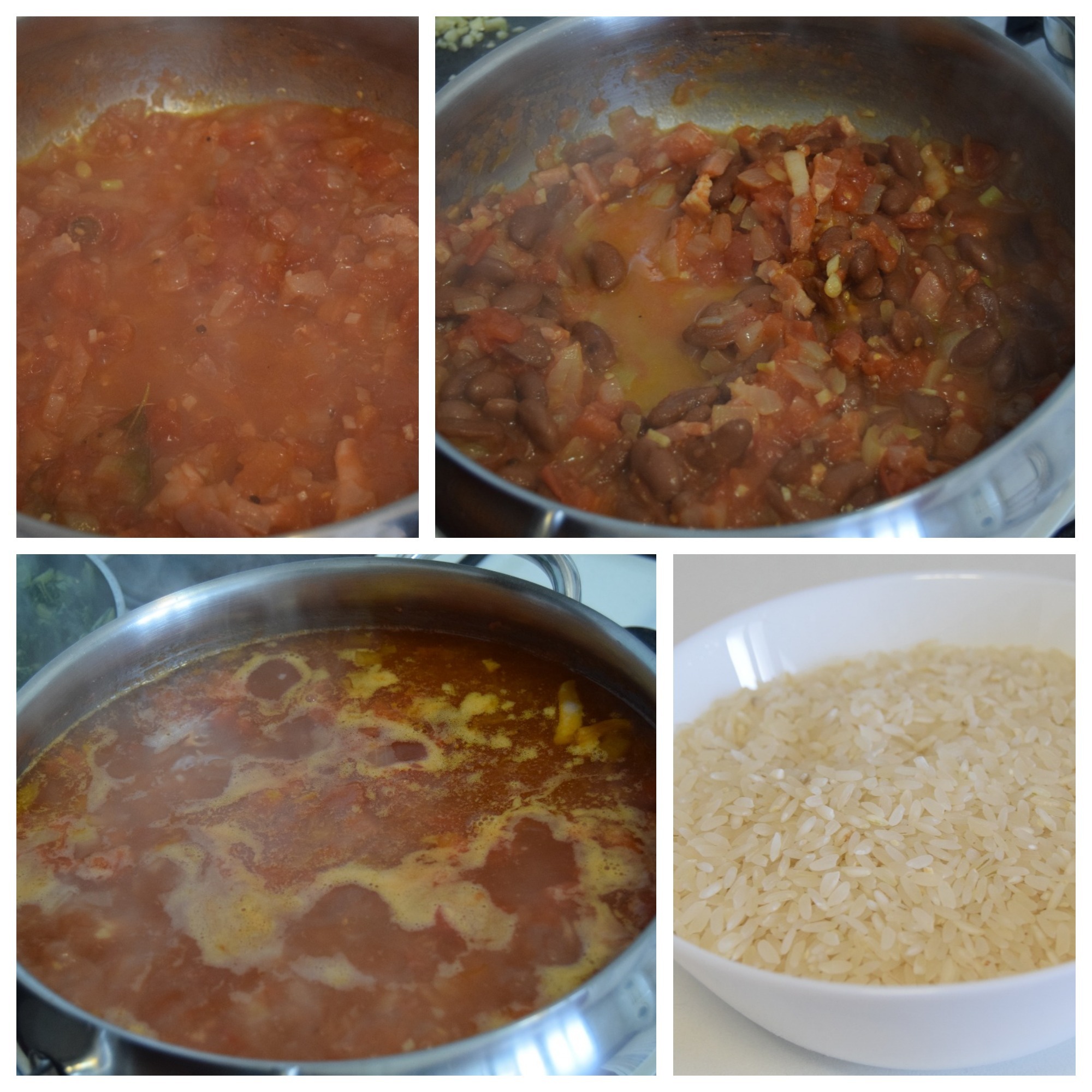 Meanwhile...| Entretanto...
Portuguese kale crumbs
| | |
| --- | --- |
| 4 - In another saucepan, place water, seasoned with salt to boil and add the Portuguese kale to cook for 10 minutes. Drain the water and set aside. | 4 - Numa panela, colocar água temperada com sal para ferver e juntar a couve Portuguesa, deixando cozer por 10 minutos. Escorrer a água e reservar. |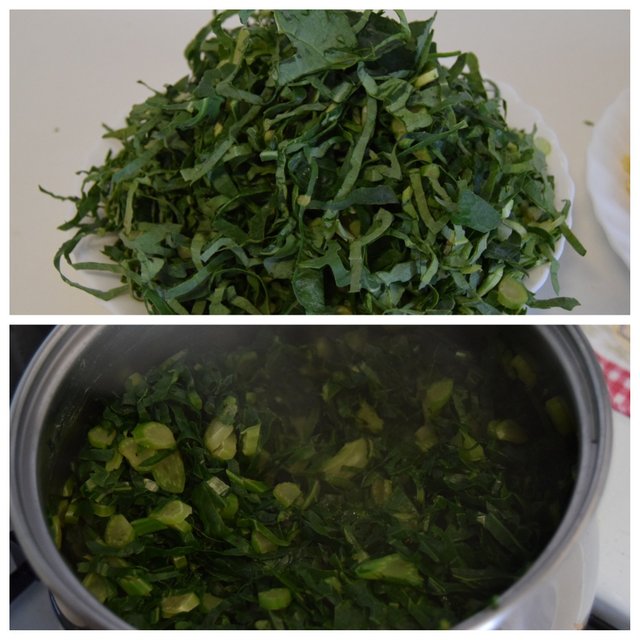 | | |
| --- | --- |
| 5 - Cut the corn bread, and make crumbs with your hands. | 5 - Cortar a broa e partir em pedaços com as mãos. |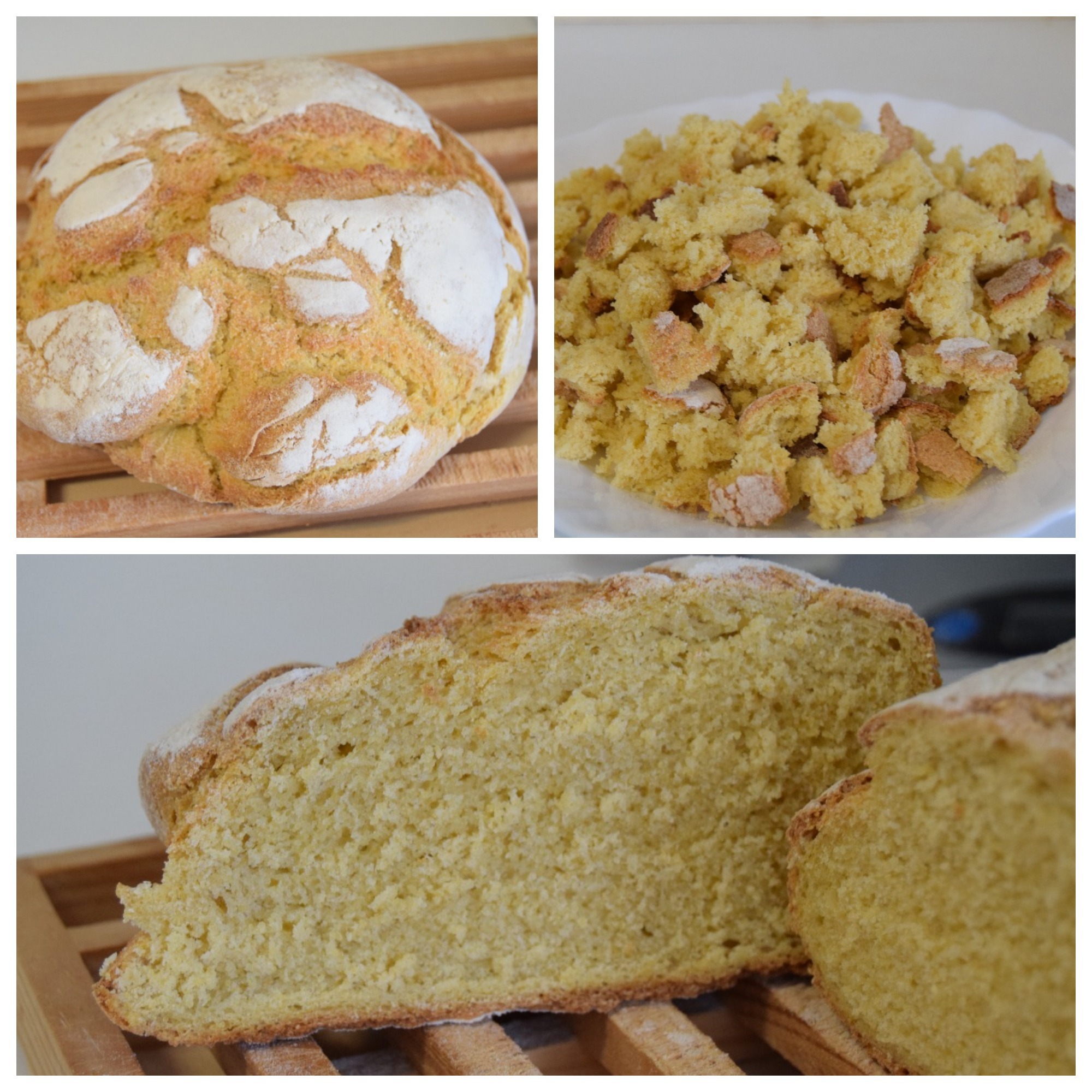 | | |
| --- | --- |
| 6 - In a frying pan, place olive oil and two chopped garlic cloves. Let fry for 2-3 minutes, and add the Portuguese kale. Stir, and add the blacked eye beans. Finally add the corn bread crumbs, and stir. | 6 - Numa frigideira colocar o azeite e dois dentes de alho picados. Juntar a couve Portuguesa. Mexer e juntar o feijão frade. Por fim juntar a broa e mexer. |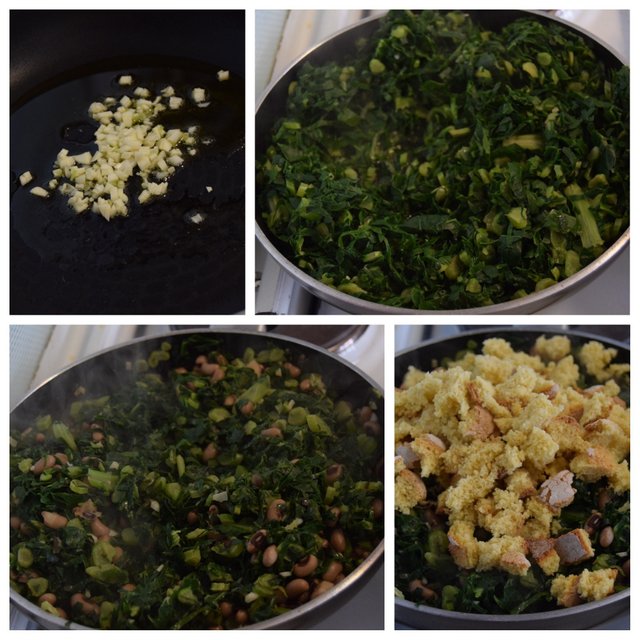 Meanwhile... | Entretanto...
| | |
| --- | --- |
| 7 - Place the meat in the coal to grill (some extra help is precious on this task). | 7 - Colocar a carne a grelhar (um pouco de ajuda é muito bemvinda nesta tarefa). |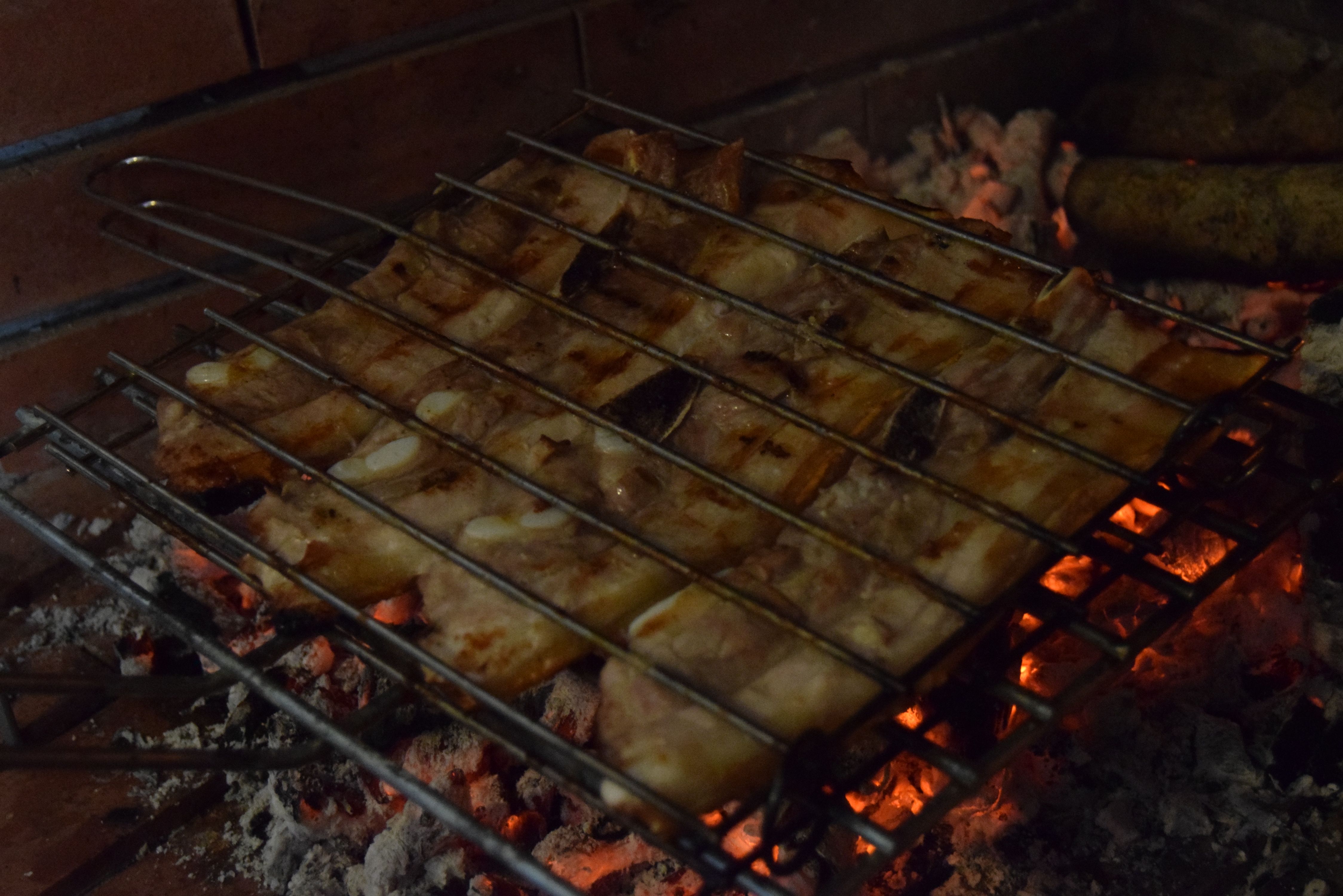 The two side dishes are ready. | Os dois acompanhamentos estão prontos.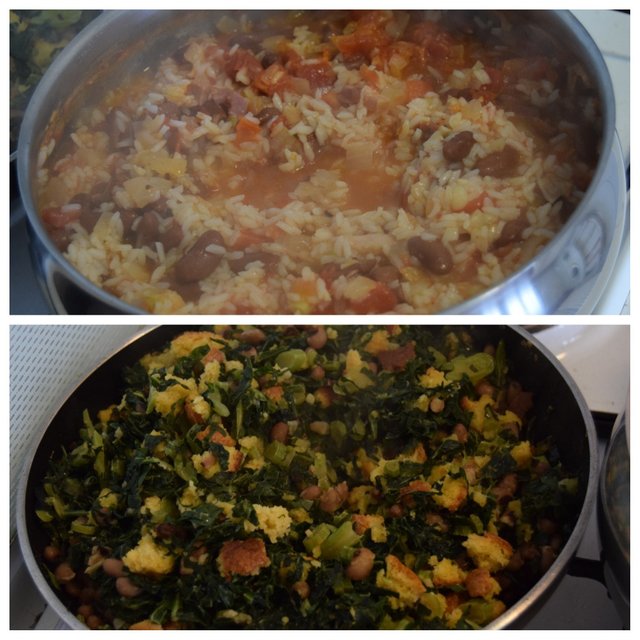 It's time to serve!! | Está na altura de servir!!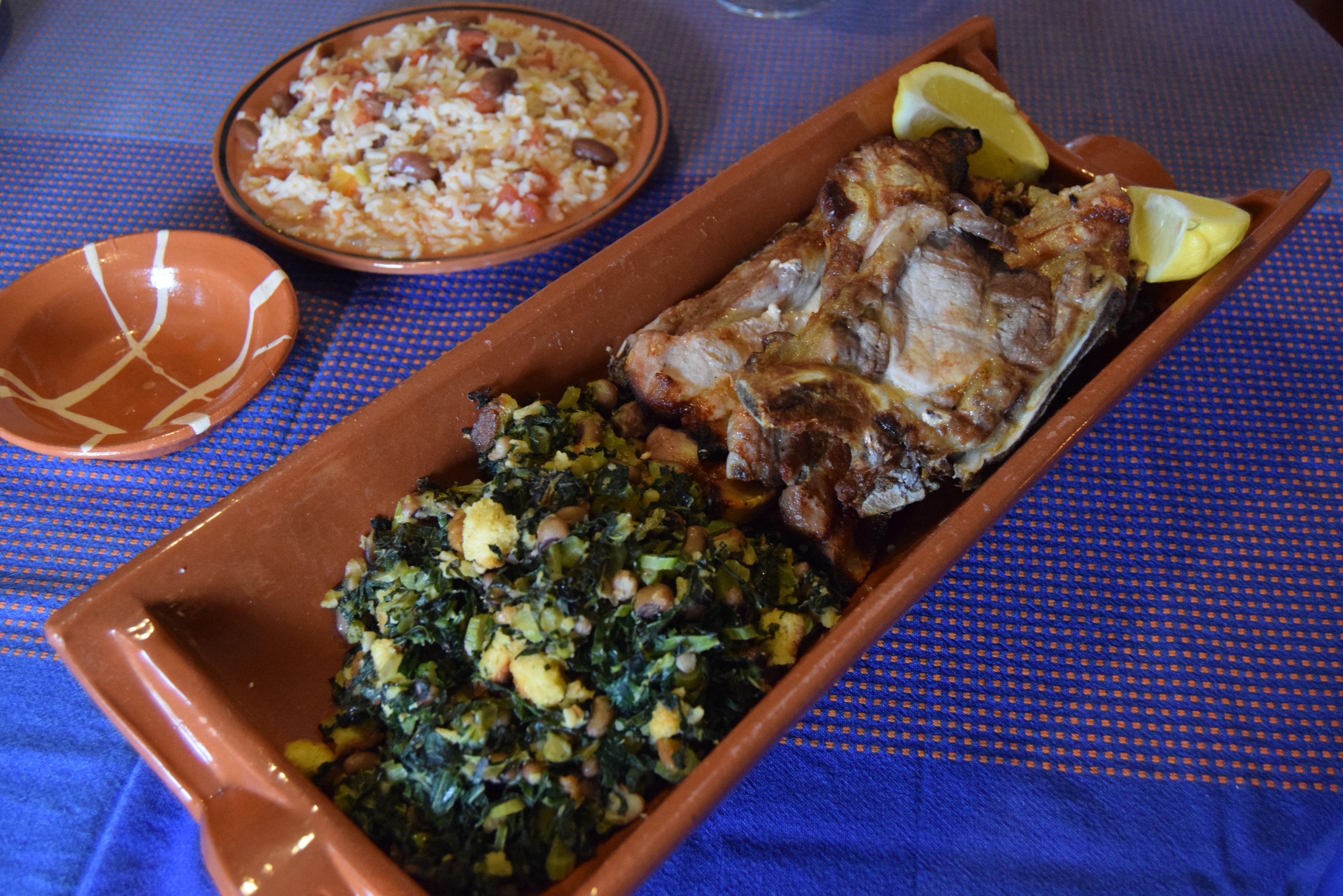 I served this dish in a clay tile, proper for food, I like the rustic effect | Servi o prato na telha, própria para comida, pois gosto do efeito rústico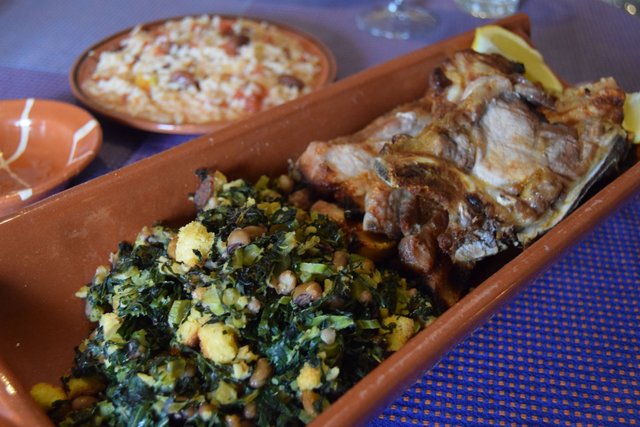 Seasoning the meat with lemon will enrich its flavors | Temperar a carne com o limão deixa a carne melhor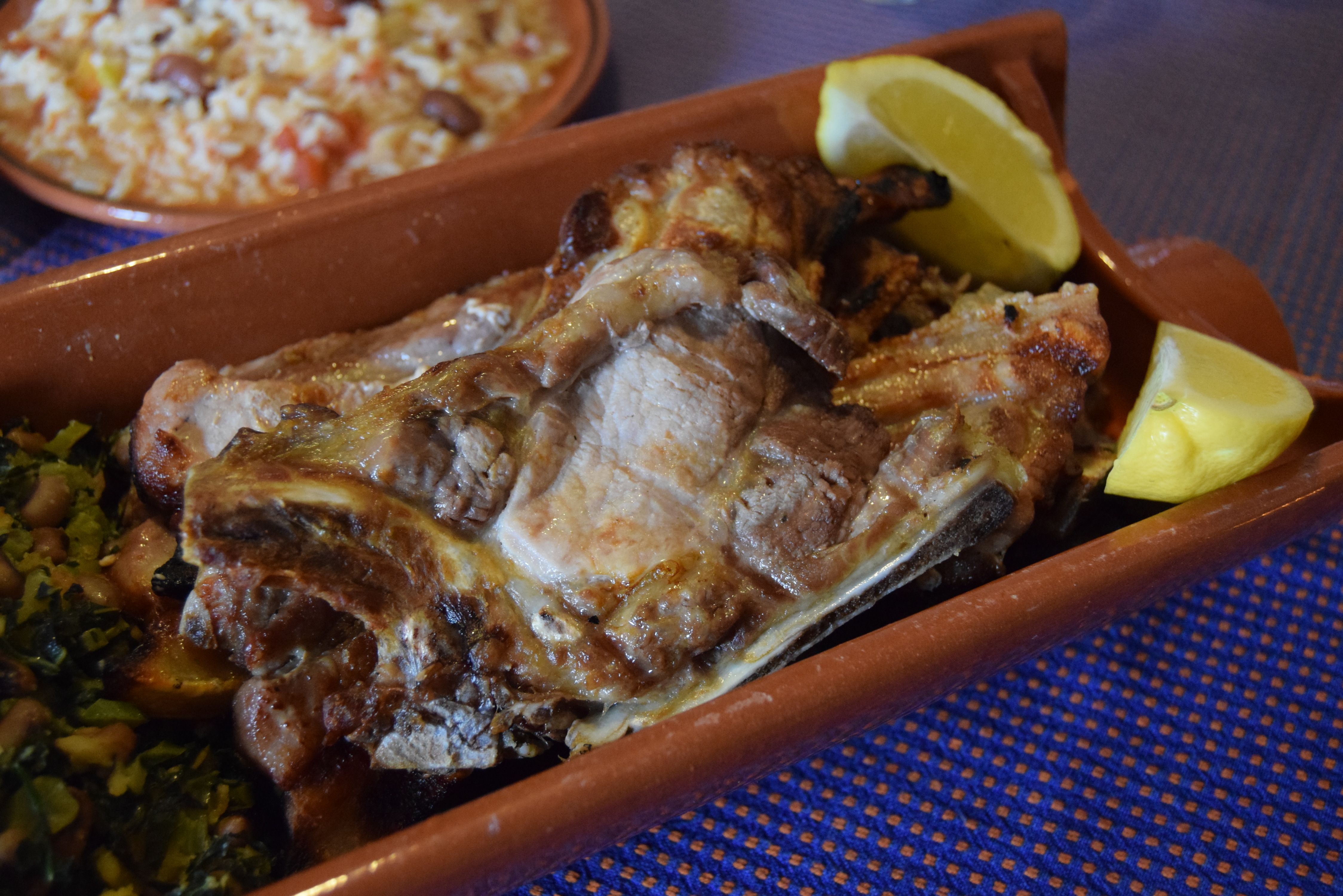 I'm proud of this dish, it tasted amazingly!! | Fiquei orgulhosa com esta refeição, estava deliciosa!!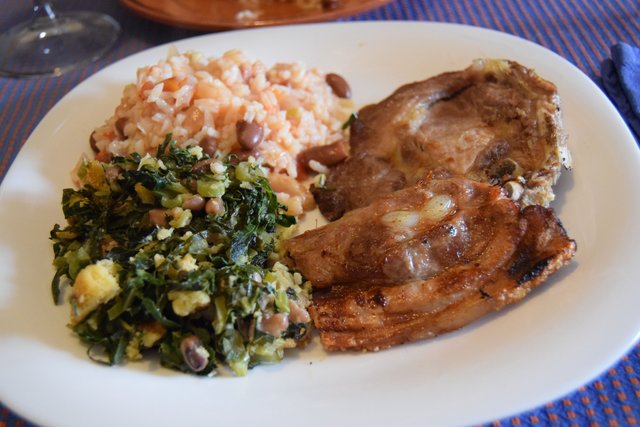 We washed it with a "Convento da Tomina" red wine, that you'll may know on WinExperience (I will add the link as soon as possible) | Este prato foi acompanhado com um "Convento da Tomina" tinto, que poderão conhecer no WinExperience (colocarei o link assim que possível)

---
I will come back with another delicious Sunday cook!!
Stay tuned!!
What is Sunday Cook?!
This Sunday Cook project began with a strong will to contribute to Steemit with my personal view of Portuguese cuisine. I really believe we have plenty of good food. Despite I'm not a professional or nothing similar, I can assure that I'm doing my best, and hopefully, I'm improving my skills too!
On Sundays (cold Sundays), I like to prepare more elaborate and delicious food. It requires time and patience. Usually, I cook some traditional Portuguese food, or at least with Portuguese inspiration :) I try to do it in a healthier way, using the minimum fat as possible, and normally I pick some recipe and transform it. During the week I don't like to spend much time cooking (no time at all), that's why I get totally motivated to cook on Sundays!!
---
PORTUGUÊS
---
Eu voltarei com outro SundayCook delicioso!!
Fiquem atentos!!
O que é o Sunday Cook?!
Este projeto iniciou-se com uma grande vontade de contribuir para o Steemit com a minha visão pessoal da cozinha Portuguesa. Eu considero que temos excelentes pratos. Apesar de não ser profissional nem nada que o valha, garanto que tenho feito o meu melhor, e espero estar a melhorar os meus dotes culinários!
Nos Domingos (quando está frio), gosto de preparar comida mais elaborada. Requer tempo e paciência. Normalmente, cozinho pratos da cozinha tradicional Portuguesa, ou pelo menos inspirados na mesma. Tento cozinhá-los de uma forma saudável, usando o mínimo de gordura possível e normalmente pego numa receita e adapto ao meu gosto. Durante a semana não gosto de perder tempo a cozinhar (nada mesmo), e é por isso que me sinto motivada a cozinhar nos Domingos!!
---
Links for previous posts | Lista de links para posts anteriores: