Hi everyone!! Are you curious to see what I've prepared this last Sunday!?

I cooked another super traditional Portuguese dish!! Well, some (portuguese) will say this recipe don't have all the typical ingredients (fat pork meat and sausages), but reducing the amount of fat is one of my rules while cooking!

Olá a todos!! Curiosos por saber o que preparei neste último Domingo!?

Fiz outro prato Português super típico!! Bem, alguns (portugueses) dirão que a minha receita não tem todos os ingredientes típicos (entremeada, orelha de porco, enchidos), mas reduzir a quantidade de gordura é fundamental nas minhas receitas!
For this SundayCook I prepared | Para este SundayCook preparei:
Portuguese feijoada | Feijoada à Portuguesa
At least I know this version of the recipe will please many of you! | Pelo menos sei que esta versão da receita será do agrado de muitos!!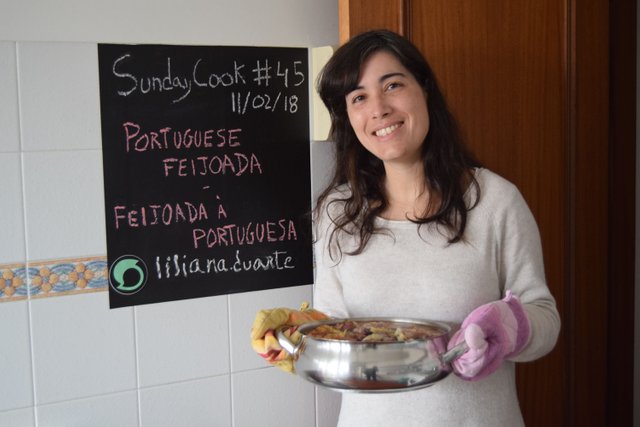 Ingredients | Ingredientes:
1 kg pork| - 1 kg de rojões de porco
1/2 chorizo | - 1/2 chouriço
1 large onion | - 1 cebola grande
4 clove of garlic | - 4 dentes de alho
4 tomatos | - 4 tomates
2 carrots | - 2 cenouras
0,5 kg cabbage | - 0,5 kg couve lombarda
0,5 kg boiled red beans | - 0,5 kg feijão vermelho cozido
bay leaf | - folha de louro
olive oil | - azeite
black pepper (to taste) | - pimenta preta (a gosto)
salt (to taste) | - sal (a gosto)
red wine (to taste)| - vinho tinto (a gosto)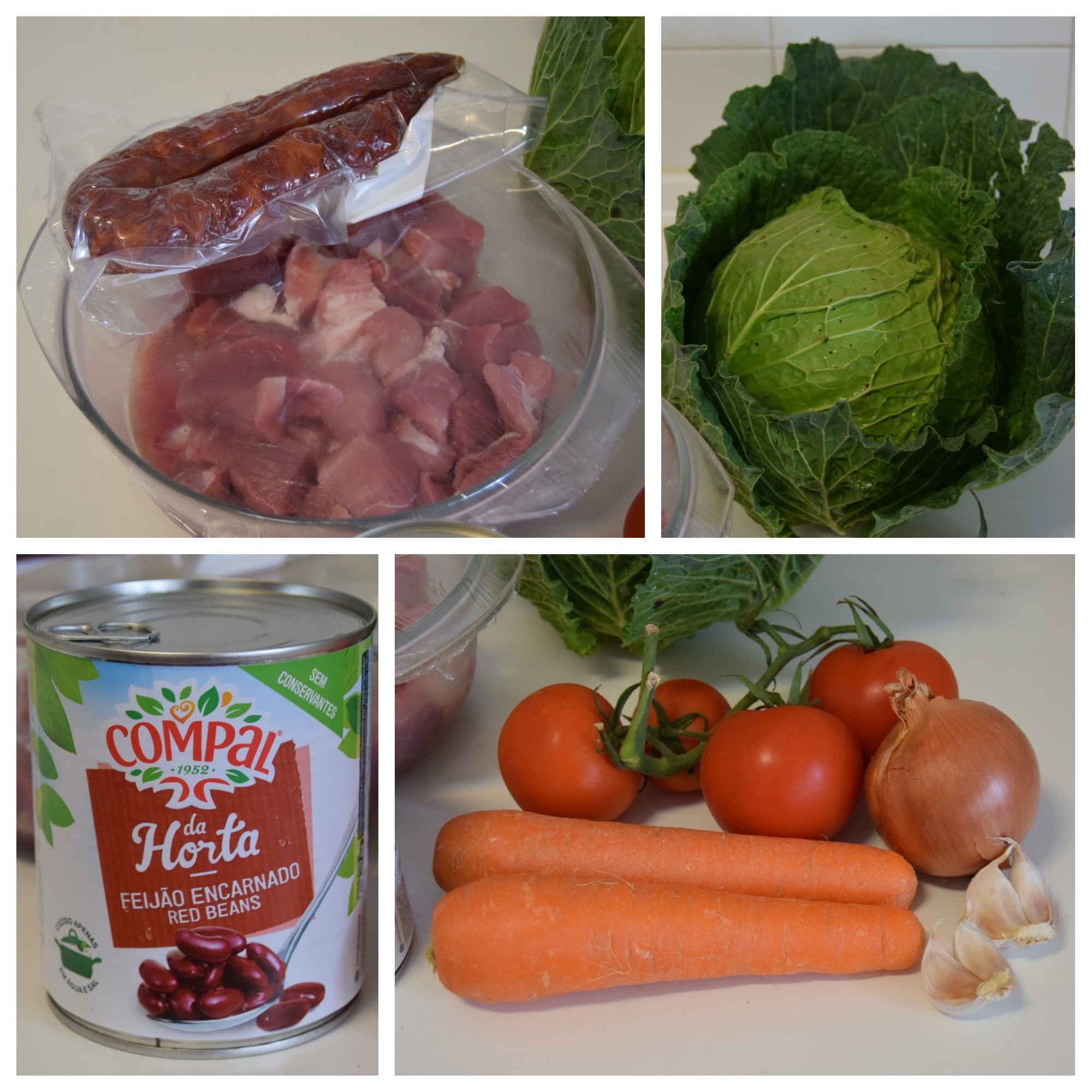 | | |
| --- | --- |
| 1 - Season the pork with salt about 6-12 hours before. Keep it in the fridge. | 1 - Temperar a carne cerca de 6-12 horas antes com sal. Guardar no frigorifico. |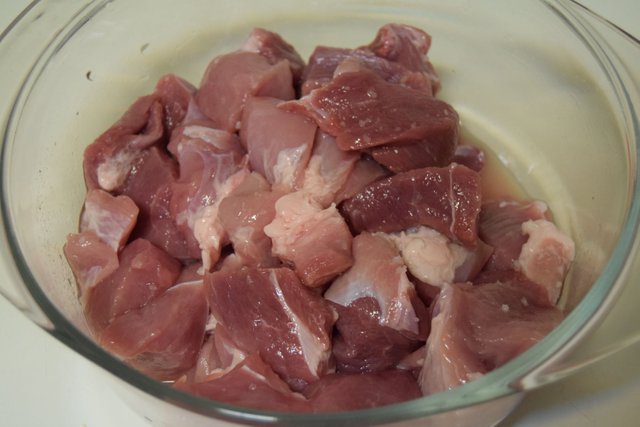 2 - Cut the onion and garlic into small cubes and place it in the pan. Add olive oil and the bay leaf, and let fry about 5 minutes.
3 - Wash, unpeel and cut the tomato into small pieces. Add it to the pan, and let cook for 10 minutes, covered with a lid.

2 - Cortar a cebola e o alho em cubos pequenos e colocá-los num tacho. Juntar azeite e a folha de louro, e deixar fritar por cerca de 5 minutos.
3 - Lavar, pelar e cortar o tomate em pedaços pequenos. Juntar no tacho, e deixar cozinhar por 10 minutos, tapado.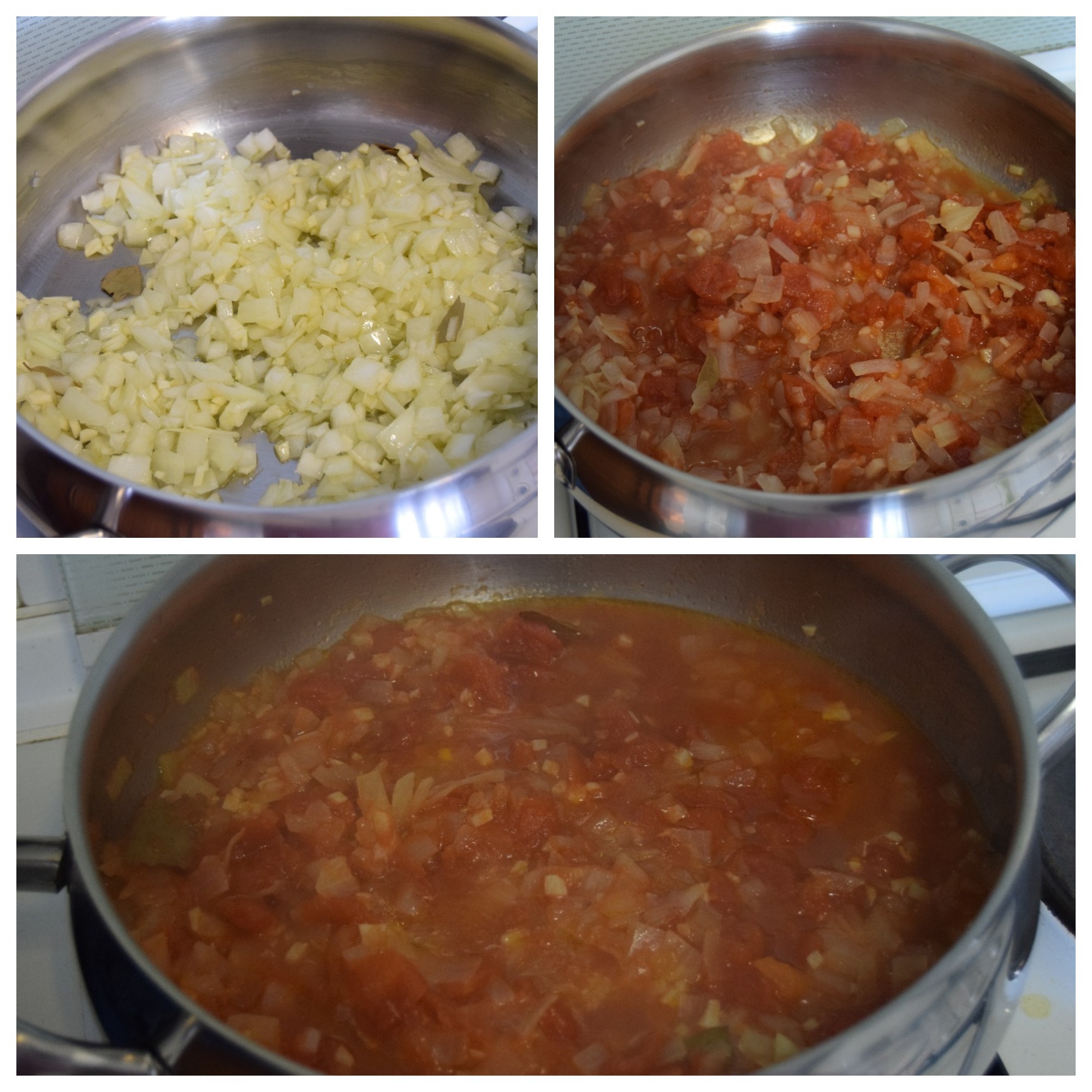 4 - Add the pork and half of the portuguese chorizo. Season with black pepper and a glass of red wine.
5 - Cover with a lid and let cook for 40-50 minutes, in medium-low heat.

4 - Juntar a carne e metade do chouriço. Temperar com pimenta preta e um copo de vinho tinto.
5 - Tapar e deixar cozinhar por 40-50 minutos em lume brando.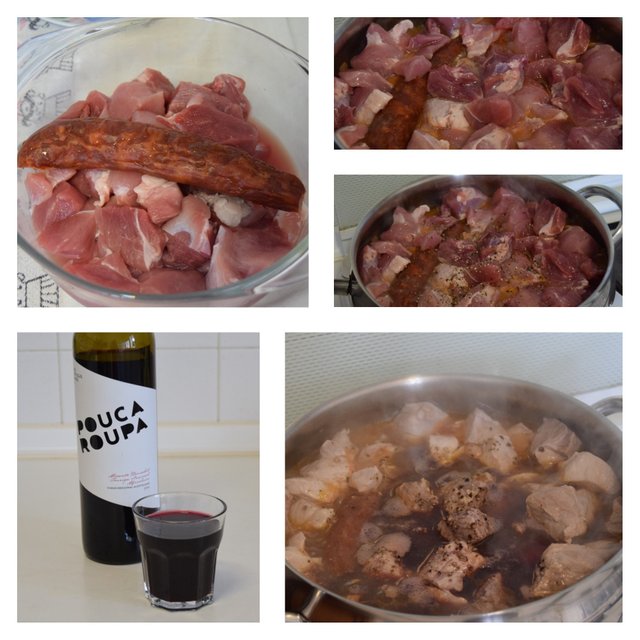 | | |
| --- | --- |
| 6 - Meanwhile prepare and wash the cabbage. Cut the cabbage in small pieces and the carrot into cubes. Wash the red beans. | 6 - Preparar e lavar a couve. Cortá-la em pedaços pequenos e a cenoura em cubos. Lavar o feijão vermelho. |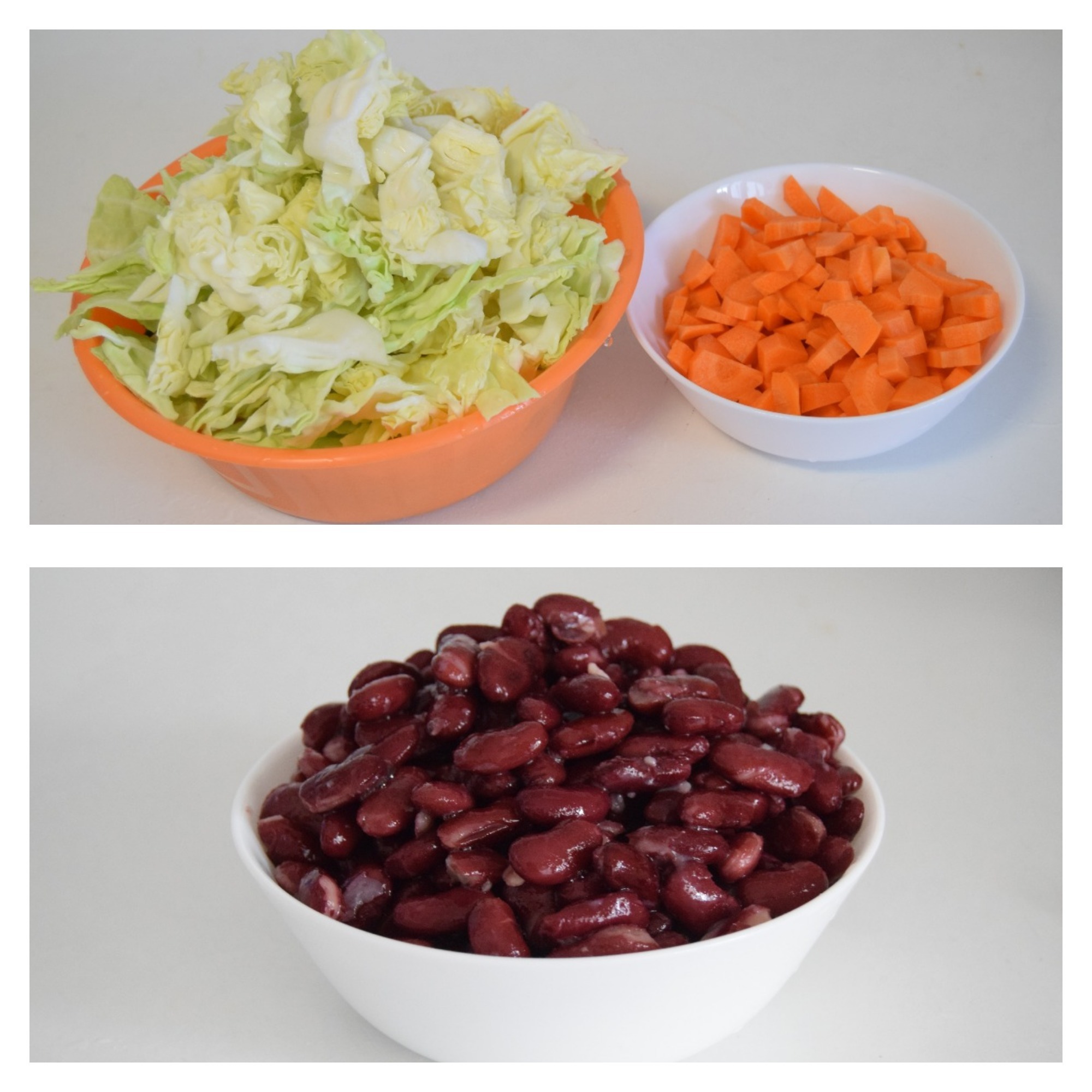 | | |
| --- | --- |
| 7 - Remove the chorizo from the pan and cut it into slices. Set aside. | 7 - Tirar o chouriço do tacho e cortar em rodelas. Reservar. |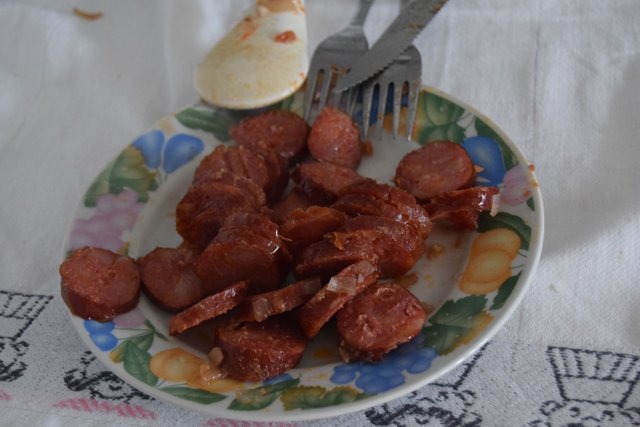 | | |
| --- | --- |
| 8 - Add water to the pan, the enough to cover the meat. Let it boil and add the cabbage and carrot. Let cook for about 10-15 minutes, after boiling. | 8 - Juntar água ao tacho, a suficiente para cobrir a carne. Deixar ferver e juntar a couve e cenoura. Deixar cozer por 10-15 minutos, depois de ferver. |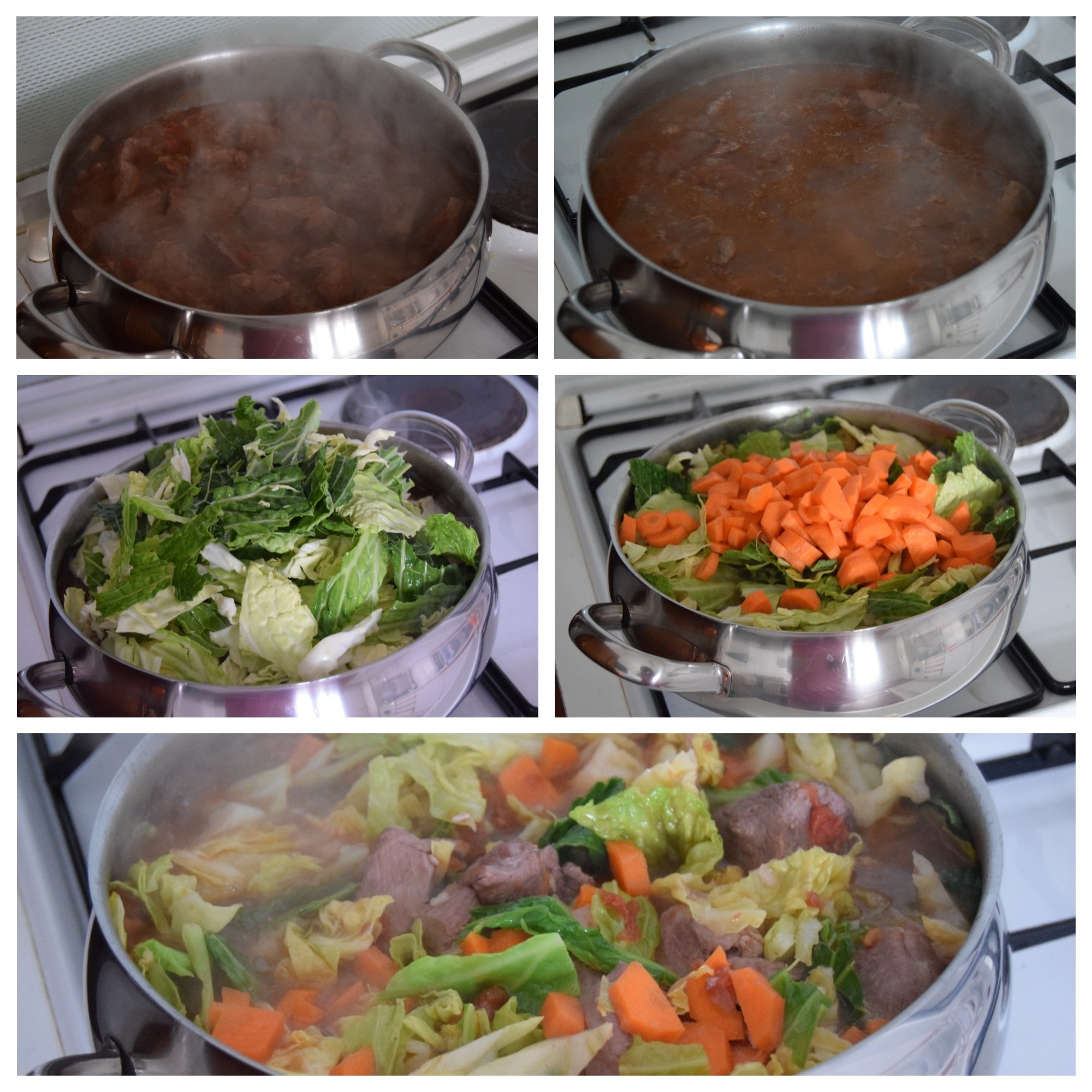 | | |
| --- | --- |
| 9 - Meanwhile I cooked rice, placing in another pan olive oil, one garlic clove, one cup of rice, and two cups of water. | 9 - Entretanto cozi arroz, pondo noutro tacho azeite, um dente de alho, uma chávena de arroz e duas de água. |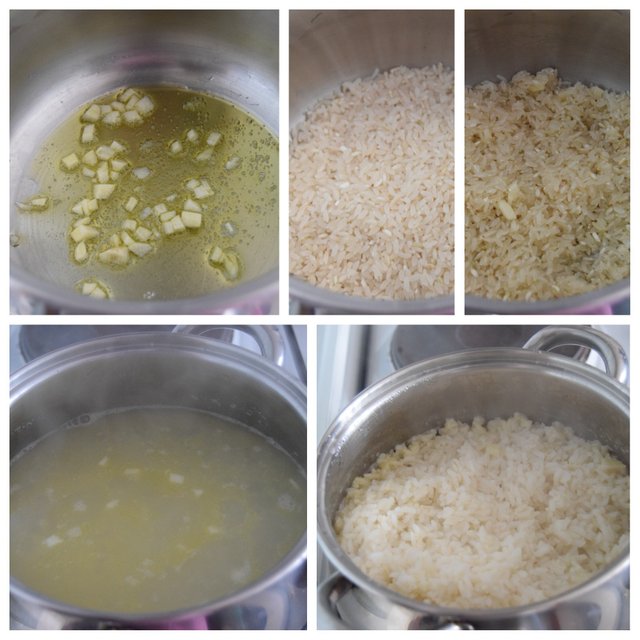 | | |
| --- | --- |
| 10 - Add the red beans and chorizo slices to the large pan, and let cook for 5 minutes. | 10 - Juntar as rodelas de chouriço e feijão vermelho ao tacho maior, e deixar cozinhar por 5 minutos. |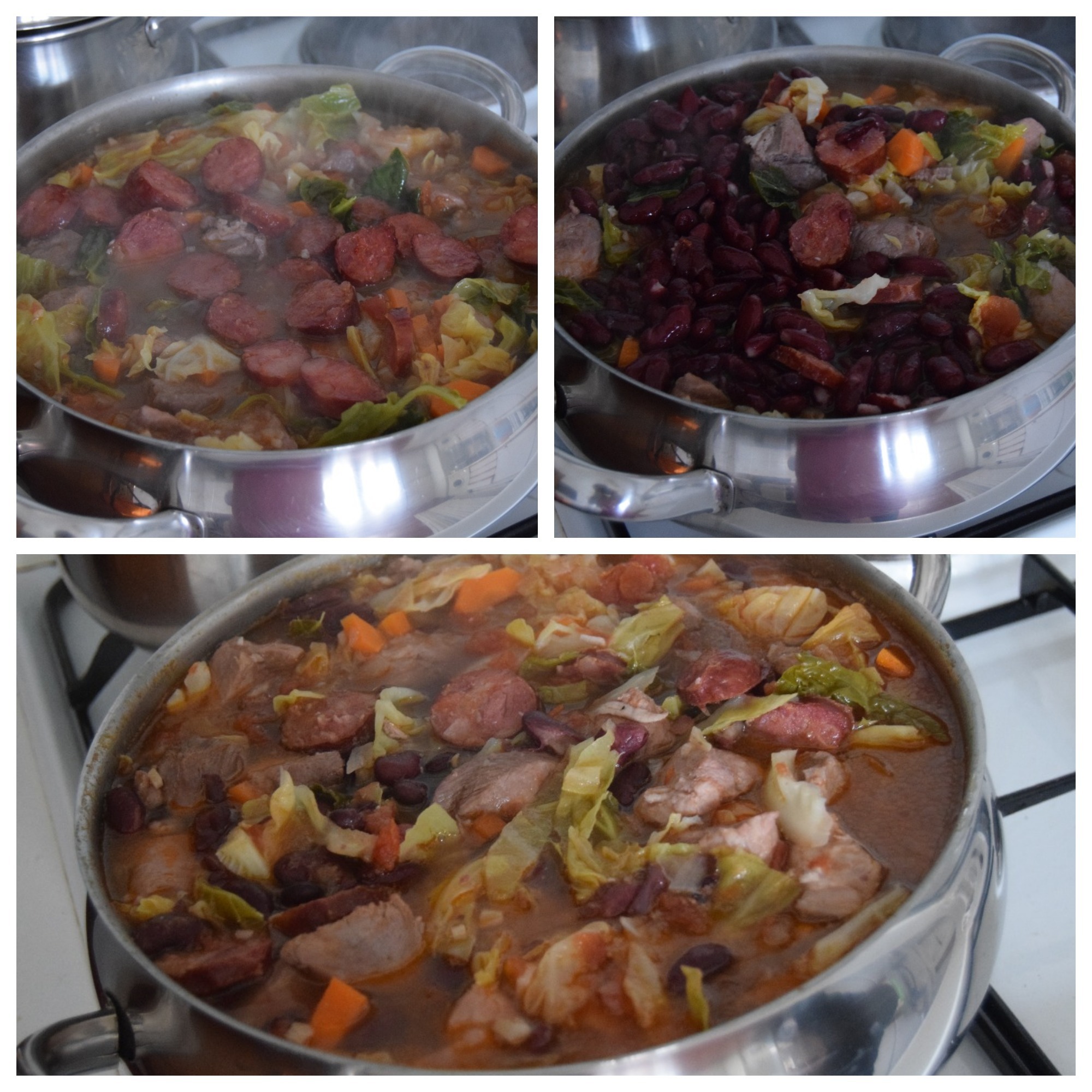 It's ready to serve!! | Está pronto a ser servido!!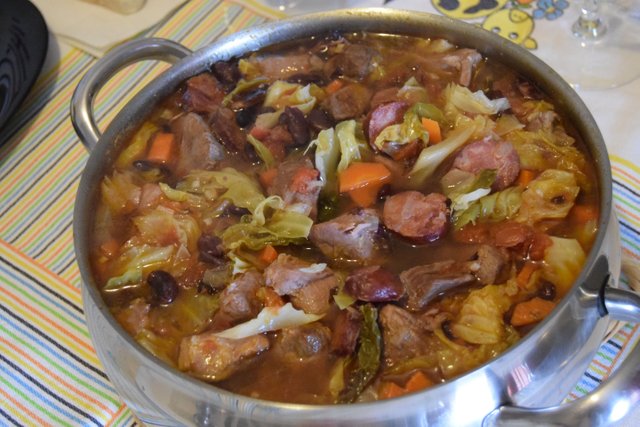 Feijoada goes wonderfully with white rice (bread too!) | A feijoada vai lindamente com arroz branco (e pão!)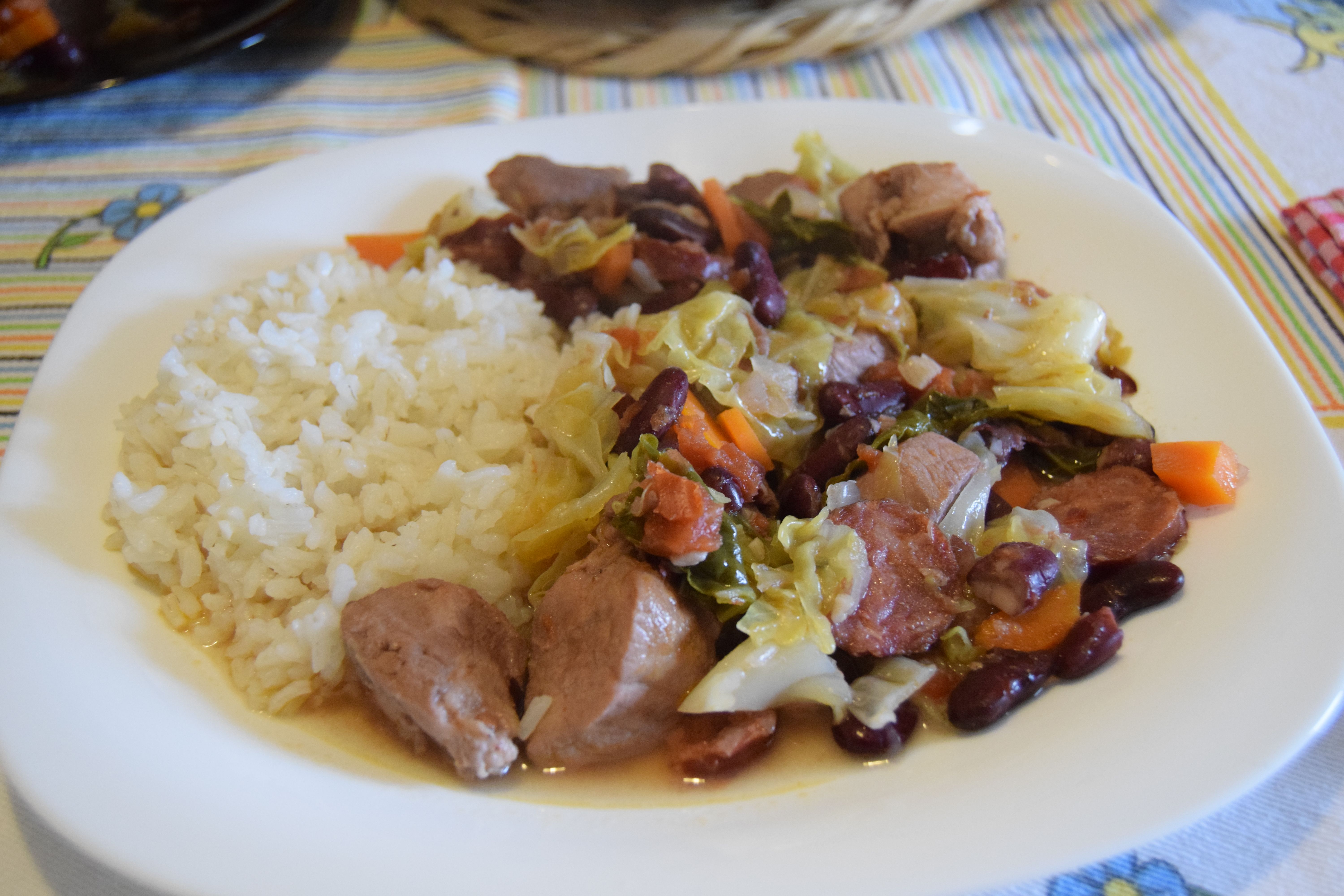 For who haven't tried it, probably is difficult to imagine the flavors, but this is absolutely delicious!! I will remember of its taste whenever looking to this photo!! | Para quem nunca experimentou, provavelmente terá dificuldade em imaginar os sabores, mas isto é absolutamente delicioso!! Eu vou conseguir lembrar-me do sabor sempre que olhar para esta foto!!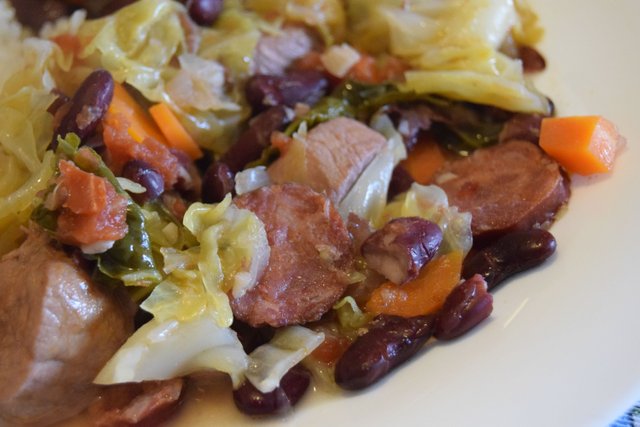 This is the kind of meal that "screams" for a glass of red wine!! | Este é o tipo de refeição que pede mesmo um copo de vinho tinto!!
Know about Pouca-Roupa red wine in WinExperience | Fiquem a saber mais sobre o vinho tinto Pouca-Roupa no WinExperience.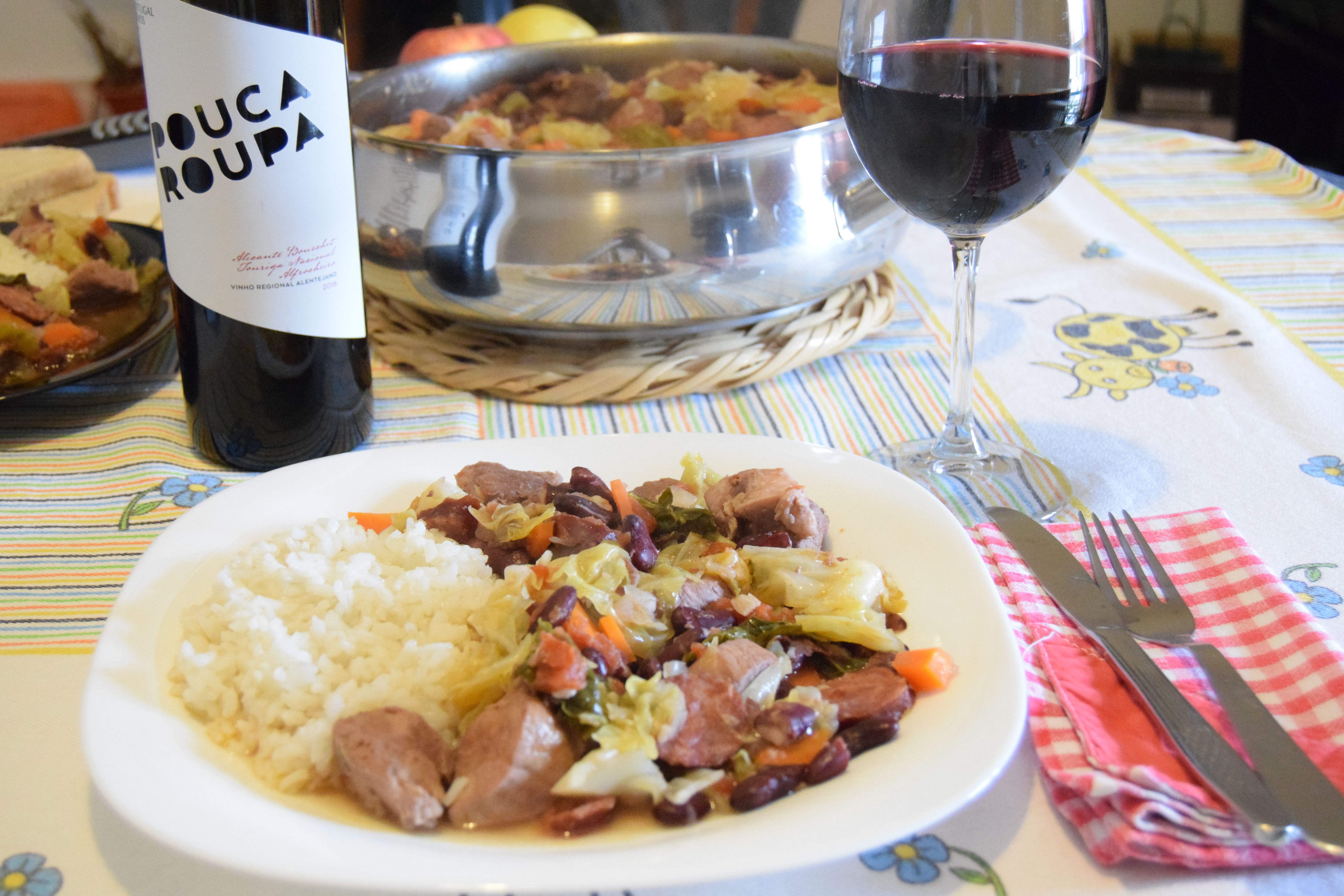 ...and a slice of bread!! | ...e uma fatia de pão!!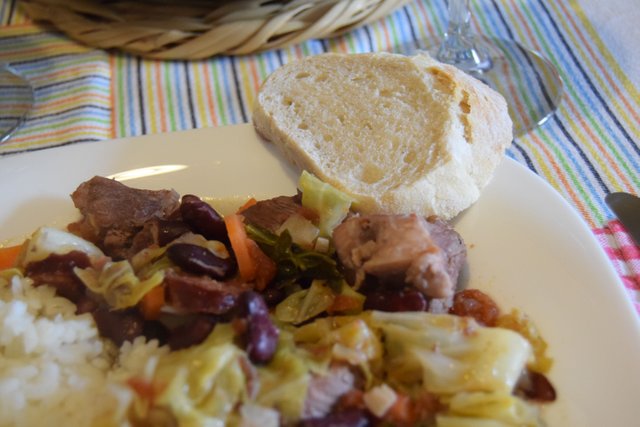 ---
I will come back with another delicious Sunday cook!!
Stay tuned!!
What is Sunday Cook?!
This Sunday Cook project began with a strong will to contribute to Steemit with my personal view of Portuguese cuisine. I really believe we have plenty of good food. Despite I'm not a professional or nothing similar, I can assure that I'm doing my best, and hopefully, I'm improving my skills too!
On Sundays (cold Sundays), I like to prepare more elaborate and delicious food. It requires time and patience. Usually, I cook some traditional Portuguese food, or at least with Portuguese inspiration :) I try to do it in a healthier way, using the minimum fat as possible, and normally I pick some recipe and transform it. During the week I don't like to spend much time cooking (no time at all), that's why I get totally motivated to cook on Sundays!!
---
PORTUGUÊS
---
Eu voltarei com outro SundayCook delicioso!!
Fiquem atentos!!
O que é o Sunday Cook?!
Este projeto iniciou-se com uma grande vontade de contribuir para o Steemit com a minha visão pessoal da cozinha Portuguesa. Eu considero que temos excelentes pratos. Apesar de não ser profissional nem nada que o valha, garanto que tenho feito o meu melhor, e espero estar a melhorar os meus dotes culinários!
Nos Domingos (quando está frio), gosto de preparar comida mais elaborada. Requer tempo e paciência. Normalmente, cozinho pratos da cozinha tradicional Portuguesa, ou pelo menos inspirados na mesma. Tento cozinhá-los de uma forma saudável, usando o mínimo de gordura possível e normalmente pego numa receita e adapto ao meu gosto. Durante a semana não gosto de perder tempo a cozinhar (nada mesmo), e é por isso que me sinto motivada a cozinhar nos Domingos!!
---
Links for previous posts | Lista de links para posts anteriores: