Hello, Steemian fellows!!
This last Sunday cook is truly a 'Sunday Cook' !!
Why? You may ask.
It takes some time to cook (but the preparations it's quite easy), it fits perfectly in the category of 'comfort-food', it's absolutely delicious...and (the best) you can serve several meals!
Portuguese stew is a typical recipe much appreciated in our country that can be prepared in various ways, with different ingredients.
The chicken stew is one of the possible ways to cook it!
I tried this dish a couple years ago when visiting some of my mother's family on a Sunday. We met for a coffee in the afternoon and finished dining at their home. It was an amazing meal, and my mother's​ aunt shared the recipe with us too. Since that day we (me and my mother) start cooking this from time to time, it's really great and almost 100% healthy!!
Are you already curious?
This Sunday I cooked
My Portuguese chicken stew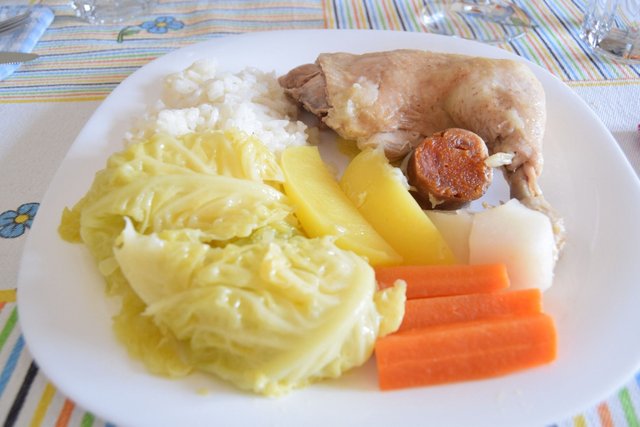 Ingredients
1 savoy cabbage
1 turnip
1 onion
2 carrots
4 medium potatoes
1 chicken
1 farinheira (Portuguese smoked sausage)
1 1/2 cup of rice
Salt (to taste)
The Portuguese smoked sausage (farinheira) is the "less-healthy ingredient on this dish. As you will see, it doesn't needs any more fat adittion!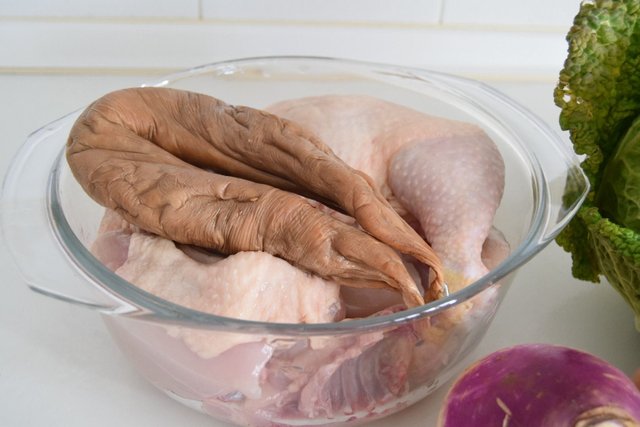 This is a plus: The vegetables came from an organic farm!!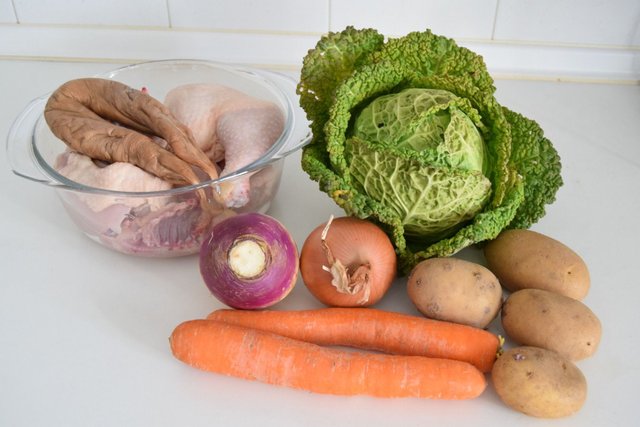 Preparation
Place the chicken, the farinheira and the onion in a pot with boiling water seasoned with salt. Let it cook for about 30 minutes and remove the farinheira. The chicken should cook for about one hour, and then be removed to a plate. Cut the farinheira in 8-10 pieces.

Meanwhile, prepare the vegetables: peel it and wash them. The cabbage too.

Remove a little of the cooking water into a small pot, where the rice will be cooked. Add some water to each of the pans.

When starts boiling, add the rice in the smaller pan, season with a little salt, stir and let cook for about 10 minutes. Place the vegetables in the bigger pan (cabbage, carrot cut, turnip and potatoes), season with a little salt, and bring to a boil over high heat. When starts boiling, reduce to medium-low heat and cook about 25 minutes. When the vegetables got cooked, I placed the amount of meat that we needed for our Sunday lunch in the water again, to get warmer.

It's ready!! Let's serve it!!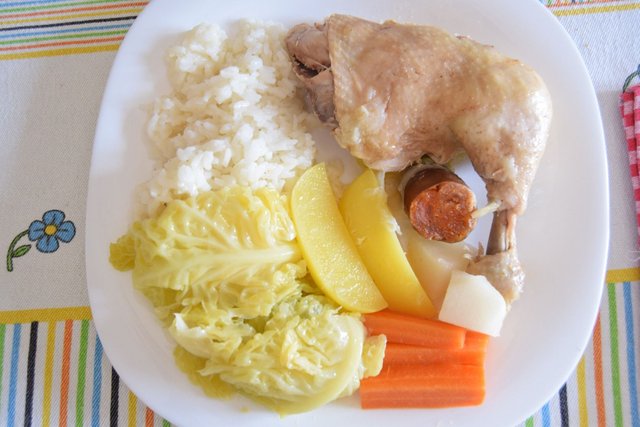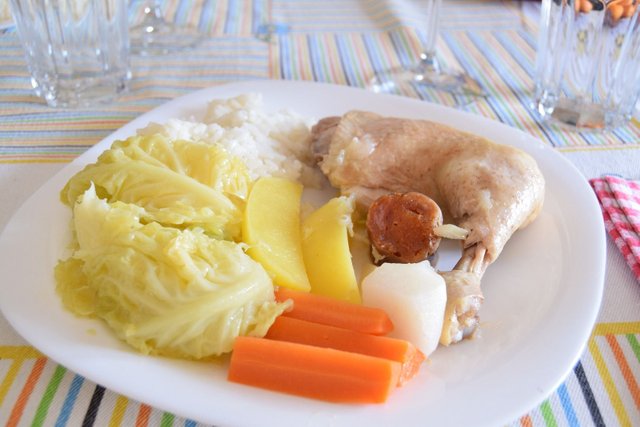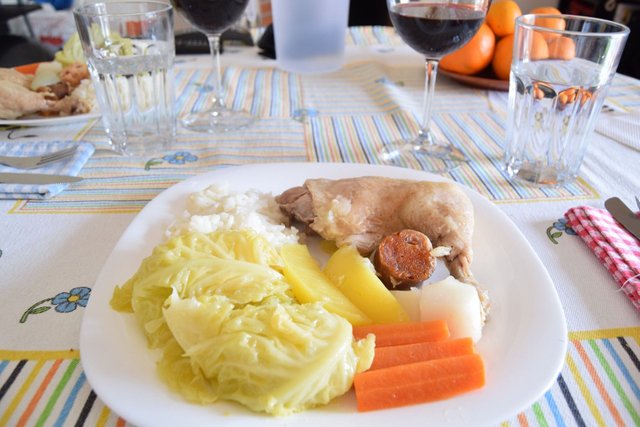 Ah, this stew (also) gets tremendous with a glass of red wine!
I will come back with another Sunday cook delicious :D Stay tuned!!
---
What is Sunday Cook?!
These Sunday Cook project began with a strong will to contribute to Steemit with my personal view of Portuguese cuisine. I really believe we have plenty of good food. I'm not a professional or nothing similar, but I can assure that I'll do my best!
On Sundays, I like to prepare more elaborate and delicious food. It requires time and patient. Usually, I cook some traditional
Portuguese food, or at least with Portuguese inspiration :) I try to do it in a healthier way, using the minimum fat as possible, and normally I pick some recipe and transform it. During the week I don't like to spend much time cooking (no time at all), that's why I get totally motivated to cook on Sundays!
---

BADGES Courtesy of @elyaque