This Sunday I cooked
Pork ribs in the oven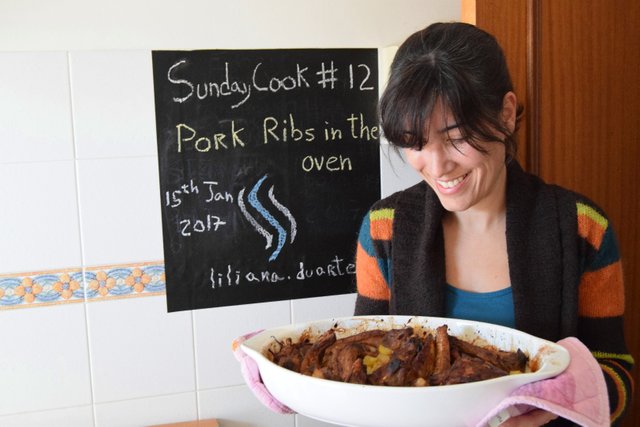 Last weekend I have been at my mother's place and while looking for her recipes I might have found one or two recipes with pork ribs. I know sometimes my mind registers some food desires, and it only gets fulfilled after I eat that. I'm saying this because when I went shopping this weekend (without a plan for this Sunday Cook) I couldn't resist buying​ pork ribs!
​As I didn't bring those recipes, I had to go with what I remembered and follow my intuition!
Ingredients
1 kg pork ribs
4 medium potatoes
1 large onion
5-7 garlic cloves
1 bay leaf
olive oil (to taste)
white wine (to taste)
2 lemons juice
black pepper (to taste)
sweet red pepper sauce (to taste)
salt (to taste)
Preparation
1.Flavour
Previously season the pork ribs with salt, black pepper, sweet red pepper, bay leaf, garlic, white wine and lemon juice. I let this marinate for approximately 12 hours.
2. Roaster tray preparation
Pre-heat the oven 180 ºC - 200ºC. Pick a roaster tray and cover it with sliced onion. Then join the cut potatoes and season with salt.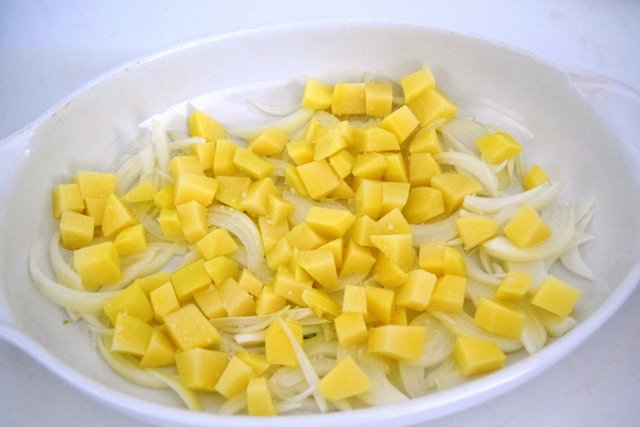 3. Into the oven
Add the pork ribs and seasoned gravy. Add the olive oil and it is ready to go to the oven (180ºC), for about 30m!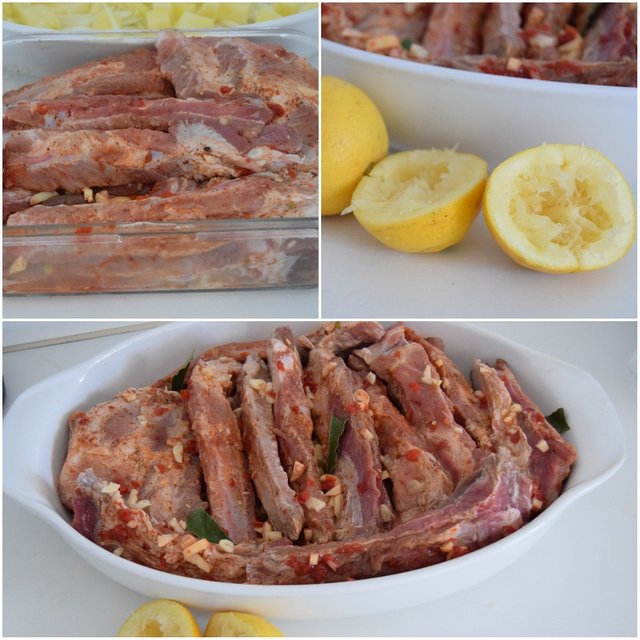 4. Sprinkle with the juices
Every 30 minutes I open the oven to sprinkle the meat with released juices. It's also good to see if the meat and potatoes are cooking properly.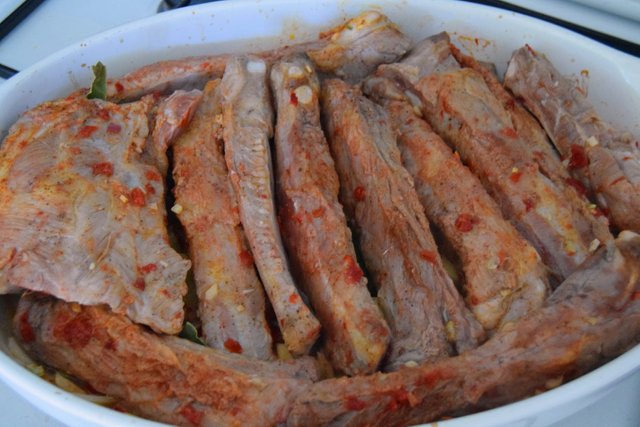 5. Turn off the oven, it's ready
It took more or less 1h30-2h00 to cook! It's ready to serve!!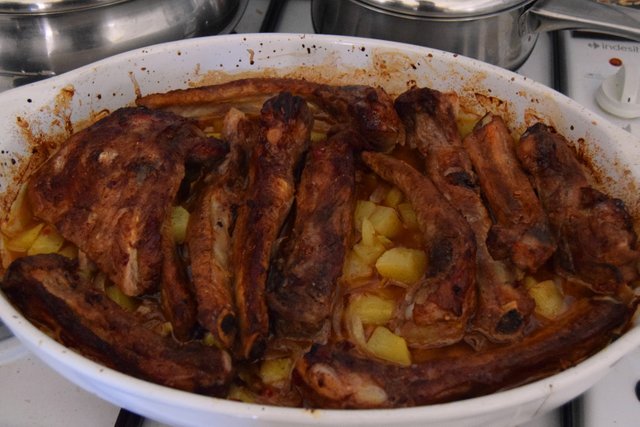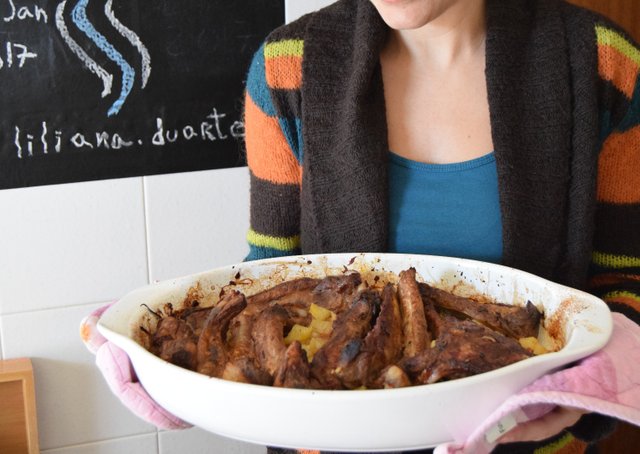 6. Serve it!!
This week I had a bunch of fresh turnip greens and, guess what?! It's a perfect combination!! I also had these ribs with white rice, but feel free to eat it whatever you like the most!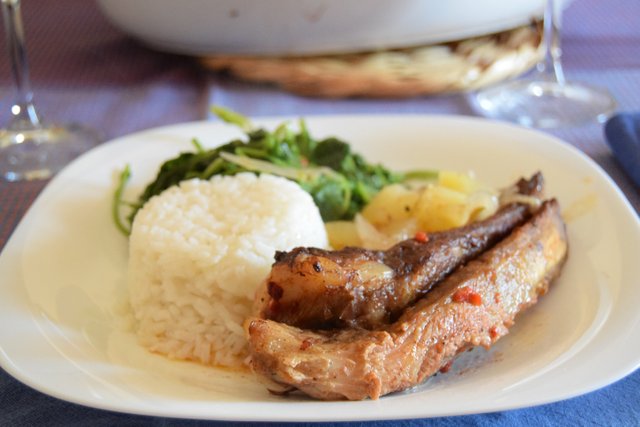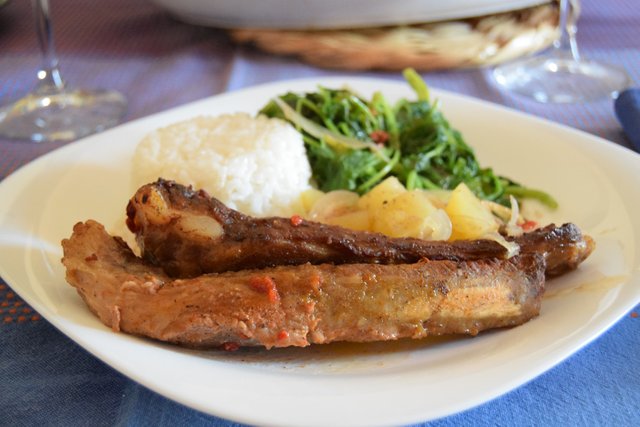 This dish goes absolutely fine with a glass of red wine! Hope you enjoyed :)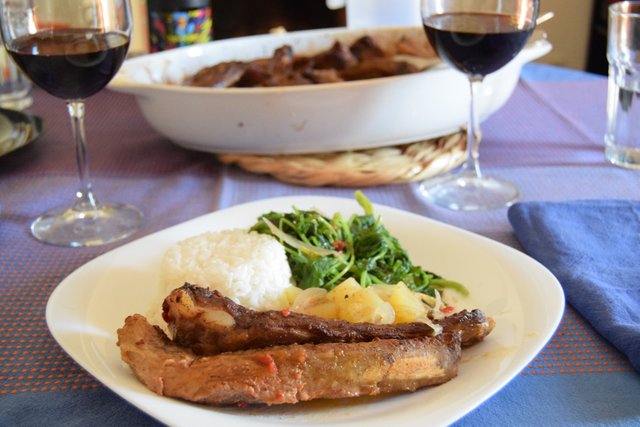 I will come back with another Sunday cook delicious :D Stay tuned!!
---
What is Sunday Cook?!
These Sunday Cook project began with a strong will to contribute to Steemit with my personal view of Portuguese cuisine. I really believe we have plenty of good food. I'm not a professional or nothing similar, but I can assure that I'll do my best!
On Sundays, I like to prepare more elaborate and delicious food. It requires time and patient. Usually, I cook some traditional
Portuguese food, or at least with Portuguese inspiration :) I try to do it in a healthier way, using the minimum fat as possible, and normally I pick some recipe and transform it. During the week I don't like to spend much time cooking (no time at all), that's why I get totally motivated to cook on Sundays!!
---

BADGES Courtesy of @elyaque