Hi Everyone!
This recipe article for Cheesy Chicken Enchiladas goes along with the one I shared earlier about meal prepping and planning! 😏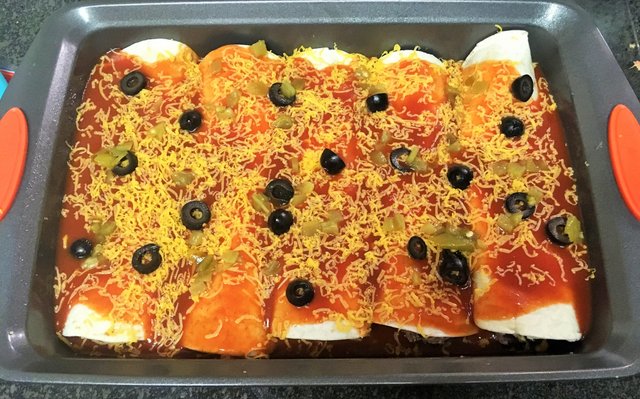 If you haven't read that post, you can click here to read it: Meal Prepping: Eating Healthier and Saving Money 🍴🍲🍒
So before this week has begins, I've already cooked a good amount of chicken and prepared other ingredients as well for meals throughout the week!
Today, I am making some delicious cheesy enchiladas (they're actually in the oven right now as I'm writing this post 😋) and will use a lot of the same ingredients for other meals all this next week!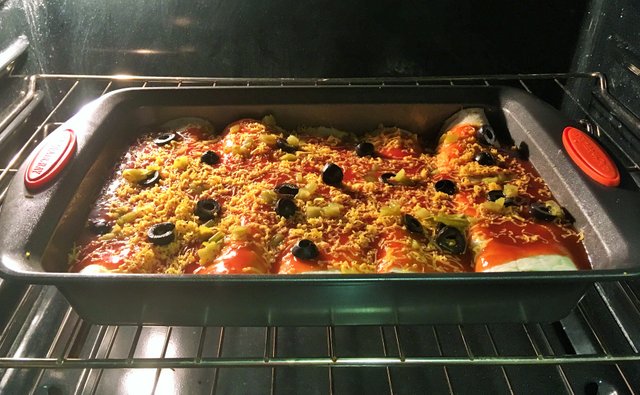 I also plan to take leftovers with me tomorrow for lunch-- since I'll be working or in class all day-- so that I avoid eating out and I save money that I would've spent on a meal 😏
Here is my recipe for Cheesy Chicken Enchiladas:
Ingredients:
Cooked and Shredded Chicken
Shredded Cheese
Tortillas
Can of Black Beans
Can of Kernel Corn
Sliced Black Olives
Can of Diced Green Chili Peppers
Can of Red or Green Enchilada Sauce (I use red sauce in this recipe)
Directions:
Preheat oven to 400 degrees.
Combine shredded chicken, shredded cheese, black beans, canned corn, sliced olives, and diced green chili peppers in a bowl.
Spread this enchilada mixture onto a tortilla, fold closed like a burrito, and place in a greased pan.

Once the pan is filled, pour the enchilada sauce over it.
If desired, top with extra shredded cheese, olives, and green chili peppers!
Enjoy!
Hope you enjoy this recipe!
Sarah Nicole ❤