Hey Steemit,
I made a delicious cake yesterday that I thought I would share with you all. For me non-chocolate and non-mud cakes are where it's at in the cake world. I can't do overly rich chocolate recipes anymore. Here is where I have landed in terms of my cake preference:
Ingredients:
Cake ingredients:
2 cups of plain flour.
4 eggs.
200g of butter.
1 1/2 cup brown sugar.
2 teaspoons baking soda.
2teaspoons ground cinnamon.
2 1/2 cups of grated carrot.
1 cup of walnuts.
1 teaspoon of salt.
1 teaspoon of vanilla.
Desired quantity of fresh ginger, roughly chopped.
Cream cheese frosting:
250g of Philadelphia cream cheese.
1 1/2 cups of icing sugar.
1/2 cup of whipped cream.
Walnuts, finely chopped to garnish on top.
Extra ginger, roughly chopped to garnish on top.
Method:
Take a mixing bowl and sift in the flour, baking soda, eggs, cinnamon.
Melt the butter in a saucepan and then add in the sugar and the vanilla and whisk until it is mixed. Allow the mixture to cool and then whisk in the eggs.
Combine the wet mix with the dry mix in the mixing bowl and stir gently until a uniform batter is formed.
Chop the ginger and grate the carrots and then add to the batter and stir until it is mixed well.
Pour the batter into a greased and floured cake tin. I'm using a standard loaf tin here with this recipe. Place into a preheated oven at 170C. Bake for 40 mins.
Take the cake out of the oven once baked and cool for 10 mins.
While the cake is cooling, prepare the frosting.
Take a mixing bowl and beat the cream cheese until it softens to a creamy texture. Add icing sugar and beat again until light and fluffy.
Once the cake is cool, cover with the frosting. Chop walnuts and ginger and sprinkle over the top.
Here are the results: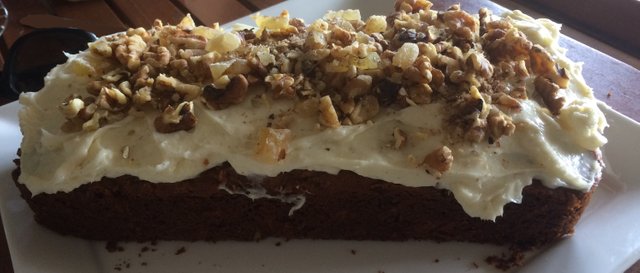 Quick shot of the cross-section before I bagged it up: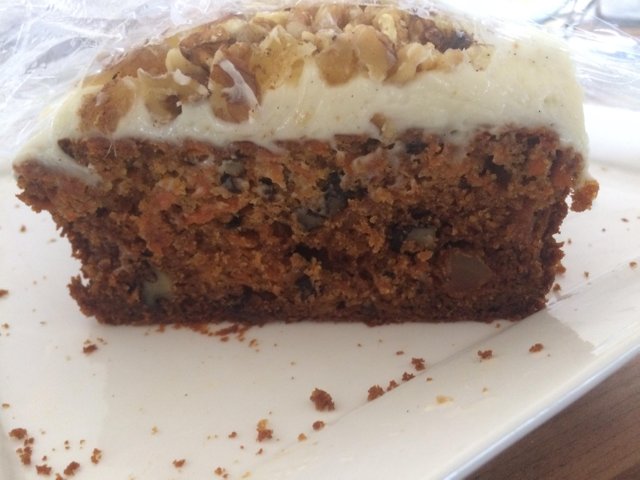 Thanks for reading.
~La Dolce Firma~