Potatoes with meat in a bechamel sauce under a golden cheese shell - we heartily recommend.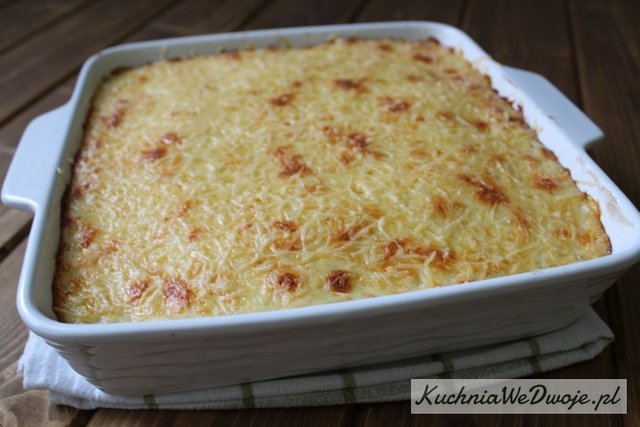 Time of execution: 1 h 20 min
Servings: 6-8
Components:
1 kg of potatoes
1 small red onion
260 g minced meat
2 tablespoons of oil
1 large clove of garlic
100 g mushrooms
50 g of red pepper
50 g of green peppers
Herbes de Provence (optional)
½ teaspoon ground paprika
1 teaspoon of salt
½ teaspoon of pepper
Bechamel sauce:
300 g of yellow cheese
50 g butter (¼ cubes)
3 tablespoons of flour
500 ml of milk
egg
pinch of salt
a pinch of pepper
Boil (30-40 minutes) and cut the potatoes.


Fry the cut onion with the garlic crushed by the press in olive oil. When the onions are brown, add minced meat. At the end of frying season meat.


Cut peppers into strips, and mushrooms into slices. Fry mashrooms to reduce water.


Arrange the ingredients in a casserole: first potatoes, then meat, peppers and mushrooms.


Prepare the béchamel sauce: In a medium-sized saucepan, melt the butter, add the flour and mix until a homogeneous consistency is obtained. Add milk, season with salt and pepper. Stir the egg and mix thoroughly.


Add to the cooking sauce half the above-mentioned amount of cheese and mix.


Pour the hot sauce onto the casserole.


Sprinkle the whole with the other half of the cheese and bake in the oven under cover at 180 Celcius degrees for 40 minutes. After 30 minutes, the lid can be removed so that the cheese become golden brown.

Enjoy your meal,
Sylwia and Krzychu
Blog: http://kuchniawedwoje.pl/
Facebook: https://www.facebook.com/KuchniaWeDwoje
Instagram: https://www.instagram.com/kuchniawedwoje.pl/
Pinterest: https://www.pinterest.nz/KuchniaWeDwoje/boards/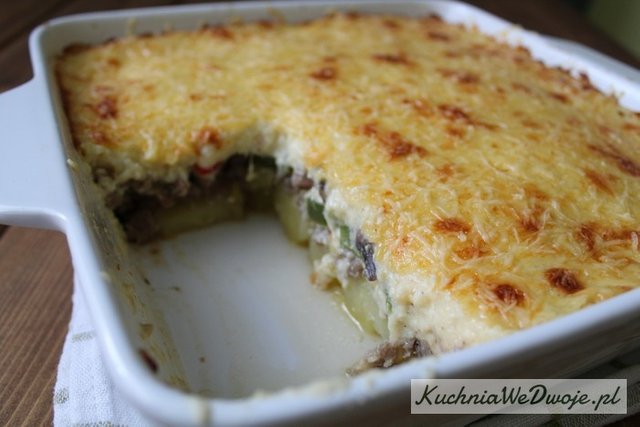 If you are interested in further verified recipes in the STEP BY STEP form, we encourage you to follow our Steemit channel.