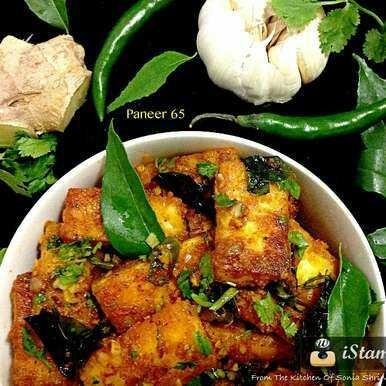 paneer 65
The cheesy 65 recipe is about spicy cheese appetizers which can be savored with warm cups of tea/cheese. Or rolled in a chapati for a quick bite.
Ingredients to make Paneer 65
400 gms Paneer
1/2 cup Flour
1 tbsp cornstarch
2 tbsp minced Garlic
2 tbsp minced Ginger
2-3 green chilies chopped
1-2 tbsp dry red chili flakes
2-3 branches Curry Leaves
2 tbsp thick Yogurt
1/2 tsp red chili powder
1/2 tsp garam Masala powder
Few drops orange-red color (optional)
Salt and black Pepper powder to taste
Handful of chopped Coriander leaves
Oil as required
How to make Paneer 65
Combine red chili powder, garam masala powder, and food coloring with salt with yogurt. Well Bhagakar. Combine Maida, cornstarch, a little salt, and pepper powder together. Cut the cheese in long thick strips. Dredge cheese in flour. Stir the excess flour and shallow fry in the medium-hot oil stick on the skillet until golden on both sides of the cheese. Remove from pan and drain excess oil on paper towels. While frying the paneer, take another pan and heat the oil in the pan. Add ginger, garlic, green chilies, red chili flakes, and curry leaves and fry immediately. Toss. Add paneer and throw gently. Add the yogurt mixture to the pan and coat the paneer well. Toss gently. Turn off the gas and add coriander leaves. Mix well.