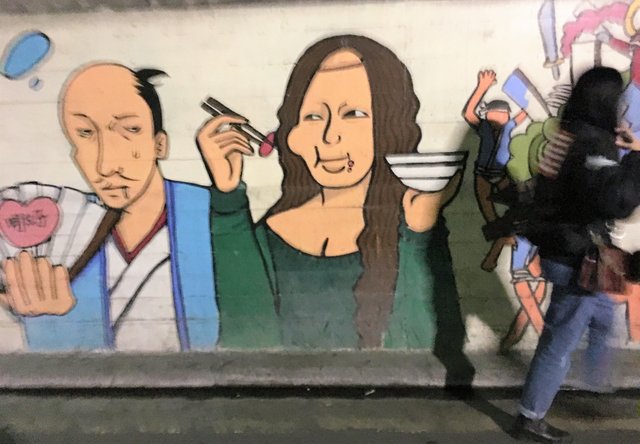 Do you like ramen, the Japanese noodle soup? If you are a big fan of ramen, you must have heard of Hakata Ramen. Many say it is the best pork bone broth ramen (tonkotsu) in Japan. Hakata is a ward of Fukuoka city. This Japan's sixth-largest city, capital of Kyushu Island, is well known for its various and tasty ramen. You can find both chained and independent ramen stalls easily at every corner of the city.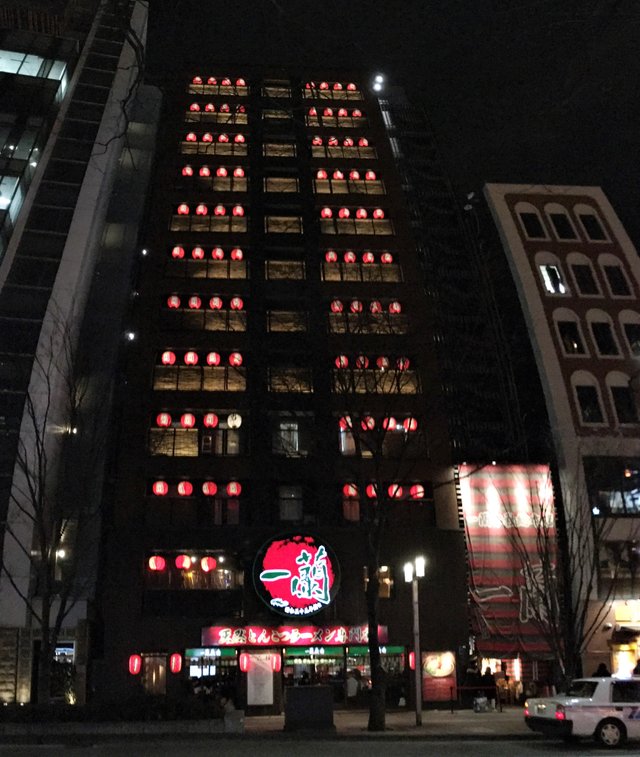 Ichiran Ramen is the most famous ramen chained restauranr specialising in pork bone broth ramen. This worldwide chain began in Fukuoka as a humble ramen stall in 1960 and now you can find it even in New York city. In Fukuoka I found its main shop, look how many floors it has! So huge for a ramen restaurant. I think it would be nice to sit on the highest floor, have a ramen with beautiful view of Nakasu district of Fukuoka city.
---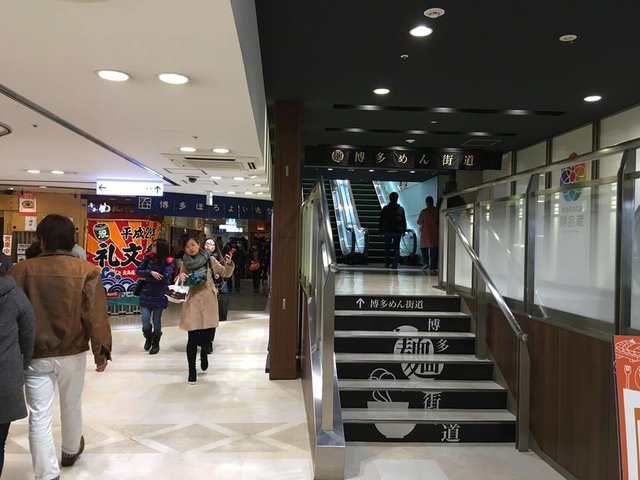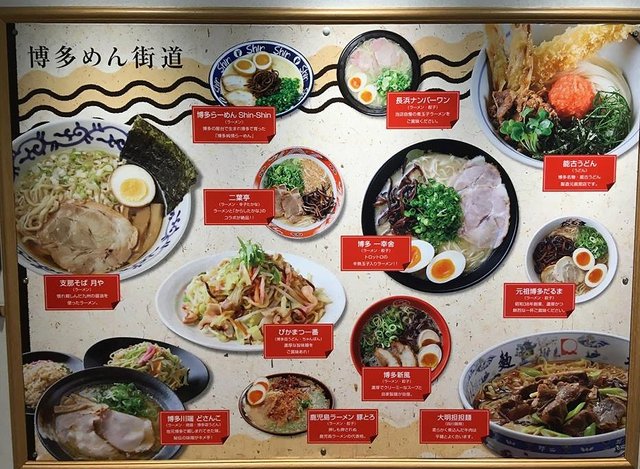 Inside the big shopping compact Amu Plaza Hakata, near JR Hakata station, there is a popular indoor "ramen street" (yes, inside the shopping center) where you can find a full floor of small ramen restaurants. Inside Hakata City, there's not only ramen street, there's also a "drink street" full of bars. Maybe because Fukuoka is cold during the winter, so it's better to drink in the "drink street" inside the shopping mall instead of a real street outside XD
---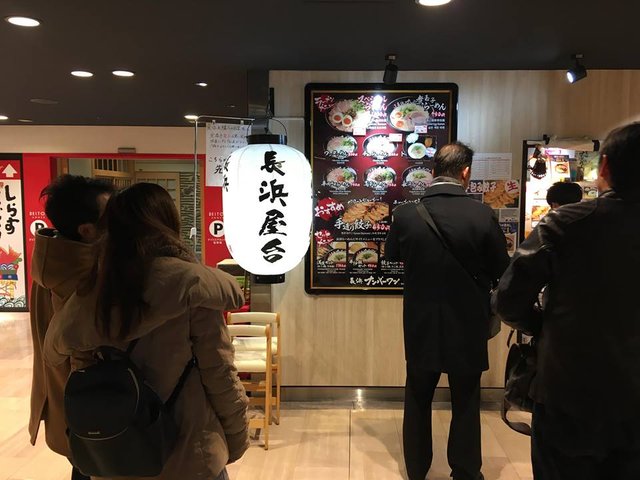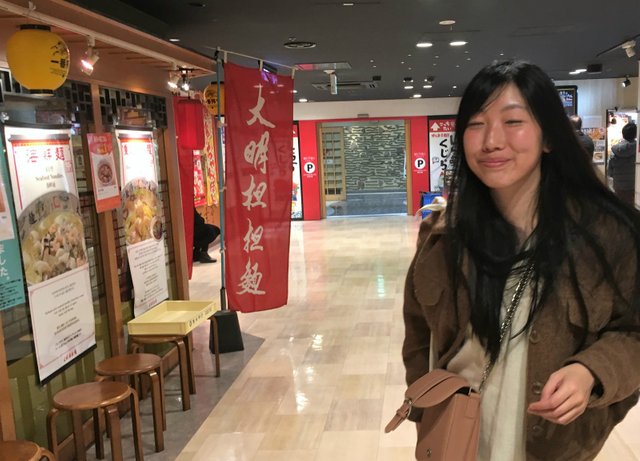 Sichuan Dan Dan noodle is also popular in Japan.
---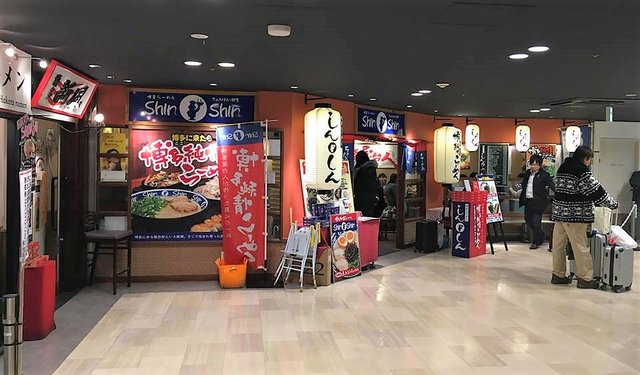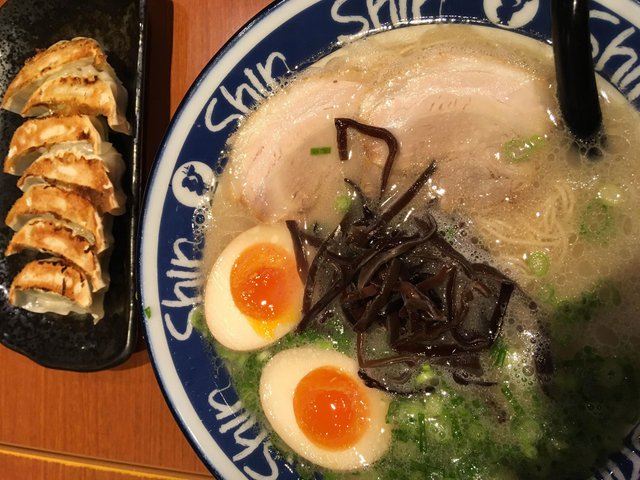 I tried the tonkotsu ramen there and it was great! If you are a ramen fan, don't forget to put Fukuoka in your travel bucket list in your next Japan trip.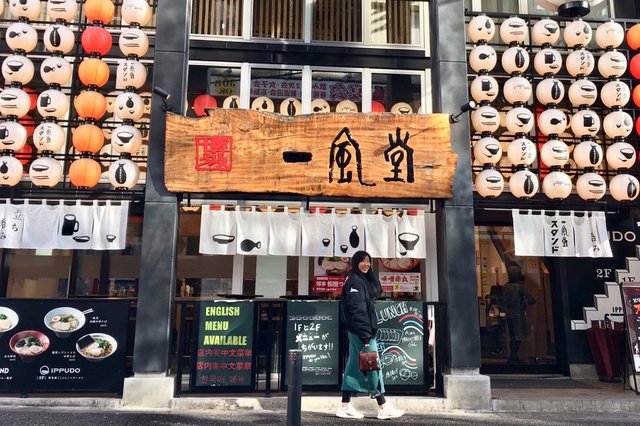 你们喜欢吃日式拉面吗?拉面也算是一种舶来品,经过了一百多年的发展,发展成了人人爱的日本特色全民美食。豚骨拉面大概是日式拉面最有名的一种了,而它的故乡就是九州的首府福冈。如果你是个不折不扣的拉面迷,应该知道博多拉面,博多是福冈的一个大区,大名鼎鼎的"一兰拉面"也是六十多年前开始于福冈一个不起眼的角落。现在位于福冈中州附近的一兰拉面本店应该无法不让路人忽略,本店高达12楼,非常壮观,我当时路过的时候不是很饿就没有进去吃,不然坐在最高层点一碗拉面,看看风景也不错!
在博多站的购物中心,有一层叫做 "博多拉面街"。里面有一些拉面店特地装修成露天"屋台"小吃的样子。(福冈还保留了很久以前的室外"屋台"的文化,有空我也来写写这里屋台文化。)我觉得室内拉面街这个概念很有意思,在这个购物中心,除了有拉面街,还有纪念品街,酒吧街…… 还是很聪明的,毕竟今年九州那么冷,在室内喝酒就舒服多了。我进去了一家做豚骨拉面很有名的拉面店,的确超好吃!
喜欢拉面的人,下次去日本玩别忘了把九州和福冈放进行程中啊,在福冈好吃的拉面店真的是遍地都是呢!

阅读更多我的旅行记录:
The working class Hong Kong : Sham Shui Po district
日式旅馆体验 My Japanese Ryokan experience
巧克力吧 Delicious Chocolate 🍫 bar in Belgium
水前成趣园 a Japanese circular garden of Momoyama period style
九州小火车 Train ride experience through Kyushu island in Japan
似重若轻「The Weight of Lightness」 Ink Art exhibition at M+ Pavilion in Hong Kong
日式茶屋 Japanese Tearoom 🍵 Kissaten experience in Kyushu
消逝的霓虹灯箱 Memories of Hong Kong's disappearing iconic Neon Signs
昭和时代的温泉 Shin Hot Spring - a retro onsen from the Shōwa period
「Vlog」太宰府 Visiting Dazaifu Tenman-gū in a Kimono 👘

Feel free to follow @joythewanderer to see more of my joyful travels.
欢迎关注 @joythewanderer
---