Hello everybody🙋🐭.I would like to share with you this super delicious vegan tart with rhubarb. It's rhubarb season and I already used it in my kitchen. The recipe is very easy and very tasty too. Hope you like it and let me know if you are fan of rhubarb cakes😄?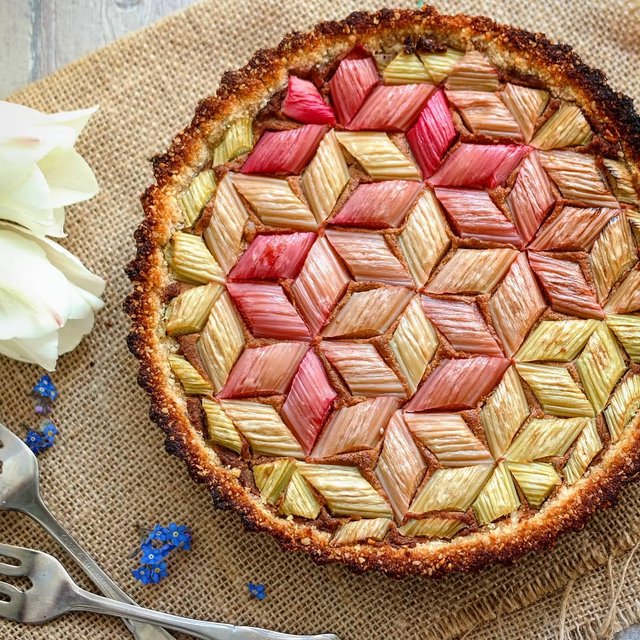 RECIPE:
4-5 stalks rhubarb
Oaty - almond crust base:
170 g almond flour
125 g spelt oats
90g coconut oil melted
110 ml maple syrup
pinch of salt
1tsp cinnamon
Cream filling:
60g coconut milk 75%
4 tbsp maple syrup
4 tbsp almond butter or any other nut butter
2 tsp cornstarch
1/2 tsp vanilla
DIRECTIONS:
Preheat oven to 350F (175C). Blend oats and almond flour in food processor, then add melted coconut oil, maple syrup, salt, and cinnamon. Blend until dough-like.
Create tart shell by pressing the dough into a circle tart pan to be ~1/2 cm thick.
Make cream filling by adding all ingredients apart from cornstarch into a small pan and heat it. At the end add cornstarch and stir till it starts to thick. Add cream into tart.
Then form rhubarb shapes in pattern that are show on the picture and put them on the top of the cream.
Place the tart into the oven and bake for 20min or until golden.
ENJOY!