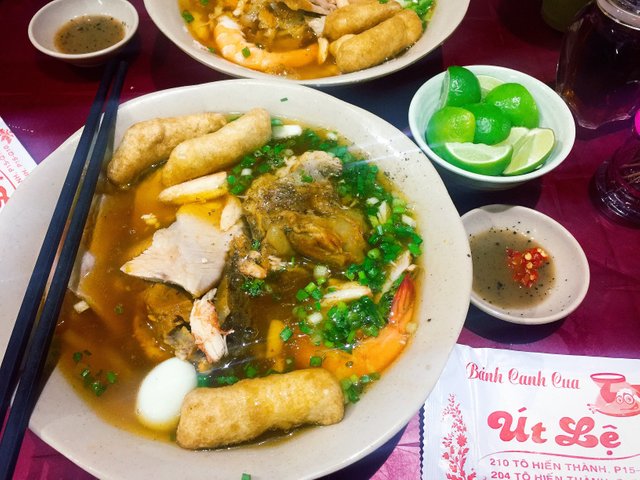 ---
Crab thick noodles soup is the food that I want to try the most in Saigon. But for some reason, I didn't have a chance to try it until the last day in this city. Got a recommendation from my collegue, I went to Út Lệ restaurant - the famous one here, as my collegua said.
A special bowl of thick crab thick noodles soup seems enough for who eats a lot like me. There is just a little of thick noodles but tons of meat. With special bowl, you will have full of pork, crab meat, shirmp,...
Vietnamese people love to add vegetable with noodles, but with crab thick noodles soup, there is no vegi but just meat, noodles and soup. The soup is really special compared with other kinds of Vietnamese noodles. It taste is quite good but it is extremely thick. I guess that they add something like tapioca to make it like that. The shirmp and crab meat are really fresh while the pork is really tender. Pick a piece of meat and dip in the sauce made from salt, peper and lemon. That is the way of eating this one.
This restaurant is crowded so better is try to go there in earlier dinner. With 2,5$ for a special bowl, I think it is worthy.
---
Restaurant: Út Lệ - 204 Tô Hiến Thành street, Ho Chi Minh city.
---