Friday's are normally fish and chip night's in our household; It's the end of the week and rather than cook ourselves we either head out to the beach or the park and unwind with a walk and then share some fish and chips. It's a nice relaxing way to discuss the happenings over our respective weeks and start off our weekend.
Last Friday we decided to do something a little different though and headed to a place called TGI Fridays which is a franchise out of America. New York is where is started way back in 1965. They now have 931 locations across 60+ countries including little old Australia.

This was our meal. Burrito bowl and tostada's. What you can't see is the Mac n Cheese bites starter we also had which got smashed before I could get a photo! The beer is Great Northern...It's great...and...northern.
The atmosphere is quite relaxed and not too noisy which suits us fine considering we normally spend our Friday nights walking on the beach, not in a bar. We were there reasonably early, around 5:30pm right after work, as we had somewhere else to be however I imagine things get pretty busy a little later at night and as we were leaving there were a lot of people in the restaurant eating, and at the bar.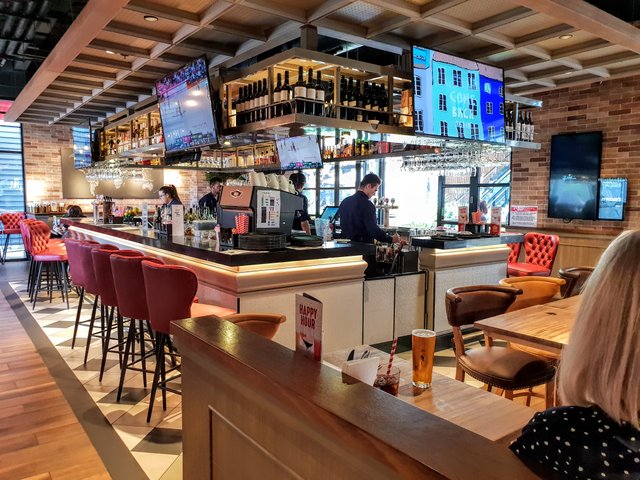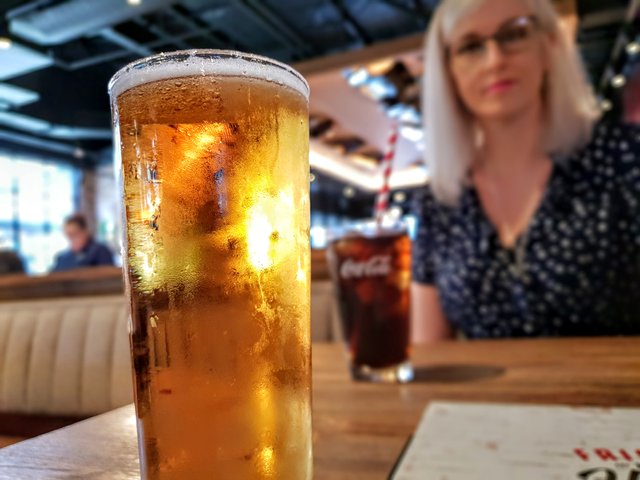 The bar is pictured above left and for some reason this shot focus on my beer, rather than my wife...Equally good though. 😂 Just kidding, Faith is way better than the beer! 💖
We shared a Mac 'n' Cheese bites starter which sort of goes like this: Golden and crunchy coating, filled with creamy mac and cheese, served atop Five Alarm chipotle and sriracha sauce, drizzled with aioli! $13.90
That burrito bowl you see was pretty big and everything was super-fresh. It included: Grilled Mexican spiced chicken with corn, black beans, quinoa, spinach, pico de gallo, guacamole and sour cream with a side of corn tortilla chips topped with queso fresco and lime. It was $18.90 and I didn't leave any...
Faith had the grilled vegetable tostadas: Crisp tostadas topped with guacamole, grilled vegetables, spicy Godzilla jalapeño sauce, Mexican style cheese, queso fresco, pico de gallo and sriracha aioli garnished with chopped coriander and a lime wedge. It was $17.90 and she didn't leave any either...
The menu has plenty of options from burgers and ribs, to steaks, awesome share plates, salads, wings, fish, chicken and lamb plus a great selection of Mexican options. If you can't find something to eat here you're fussy and should just stay home.
So, our first visit to TGI Fridays was a pretty good success story. We enjoyed the food and surroundings and will certainly be back for some more. I'm not sure if it'll replace fish and chip Friday's however I can see myself working my way through the menu bit by bit over multiple visits. I have actually organised a Friday night session there for my work-team which will be a lot of fun. They are a great team, work hard and we get along great at work and after hours..Should be a good night!
Oh in case you're wondering, it's open 7 days because at TGI Fridays every day is Friday! If only that were true in my working week.