When I was young, my elder sister and I, used to gather firewood at the forest. It was our routine job every Saturday. Gathering firewood was fun! and it excites the more since childhood friends from our "Sitio" will come to gather firewood together.
Some came because of no more firewood to be used at home, while others were there for a living.
Yes! for a living - in our place, even until these days, fire woods are sold by bundles to help parents for food. But during our time we did it only on Saturdays.
One of the most exciting part was, after fire woods were gathered we would then proceed to the "pamutong" session. Moment when we stole coconut from our neighbors' field. I can still picture out the field where we did the posting.
The tough one would be the one to climb the coconut tree. Others would watched and gathered the dropped coconut fruits in an area not easily seen by any one coming , and the younger one will post as watcher for owners will suddenly come out of no where!...
Saturday seems a feast day for us children then. Even our parents could have "pasalubong" from us - reason why they wouldn't scold us. I did even think they were also excited to see if we brought some coconut fruit or"butong" when we returned home..! ha!ha!ha!
During those days no body told me that coconut fruit or "butong" is not just an ordinary fruit. All I knew was, we're hungry from gathering fire woods, felt so thirsty then that "butong" was our only means to quench those thirst since it's every where.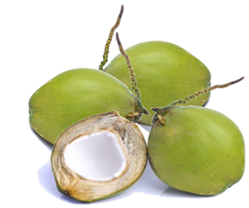 coconut or "butong"
Olahh! When I traveled to the city, "butong" is worth P25 - P30 each. I was really shocked because in the province we just stole it quick! And even the dried coconut fruits that fell on the ground were considered ours . But in the city, each worth P30.... waaah! Well any way that was way back then-1990's!
---
Do you know that coconut can be considered a complete food?
Only then I realized why this coconut fruit became that expensive.
According to research, it's incredibly rich in vitamins that one fruit can provide you with a daily dose of almost all essential nutrients.
They found out that Lauric acid is the most important saturated fat provided by coconuts. It lowers the level of bad cholesterol in your body and helps keep your arteries clean and healthy.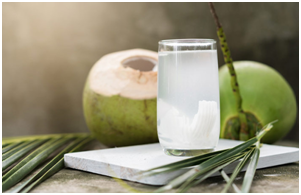 fresh coconut drinks
And the coconut water! It's not only a delicious and refreshing drink, but also rich in electrolytes, enzymes, and minerals. Therefore, it helps digestion and boosts your metabolism. This is one of the reasons as to why coconuts are good for weight loss even despite their high calorie count.
---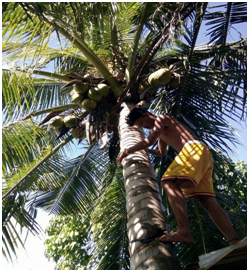 One of my travel at Daanbantayan Cebu, I have learned from my mother in law that if you'll use coconut for health purposes- like help ease UTI problem, you have to make it sure that it is freshly picked and should not be dropped nor touched the ground to make it effective. So you have to literally carry it or use any means to not fall on the ground.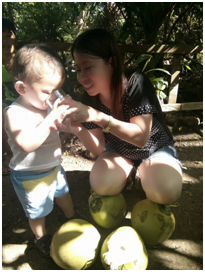 As to whether It's true or just a belief, I firmly believed that coconut is a wonderful extraordinary fruit!
---
Steem on!