El domingo pasado salimos a comer sin un plan definido, de hecho teníamos planeado ir al cine pero se nos hizo tarde y preferimos comer tranquilos. Como es de costumbre, casi al final de la comida, reflexionamos sobre temas de suma importancia. Uno de ellos y quizás el mas recurrente es: si debemos comer el postre en el lugar donde estamos comiendo o tenemos que ir a otro lugar y a dónde sería.
Last Sunday we're just finishing eating when it came to my mind "Chessecake on a Stick" like a big revelation. So we google it and it turns out we're near a little place Called San Pastel who sold it. So we went looking for it!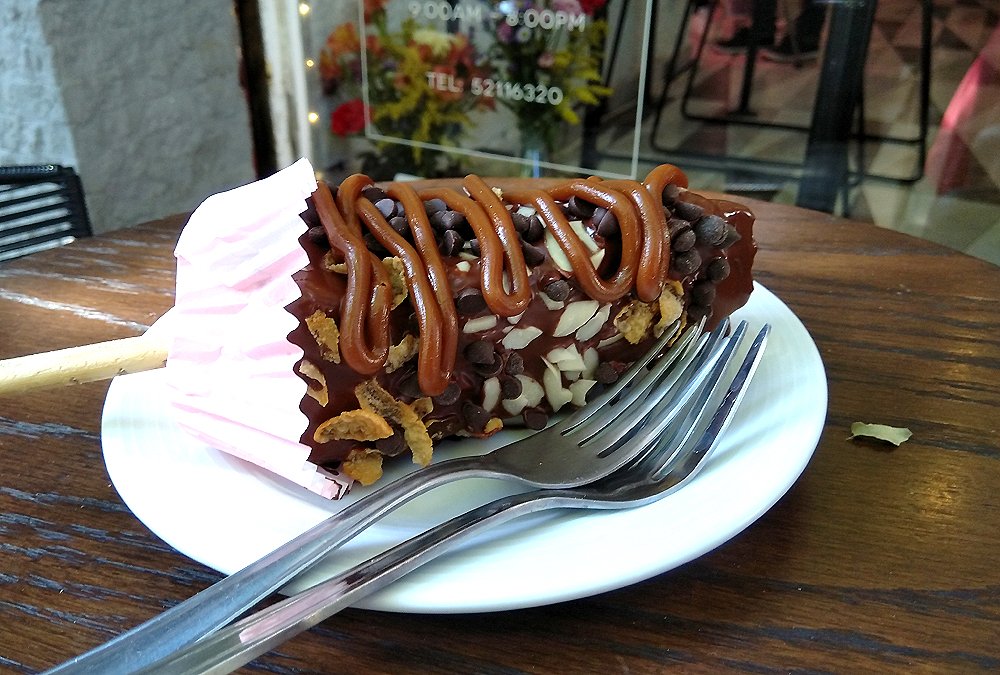 Estábamos con ese acalorado debate cuando vino a mi mente como por arte de magia la siguiente frase "Chessecake on a Stick". Lo había visto en fotos, sabia que existía y llega a ser trending en otras redes sociales, pero jamás lo había probado. Sabía que en mi ciudad, la Ciudad de México, existía y lo vendían cerca de donde estábamos . Así que lo buscamos y caminamos hasta el lugar.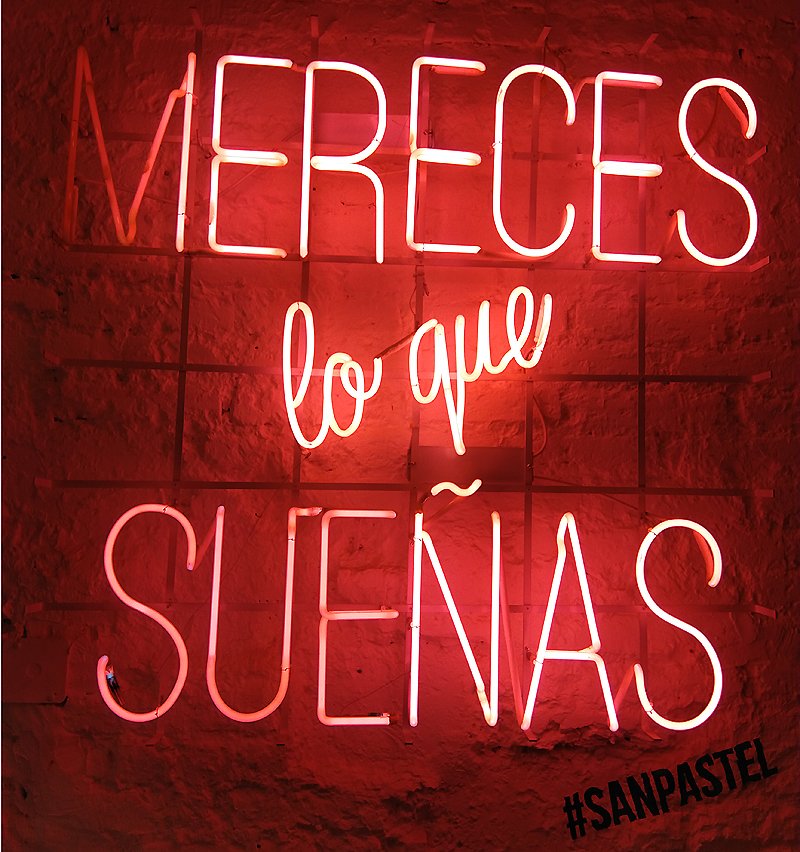 El lugar es un local llamado San Pastel, que después de regresar a probar un par de cosas mas les traeremos la reseña completa. Preguntamos por varias cosas interesantes en el lugar, pero en realidad ya sabíamos que íbamos a pedir.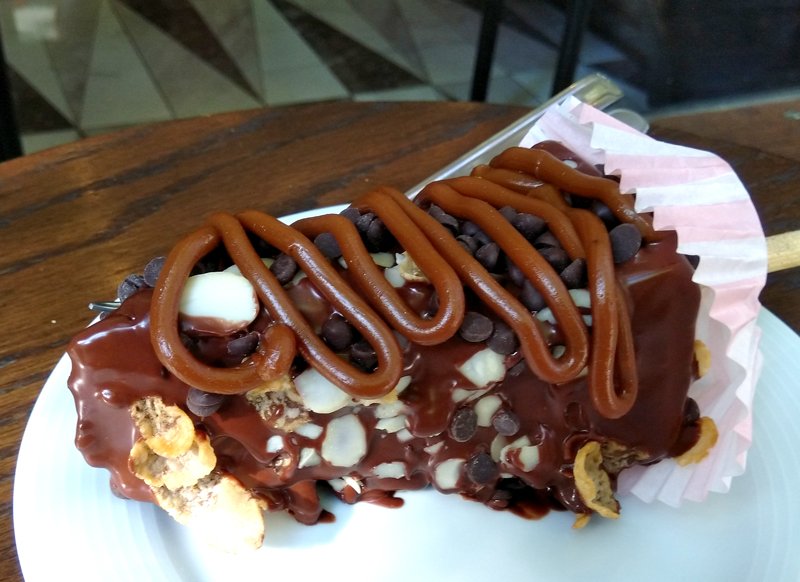 El Cheesecake on a Stick no es mas que una rebanada de cheesecake cubierta de chocolate y otros toppings, en este caso fueron cereal, almendras, chispas de chocolate y dulce de leche.
Cheesecake on a Stick is just a piece of cheesecake with a stick in it, then they covered it in chocolate and top it with cereal, almonds, more chocolate and argentinian dulce de leche. It's a little piece of heaven or diabetes, depends on the point of view :)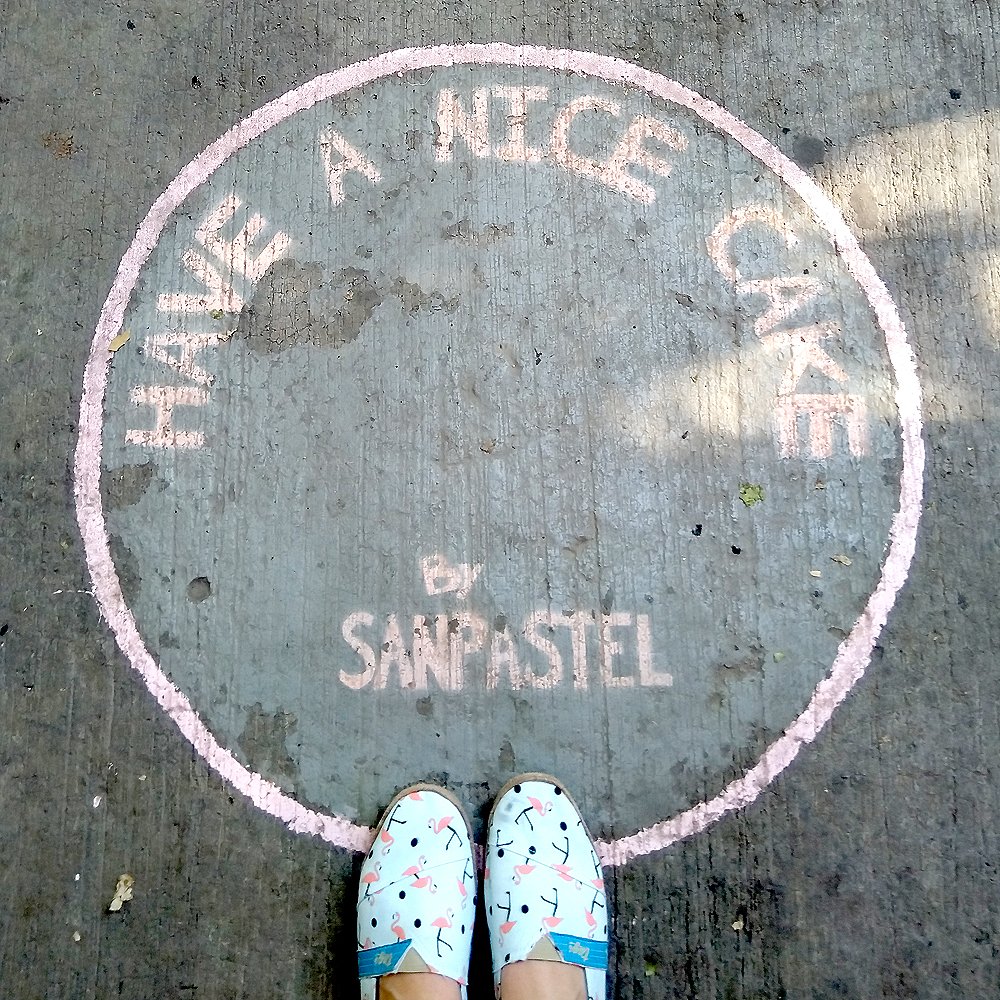 Pedimos solo una porción para compartir porque es una bomba de dulce y ya estamos en edad de cuidarnos jajaja. Luego iremos a probar mas cosas de ese lugar porque promete ser muy bueno. Es una pequeña pastelería en la colonia Condesa con una fuerte influencia argentina pero que no se limita sólo a eso.
We are @elteamgordo, thanks for Reading. / Nos despedimos, nosotros somos @elteamgordo. Gracias por leer, votar y compartir.
.
.
You also can follow us in Facebook & Instagram
Y si gustan nos pueden seguir en nuestras redes sociales
Saludos!!

Don't forget to VOTE
No se olviden de VOTAR