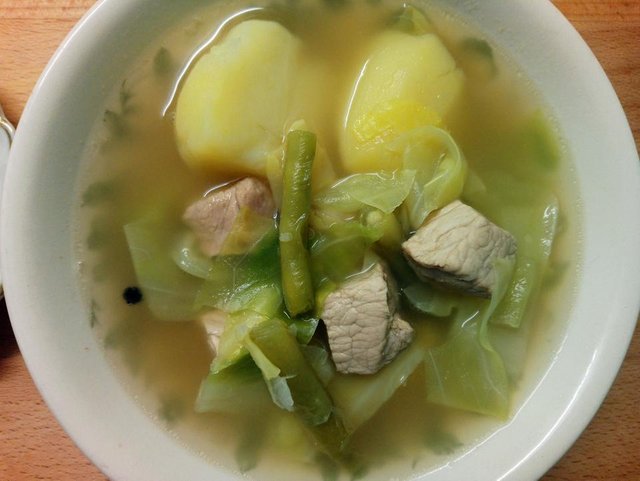 I miss home so much. I miss my family and most especially, the food. I was born and raised in the Philippines and so this palate of mine always craving for that Filipino taste.
Being here in Northern Ireland learning their culture and how different their food from what I used to was such a challenge for me. My in-laws have never ever eaten rice in their entire life. I don't like mashed potato and that's the equivalent of our rice here. I tried to eat what they eat and I get used to it. I know I can easily adapt but still, I'm wanting the taste of home. And so every night I still cook Filipino dish my way.
We have a wide diversity of food in the Philippines. Every place, cities or province has its own version and way of making a dish. We have our famous adobo, pansit, Kare-kare, anything with gata (coconut milk), kaldereta. I don't know if you heard of that before or if you tried that already but let me just tell you, if you are visiting the Philippines, please do try our local food. You will surely fall in love with it!
It's raining outside and I'm hungry, I'm gonna make myself a "Pork Nilaga." Pork nilaga is a Filipino pork soup in clear broth. My father used to make this during cold weather and it heat us up. Pork nilaga is very comforting!
For this one, I'm only gonna be using 1 pc porkchop cut in cubes. Better if it's pork belly. But this is good enough for me!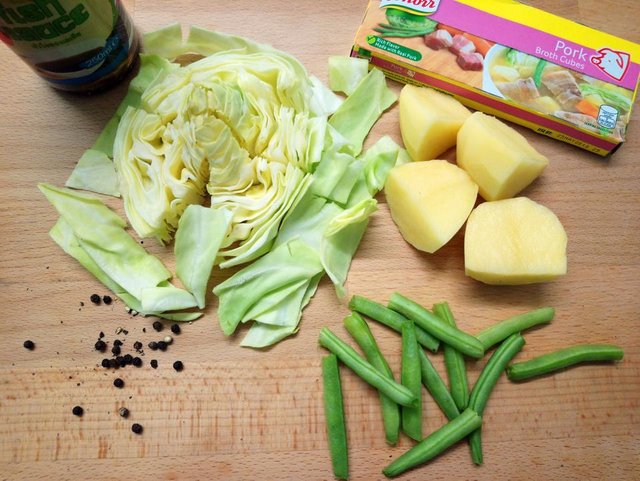 INGREDIENTS
Pork
Knorr Pork Cubes
Potatoes
Cabbage
String Beans
Onion
Peppercorn
Fish Sauce
I would love to have petchay and saging na saba but it's not available here. This dish is pretty easy to make.
Pour water in the pot and bring it to a boil.

Put the onion then pork and peppercorn. Cook it for 45 minutes until the pork is soft.

Put the potatoes.

Then the string beans then the cabbage.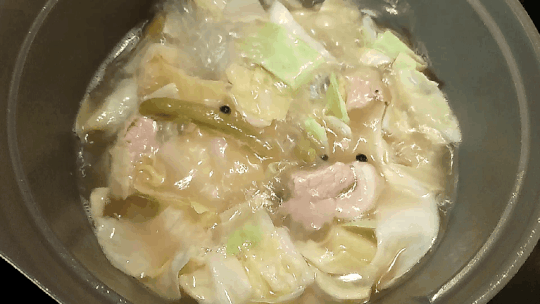 Seasoned with fish sauce as you wished.
But I prefer mine separated. Fish sauce with chilli for more savoury spicy taste!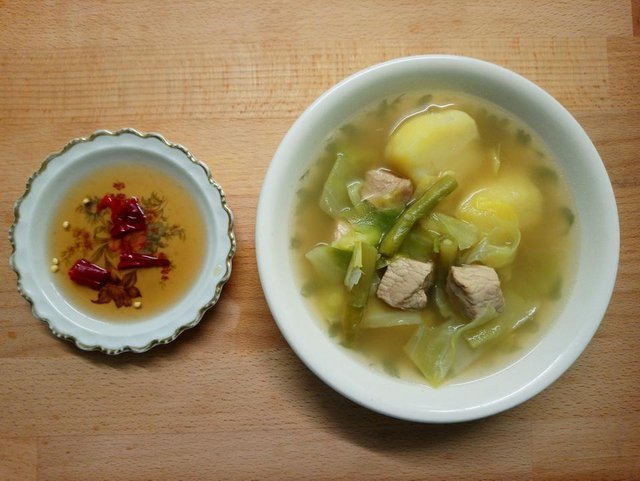 Now just rice and all is well! Happy tummy once again!
I hope you like it.
THANK YOU SO MUCH!
Thank you @jason04!