If you've been following my blog for some time now, you would know that one of my favorite things to cook are stews. This is no exception. It's one of my favorite stews to cook and of course to eat as well. It's so good that it's on one of my burgers on the menu at my food truck and it's been one of the best sellers since its debut.
To make a decent stew, throw all the ingredients in at once and let it simmer for a couple hours. To make a complex tasting stew with layers of sweet, salty, sour and spicy, it takes skill and experience.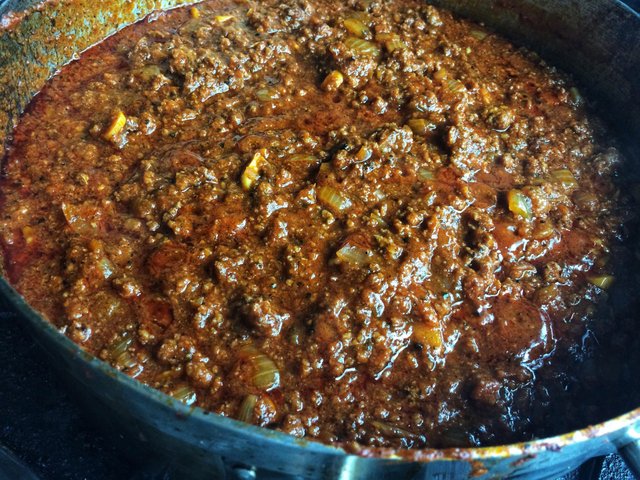 Layer 1: The Vegetables
I start my chilli stew by sauteeing diced onions and garlic on low heat. Season the vegetables with salt and pepper. Once the onions are caramalised and brown (the longer the better) and your kitchen smells like garlic, add in tomato paste and let it cook for awhile. Add the amount of oil to the amount of tomato paste you are putting in so you're actually frying the tomato paste in the oil which gives it lots more depth of flavor and sweetness to the dish at the end.
Layer 2: The Spices
I'm adding in here my favorite spices which are, curry powder, chili powder, turmeric powder, cumin powder, corriander powder, fennel powder, fenugreek powder, smoked paprika, crushed Sarawak black pepper. You can add whatever you like really. Makes every chilli unique and taste different. The spices I use are generally these.
Fry this awhile with the tomato oil that's frying with the onions and garlic until it's fragrant. You get another layer of flavor if you gently cook the spices in oil. Even a minute of this step would make a big difference to the end product of your chilli stew.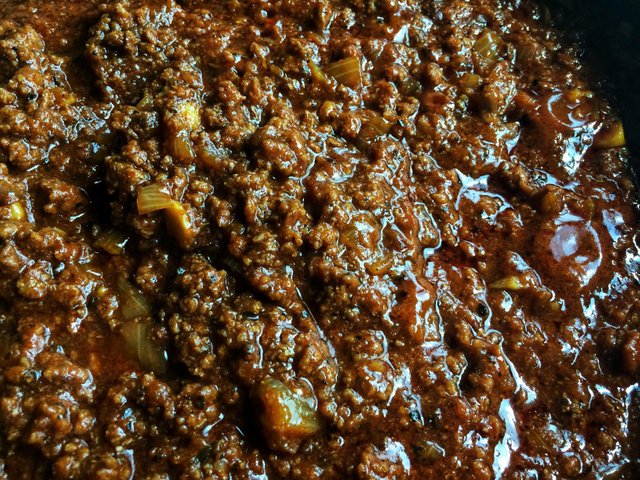 Layer 3: Tomatoes
I then add canned tomatoes as they have much more concentrated tomato juices than fresh. I then cook them down and add some worchestershire sauce as well as salt and pepper to season them. Cook it for another 15 minutes or so and let the sauce reduce.
Layer 4: The Mince
I use a 80/20 beef to fat ratio mince that I mince myself. Pre-minced stuff are always a little weird in my opinion. It's still up to you, but freshly minced beef and it's fat always taste better.
I then fry them like a big giant burger patty on a super hot griddle. It's basically doing what I do to my beef patties for the burgers I serve at the food truck which is to get maximum caramelisation and as heavy a sear as possible on those patties.
In the words of Gordon Ramsay,
'No color, no flavor.' - Gordon Ramsay
Season also the meat with salt and pepper. By seasoning every layer, vegetables then meat, you get a well seasoned and full of flavor stew.
Layer 5: Time
The last step is to add the beef into the stew and let it simmer for another 1-2 hours. You don't want to cook this like 4-5 hours because the the flavor of the meat gets into the sauce and the meat itself won't be very tasty. Cooking it for long hours doesn't always mean a good thing. You wan't a tasty sauce and meat as well when you take a spoon of this. Both have to be well balanced and have flavor in it of itself as much as it is a stew.
So doing a good stew takes time. But doing a great stew takes skill and effort.
You can skip all of this by coming down to my food truck and having yourself come chilli cheeseburgers or some chilli fries :D
---
You can check out for more info at our Facebook page on our operation days and times or if you just plain like to see burger pictures :D
You can also find us on Instagram #burgergilerpower
-