Lox is cold smoked salmon. It is the star of the Sunday morning buffet fetching a price of over $20 a pound at our local Walmart store and it isn't even close to the best quality. My daughter sent me some from Zabar's in New York once that set her back $59 a pound. Today it is $64 a pound. The really good lox typically has to be shipped to you due to no local sources.
I've made my own lox for years for little more than the cost of the fish, which is wild caught salmon. I paid $4.04 for a pound for frozen salmon at Walmart. That seems a little fishy though because there was no certification that it was wild caught and I know that farm raised is often sold as wild. Wild caught is usually upwards of $10 a pound at least.
All I need now is salt, spices, some wood chips, a cold day outside, my Weber kettle grill, and my trusty cold smoking tube. I can only do my own lox in the winter because the salmon can never get warmer than 90 F.
I use a small plastic storage container and cover the bottom with a couple sheets of paper toweling. I put a layer of salt and spices on top of the paper and then lay the fish fillets on top of that. Then I cover the fish with more salt and spices. The salt draws moisture out of the fish which is absorbed by the paper towel. It goes into the refrigerator for 36 hours to cure. If you are afraid of parasites in the fish they are killed by the salt. At 36 hours the fillets are rinsed off of all salt and placed in the rinsed out container now filled with water and ice. The fish sits in the ice water for 90 minutes. This pulls salt out of the fish which would be too salty if you skipped this step. At 90 minutes pitch the water and dry off the fish. Place the fish uncovered back into the refrigerator overnight to dry out and form a pellicle which is a surface condition on the fish that allows better adhesion and absorption of the smoke. I start the cold smoking in the morning which takes a little over two hours. After smoking it is ready to slice and serve. Lox isn't for everyone. It has a smoky fishy taste. If you like caviar and pate' you will love lox.
I like caviar and I hope to get some whitefish on the Muskegon Lake channel next year and harvest the roe from the females and add making cold-smoked caviar to my list of charcuterie skills. Smoked "Golden" caviar from lake whitefish sells for $95 a pound if you can find it.
Spice Recipe:
½ Cup Kosher Salt+
¼ Cup white sugar
¼ Cup Dark Brown Sugar
1 Teaspoon Prague #1 curing salt (I use this because I have it, but I've made lox without it as well. I would say it's optional)
1 Teaspoon White Pepper
1 Teaspoon Ground Allspice
1 Teaspoon Ground Bay Leaf
½ Teaspoon Ground Cloves
½ Teaspoon Ground Mace
1 ½ Tablespoon Dark Rum (sprinkle on fillet before coating with spices, I also put some on the fillets just before they go into the refrigerator to dry out overnight)
Alder wood for smoking is traditional, but I prefer apple or cherry wood.
The salmon fillets covered with salt and spices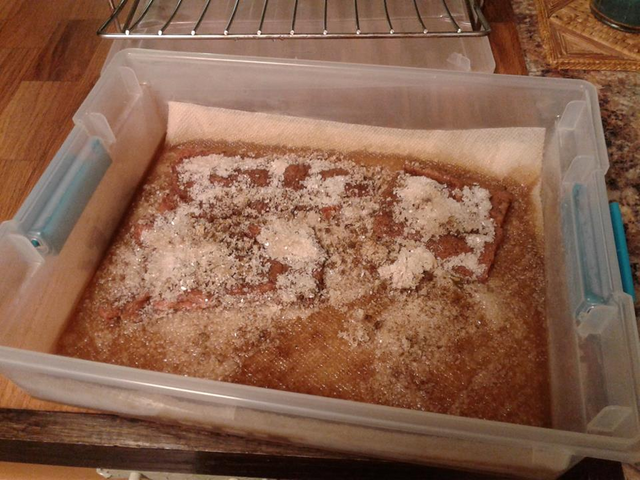 Desalinization to remove some of the salt from the fillets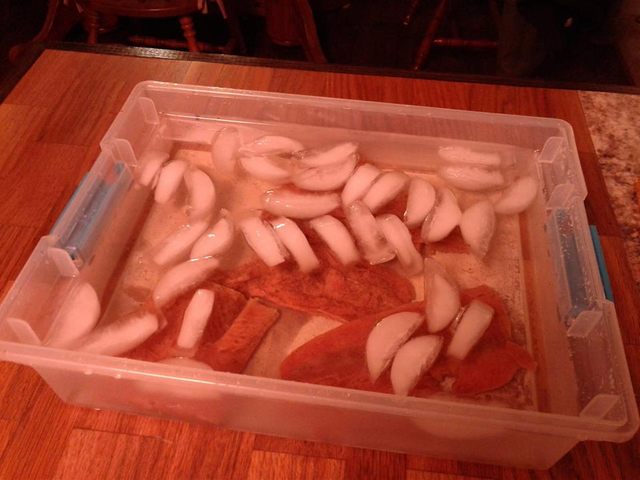 Ready for the overnight dry-out in the refrigerator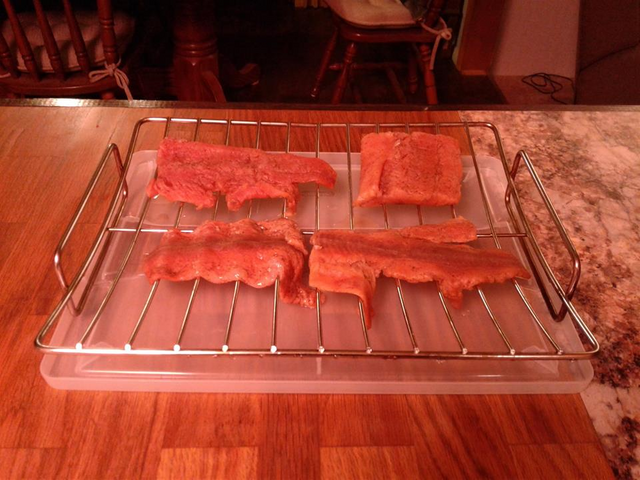 My trusty cold-smoking tube filled with wood chips. One end is lite and it will smoke without creating too much heat for a couple of hours.