Hello everyone,
 Today I would like to introduce the best favorite dishes that everyone knows well that is Pad Thai.  Pad Thai is a famous food around the world because the taste is not too spicy Sweet and sour taste, good with fresh shrimp, fresh vegetables like bean sprouts and chives.
There are many types of Pad Thai recipes, such as Pad Thai chicken, fresh shrimp or egg wrap Pad Thai. But Pad Thai, which my grandmother often makes is called 'Pad Thai boran' means the first traditional padthai.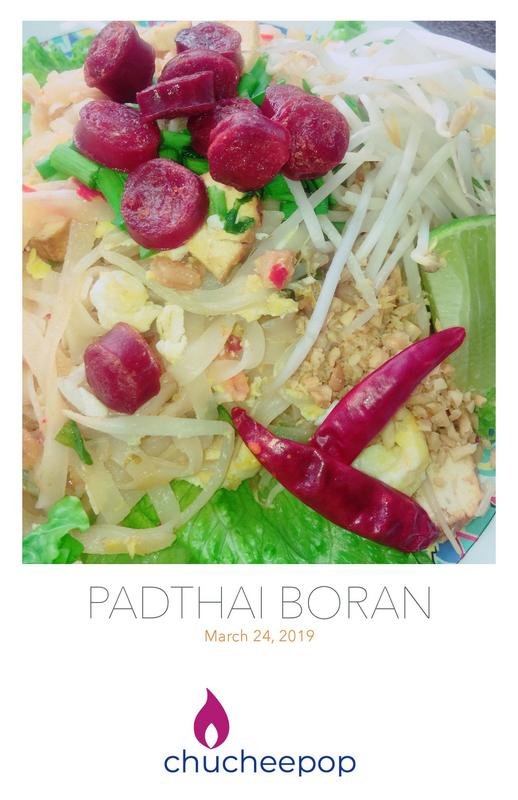 'Pad Thai boran' is a recipe that has been used decades ago, with no fresh shrimp or chicken like today. But just add dried shrimp and eat with crispy pork or sausage on the side.
Thailand in the past, people never have noodles. They eat rice mainly until the culture from China came to Thailand then, showed how easy to eat as well as it can be processed and stored for the long run.
Some people may wonder. Thailand is a land of rice for a long time. Why is it necessary to think of a national dish that is noodles instead of curry rice or fried rice, etc?   
The reason why is that after the world war II, flooding in Bangkok, one day "Chomphon P." Prime Minister Stuck at the "Ananda Samakhom Hall" until lunch time There was a boat selling noodles passed through he then got noodles to eat. So causing him to come up with the idea of Thai noodles.
After the world war II ,Thailand lacks rice to be consumed within the country. The government therefore had to campaign for people to turn to consume noodles made from broken rice instead. People together to consume noodles as a solution to the national economy. The government therefore considered noodles to be similar to that of Chinese, called Pad Thai.
But in order to be different from traditional Chinese noodles, The government chose to use the "Chanthabur noodle" ( noodles made in local city in eastern Thailand)  and they used dried shrimp instead of pork. The government encourages people to grow bean sprouts and eat them within the family in order to build the local economy.
Today I will show how to make traditional Padthai base on my grandma's recipes. Let's get started by preparing these ingredients.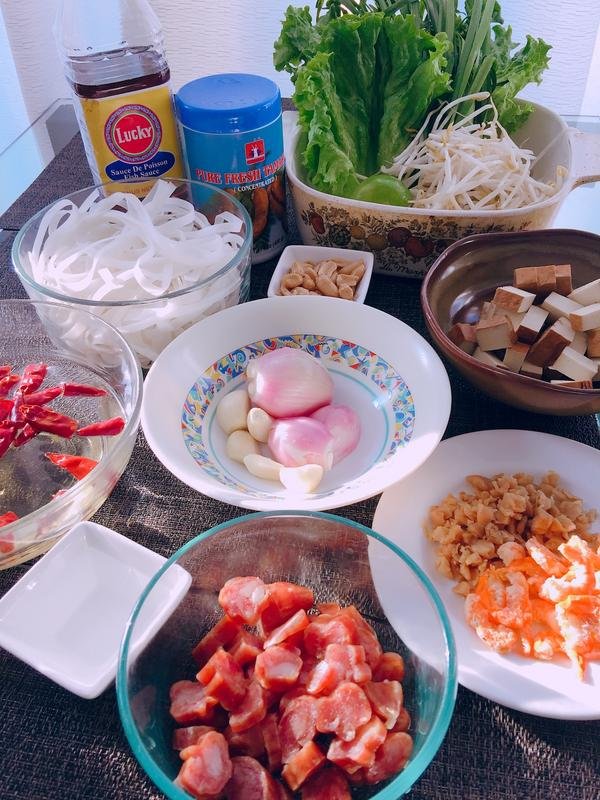 Main ingredients
Rice noodle, bean sprouts, roasted peanut, chives, fried tofu, shallots, garlics, dried chilies, dried radish, dried shrimps, chinese style sausages, tamarind sauce, fish sauce and limes.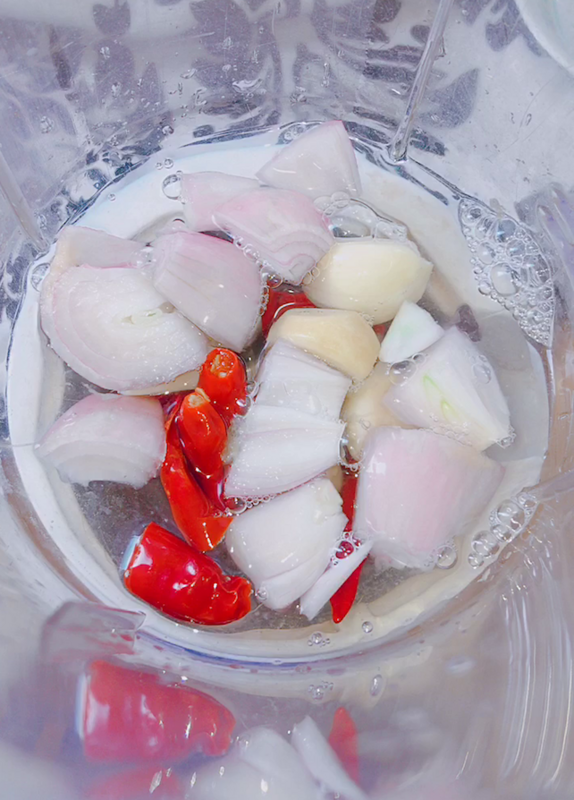 Start blending 3 shallots, 5 garlics and dry chilies together with 1/2 water cups and 3tbsp of lime juice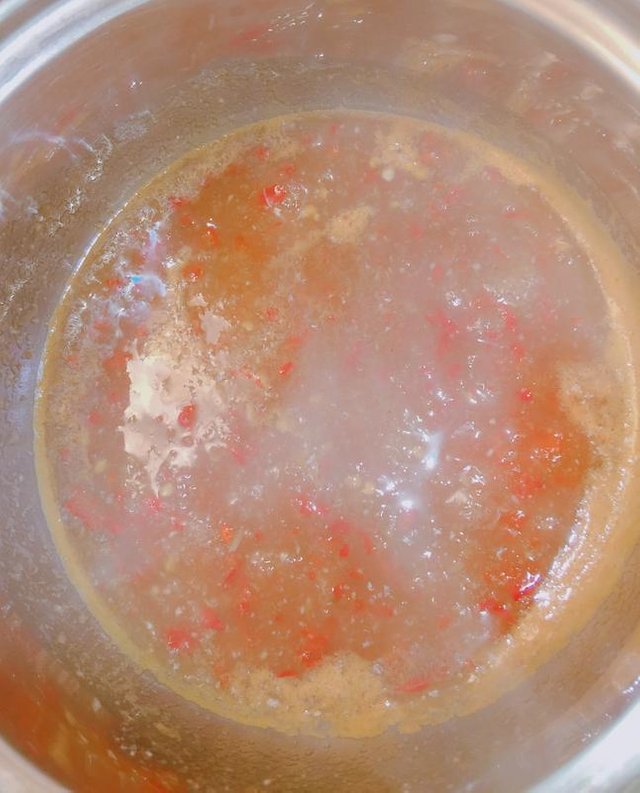 boil it then add 5 tbsp of coconut sugar,  3 tbsp of tamarind juice, 2 tbsp of fish sauce and then stew it until the sauce become more red and sticky.
taste it, can be adjusted depend on how sweet do you like. it should be sweet and sour closely. when the sauce is ready to go, then just cool it down for a bit in room temperature.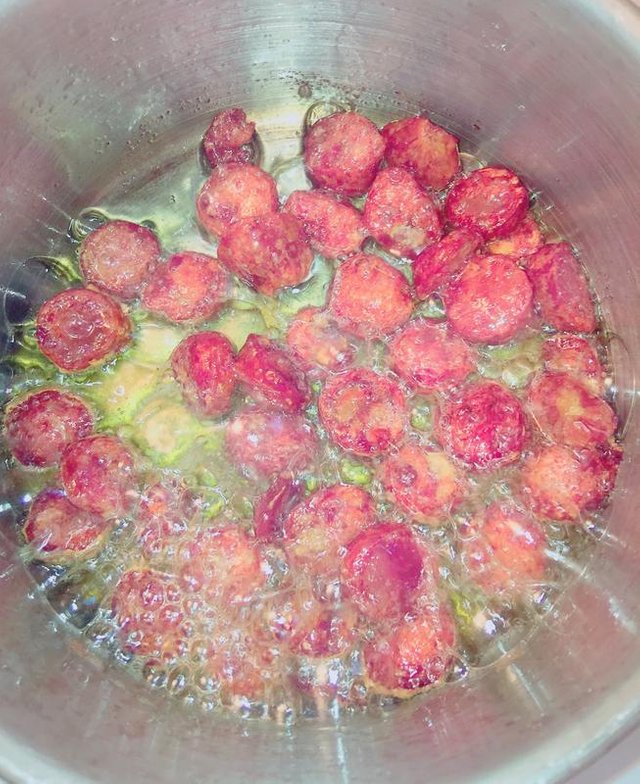 deep fry Chinese sausage to be crispy.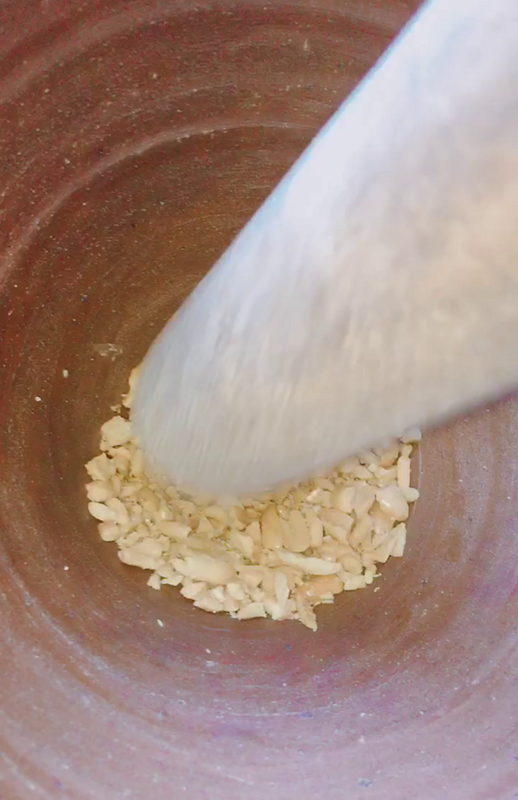 then pounding the roasted peanuts to break them up.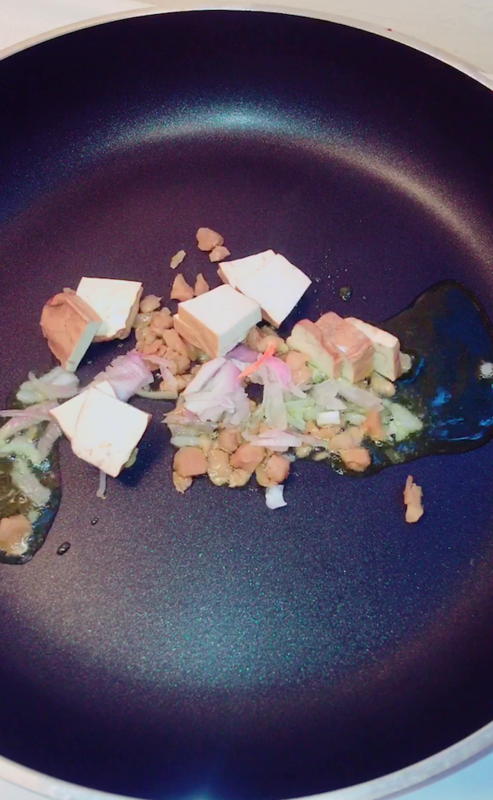 begin to stir fry by putting chopped shallots, dried radish, and chopped fried tofu into the pan.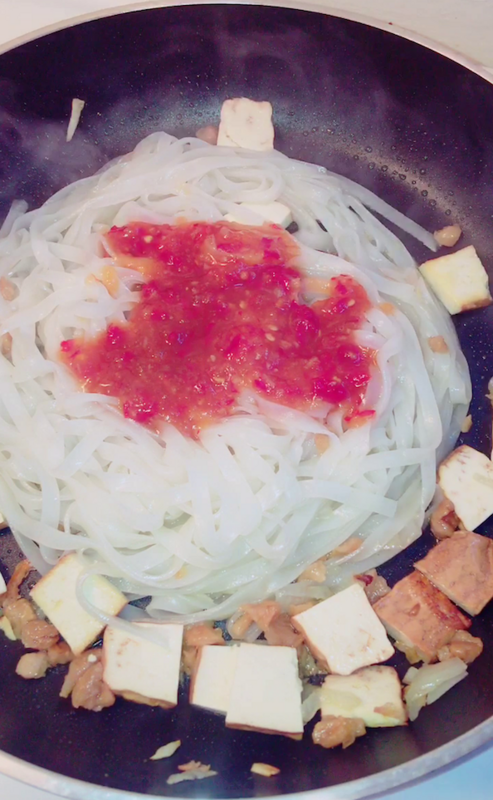 add noodles and sauce.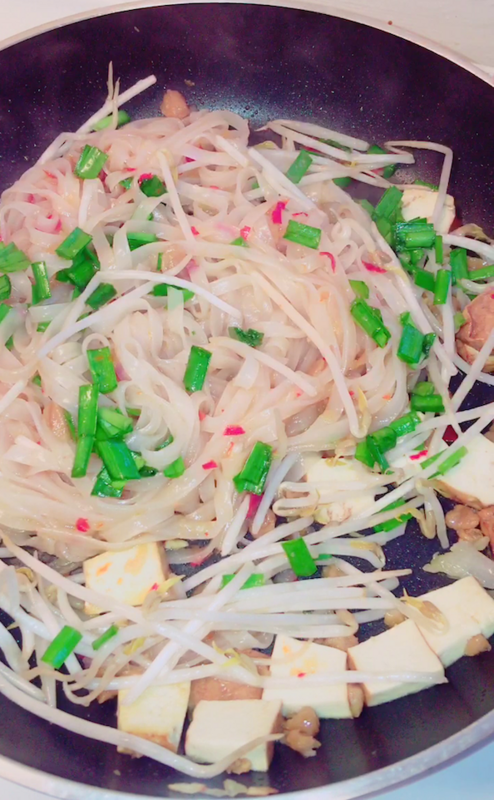 then add dried shrimp, bean sprouts and chives.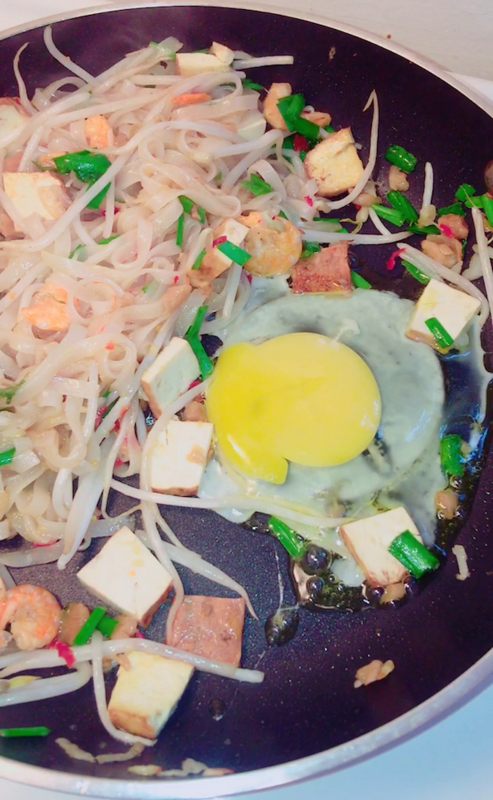 add egg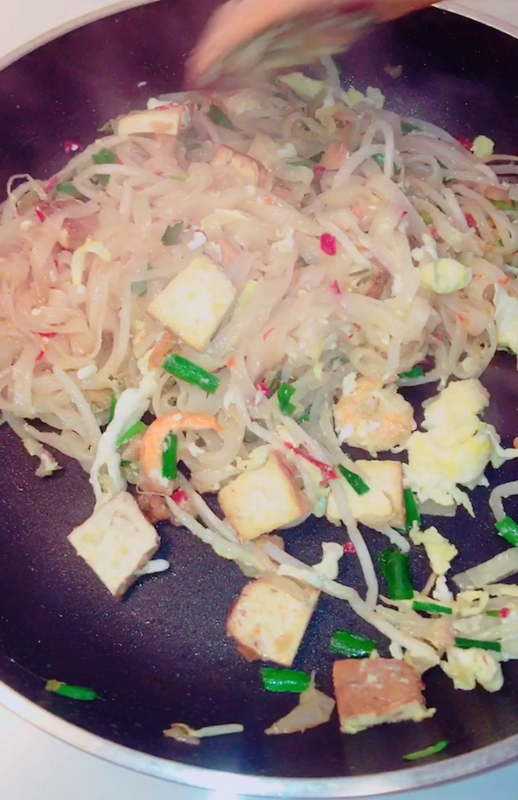 stir fry all together to get well cooked. but don't cook too long otherwise, the noodle should be broken.
all done. Normally, my grandmother will use banana leaves on a plate. But I can't find banana leaves here, so use green lettuce instead.😆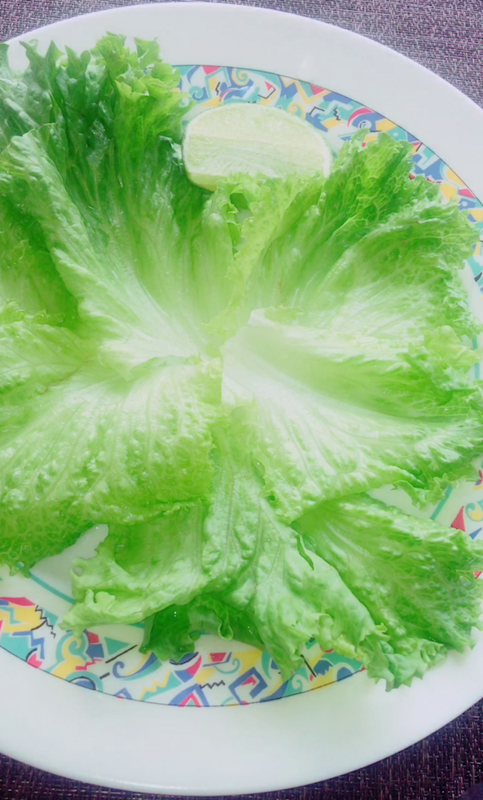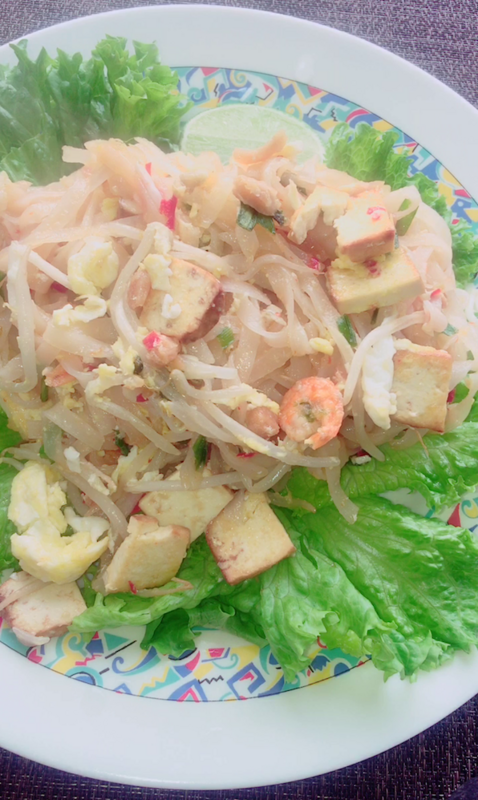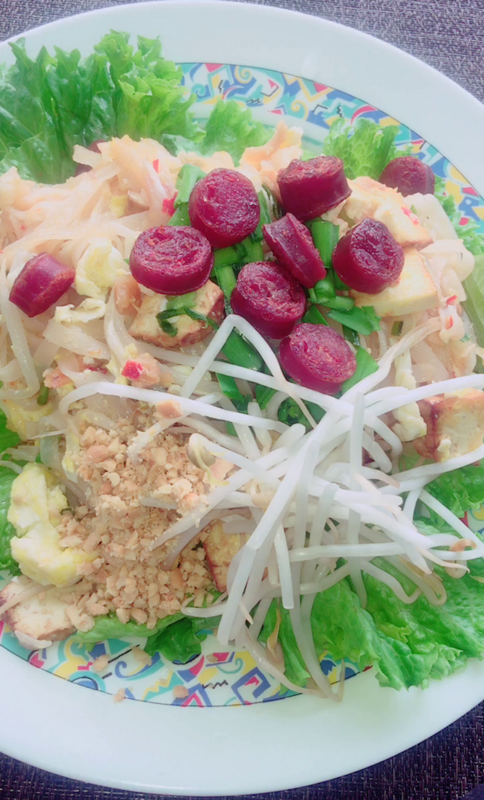 put some bean sprouts, ground peanut, lime slice,  then top with chives and fried sausages. That is!!😁
TRY IT..TASTE IS VERY GOOD!
THANK YOU SO MUCH..
 
                                                    every day is a good day..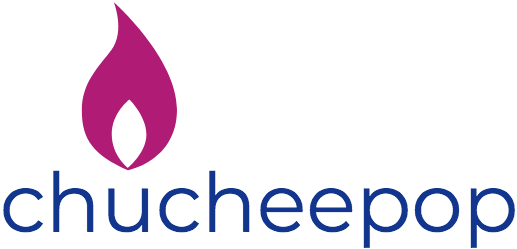 stay happy and healthy everyday..