I will be in Mexico for only four more complete days. I have things I want use up in the kitchen pantry. My dried black beans for one thing and since I don't have a fridge I have to use up fruits like the large pineapple I had. I love fresh pineapple on it's own but I also like to take advantage of the sweetness of them right now. So I made some spicy pineapple salsa. Something I wouldn't really do much at home. I also have avocados that I need to use because of their ripeness in the season now. They are so perfect right now.
I kept things gluten free and fairly light today since we have been eating quite heavy with wheat breads. I like to give it a break sometimes.
I thought the perfect thing would be to make some mini tortillas with the black beans that I made flour out of and top them with a potato carrot mash, guacamole and the pineapple salsa. For variety I topped some with a tomato chili sauce.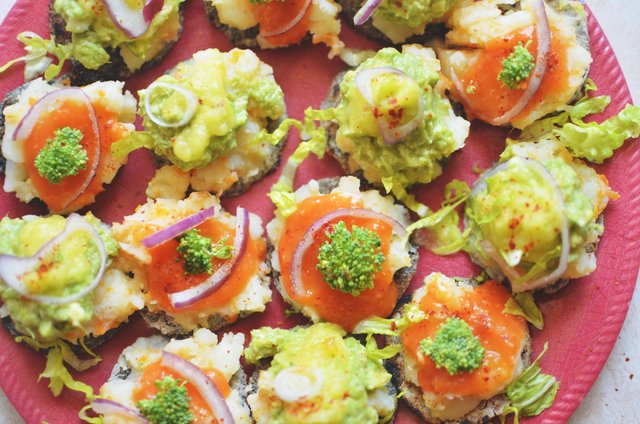 Black bean tortillas
2 cups black bean flour
2 cups masa flour (tortilla flour)
Salt to taste
Water to moisten to a paste
Mix black bean flour and masa flour. Add enough water and mix into a dough consistency like a cookie dough. Roll out and cut out little circles with a cookie cutter. (I used a jar lid). In a not stick pan brown them on each side. Make sure they are cooked through.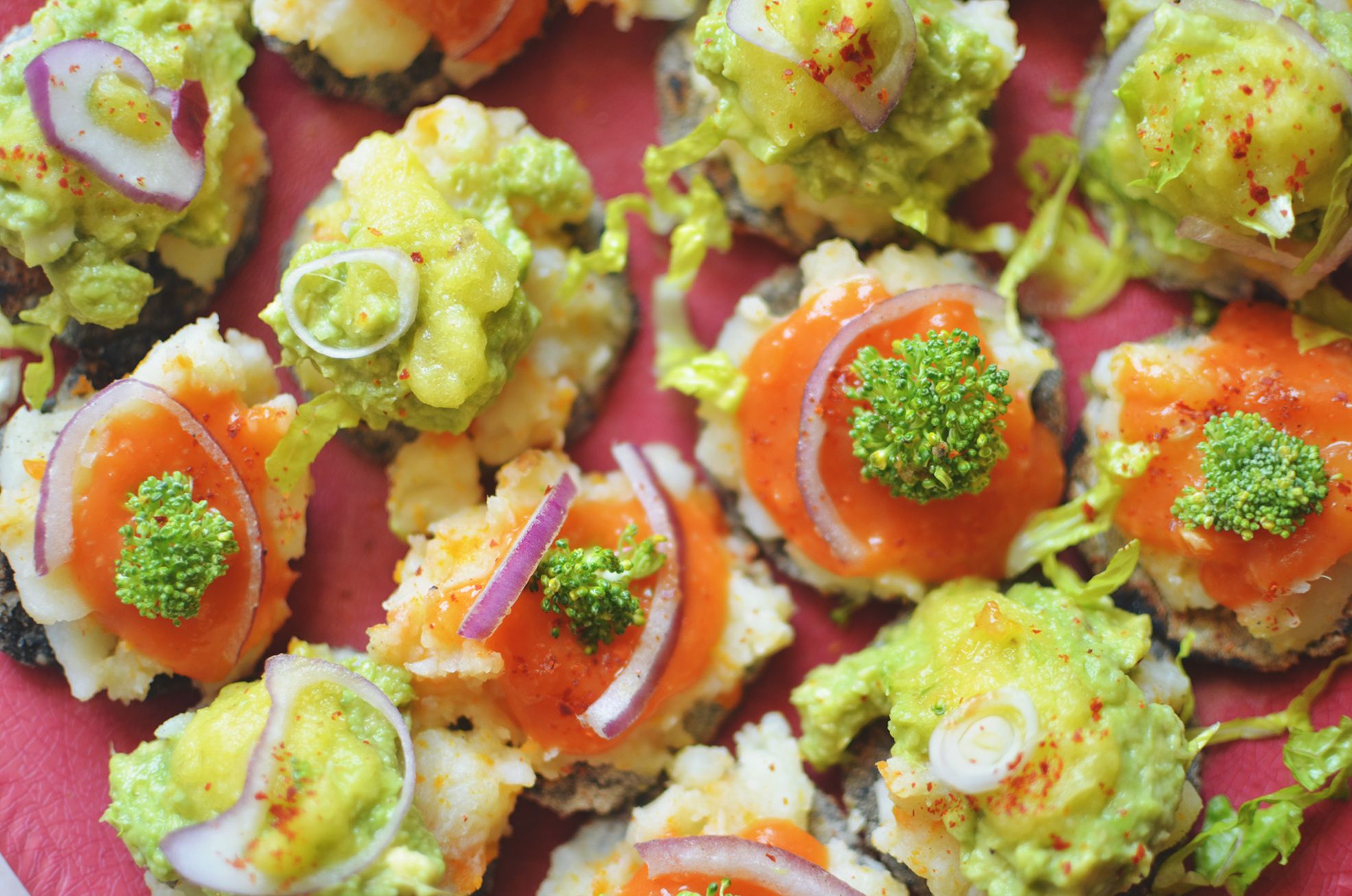 Potato carrot mash

2 potatoes
1 carrot,
Boil with salt and mash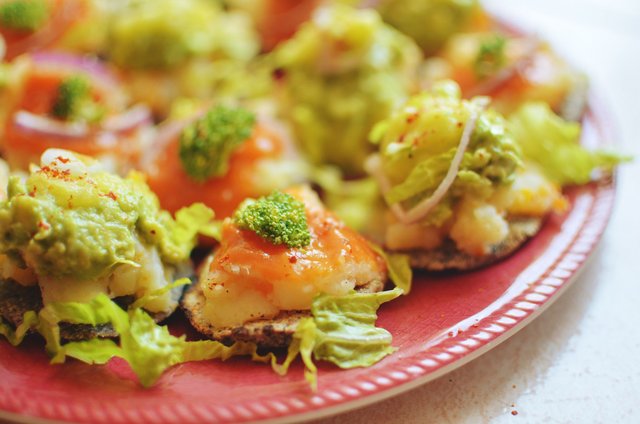 guacamole

2 Avocados
1-2 cloves garlic minced fine
Juice of 1 lime
salt to taste
Fresh cilantro
1 jalepeno (optional)
Blend all ingredients together by hand or in a food processor.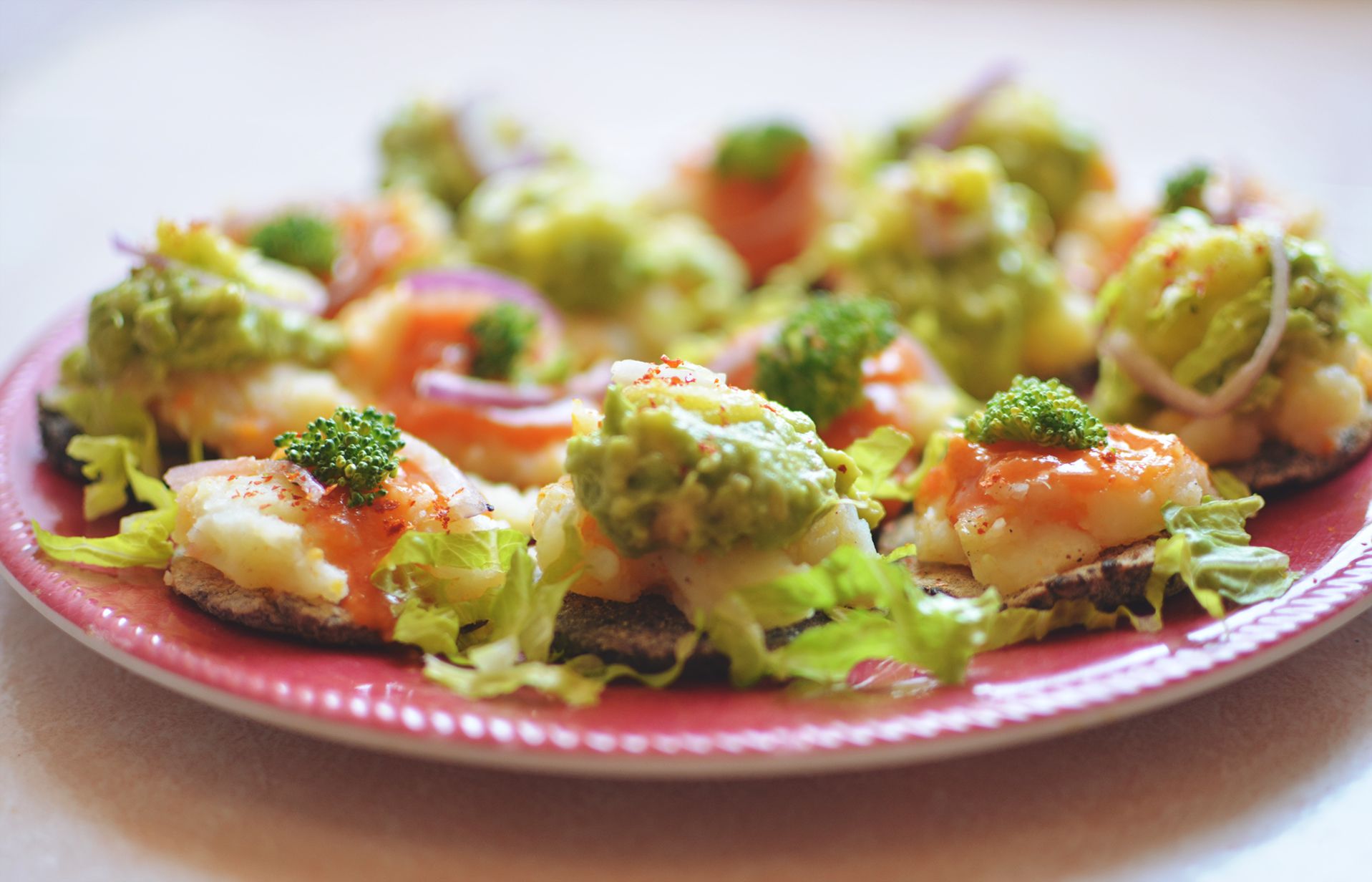 Tomato chili sauce
1 Cup tomato sauce or 1/2 cup tomato paste and water to thin
1/2 cup diced onion
2 cloves garlic minced
1/8 teaspoon cumin
1 teaspoon salt
1 teaspoon chili powder

Saute onion and garlic then add tomato sauce cook then puree in a blender.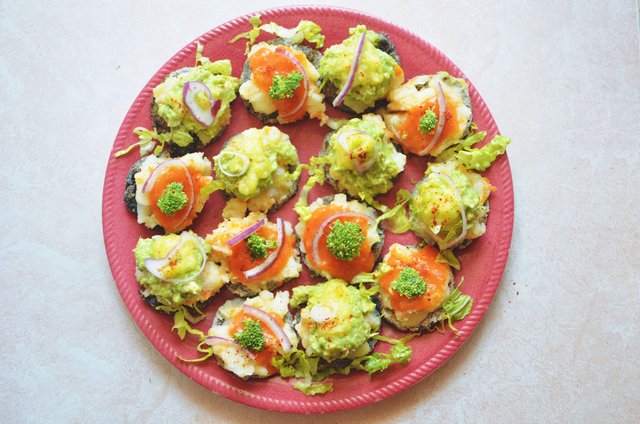 Of course you could make or use any toppings for these. I put the potato carrot mash on all then for some I put guacamole and pineapple salsa and for the others I put the mash and the tomato sauce on top with a small sprig of broccoli for a little crunch and color.
It was light but much more filling then I thought. I think I could eat these kind of finger foods and appetizers more often. It would also please most of the non vegans I know personally. They wouldn't miss the animal products at all.