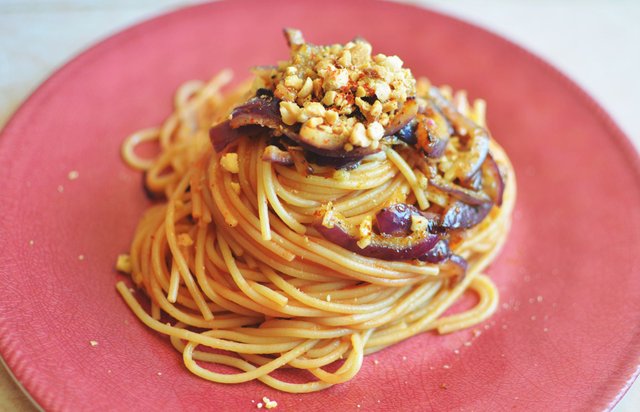 We have two more days left in Acapulco Mexico. We have been here for almost six months and soon we will go to frosty Montreal. I am trying to make the best of it. It's difficult though. We feel like we barely got settled in. We didn't even buy a table or a chair. We got two plastic stools that did the trick.
I am trying to use up a few things in the cupboard. Without a fridge I have to buy fresh things almost daily but this afternoon I didn't feel like going down to the little market. I had spaghetti in the cupboard along with some tomato sauce, onion and garlic. What could I do?
It was simple I would saute the onion and garlic, with the rest of the oregano that I had, added the tomato sauce and voila, lunch was served. It was much like a spaghetti I had ordered in a restaurant here in the old part of Acapulco, Zocalo. We went there a while back and we ordered spaghetti with garlic and crushed chilies. Sometimes the simple stuff is enjoyable too.
I added the tomato sauce just for something extra. It was a small can so it was just enough to coat the pasta. The focus for me was the onion and garlic saute. If I would have had toasted pine nuts, I would have sprinkled that on top but I only had some peanuts so I crushed them and sprinkled them on top.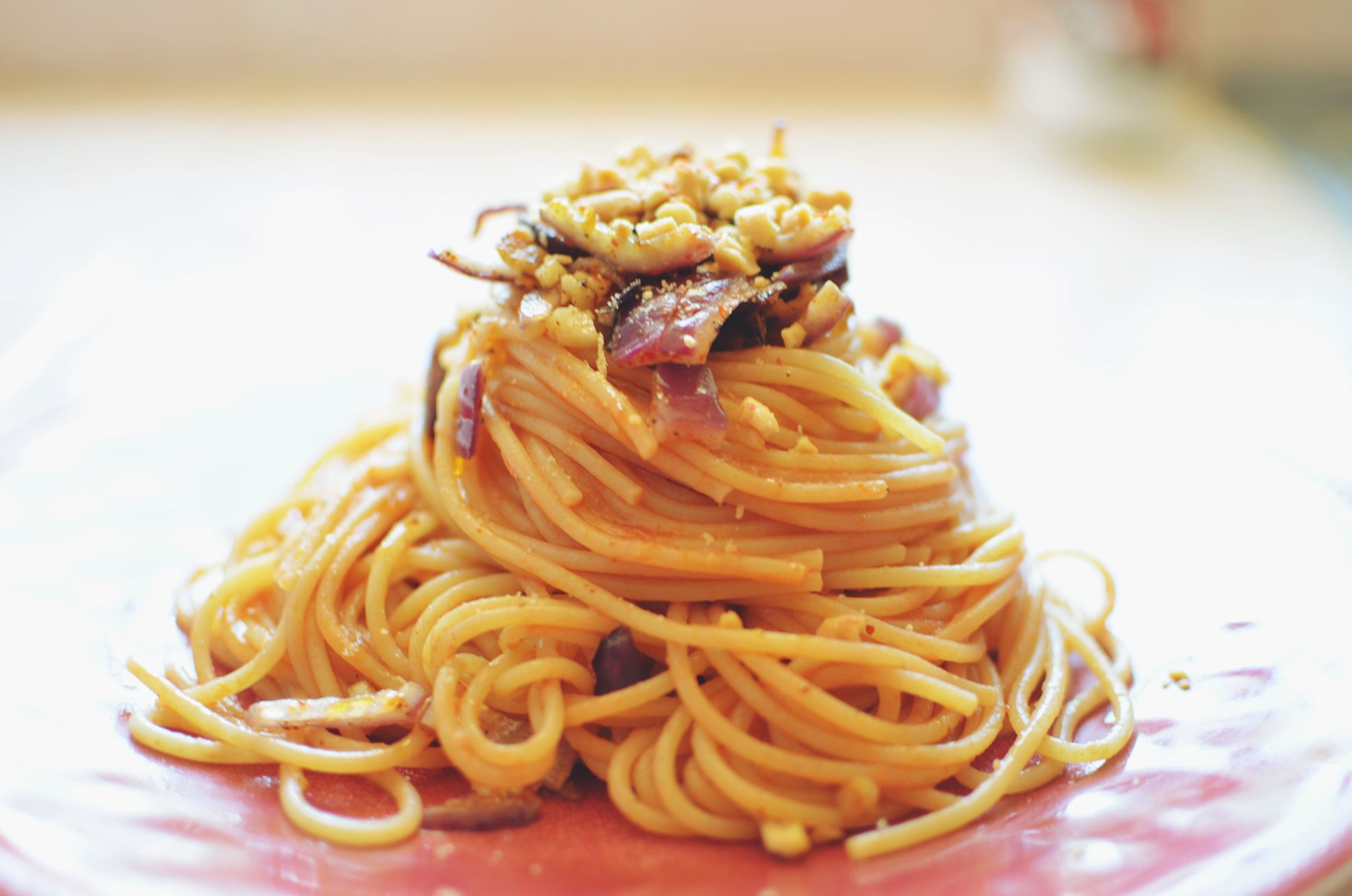 I know that if I were to entertain some non vegans with this, they would just love it. Fortunately almost everyone loves pasta.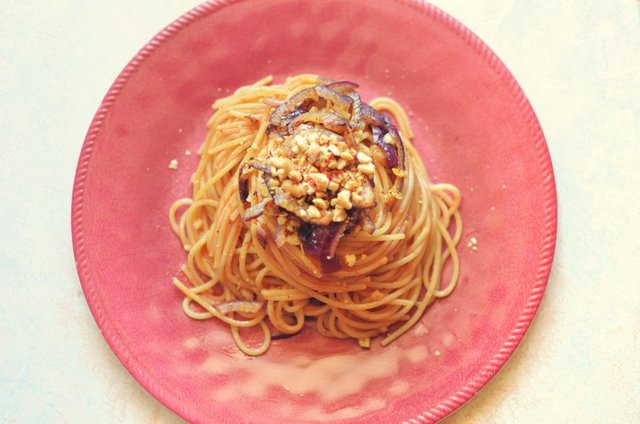 It really isn't the most healthy thing you could eat but I love to eat for fun quite often as long as I never involve animals in my choices. Of course I try to go back on track after not consuming enough fruits and vegetables, especially raw ones.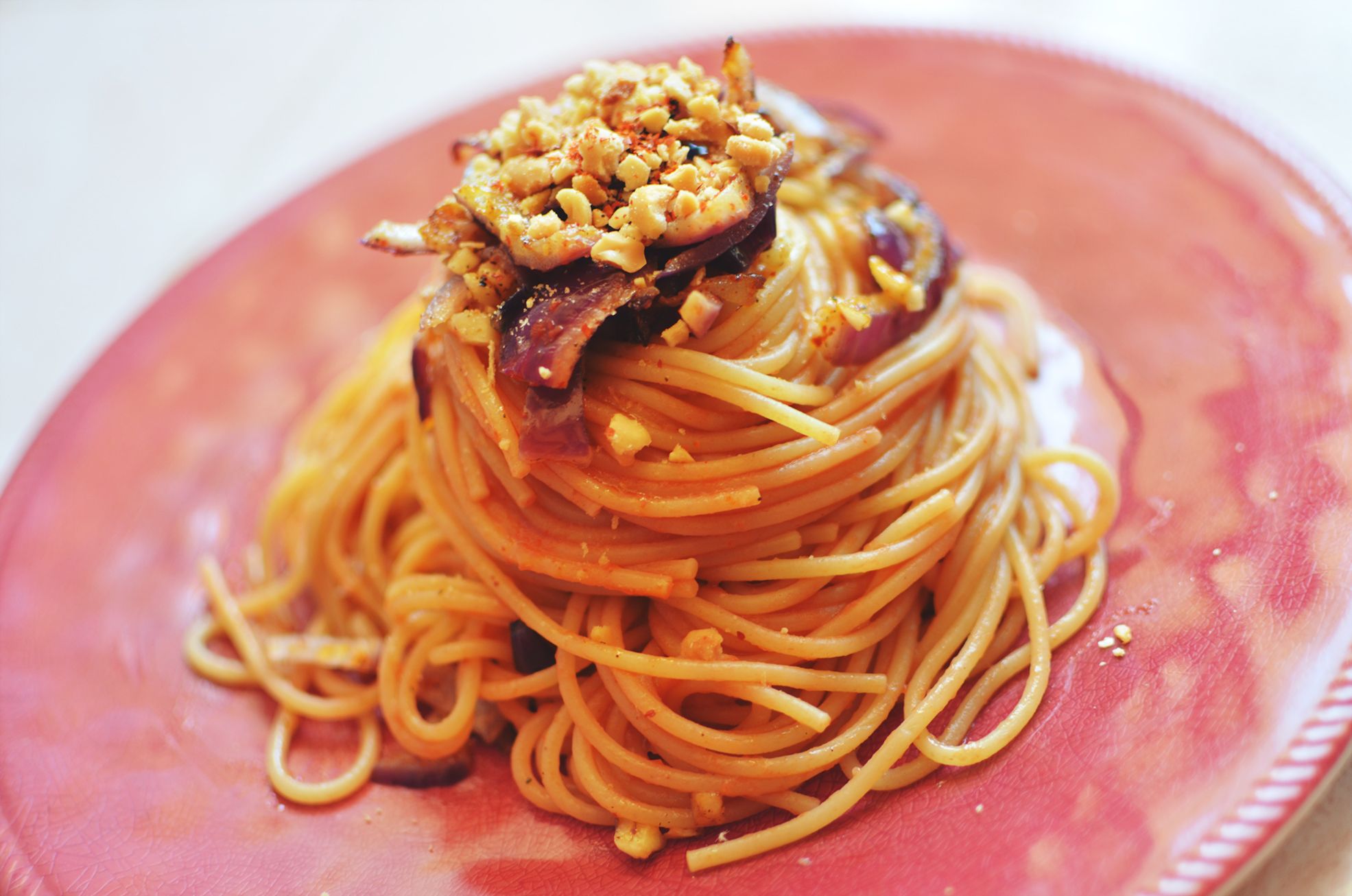 While I was making lunch today I do what I always do, and that is to stare out the window instead of watching the pot boil. I noticed the hole in the cement pole in front of the building, had someone sticking outside of it. I've seen these lizards going in and out of there before but this was the first time I've seen just a little face sticking out. I really think he's got character. I'll really miss such sights.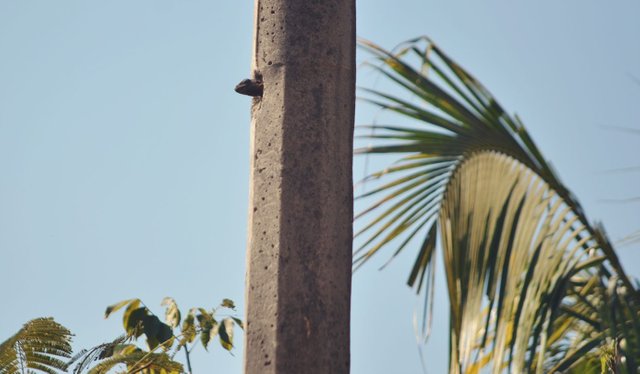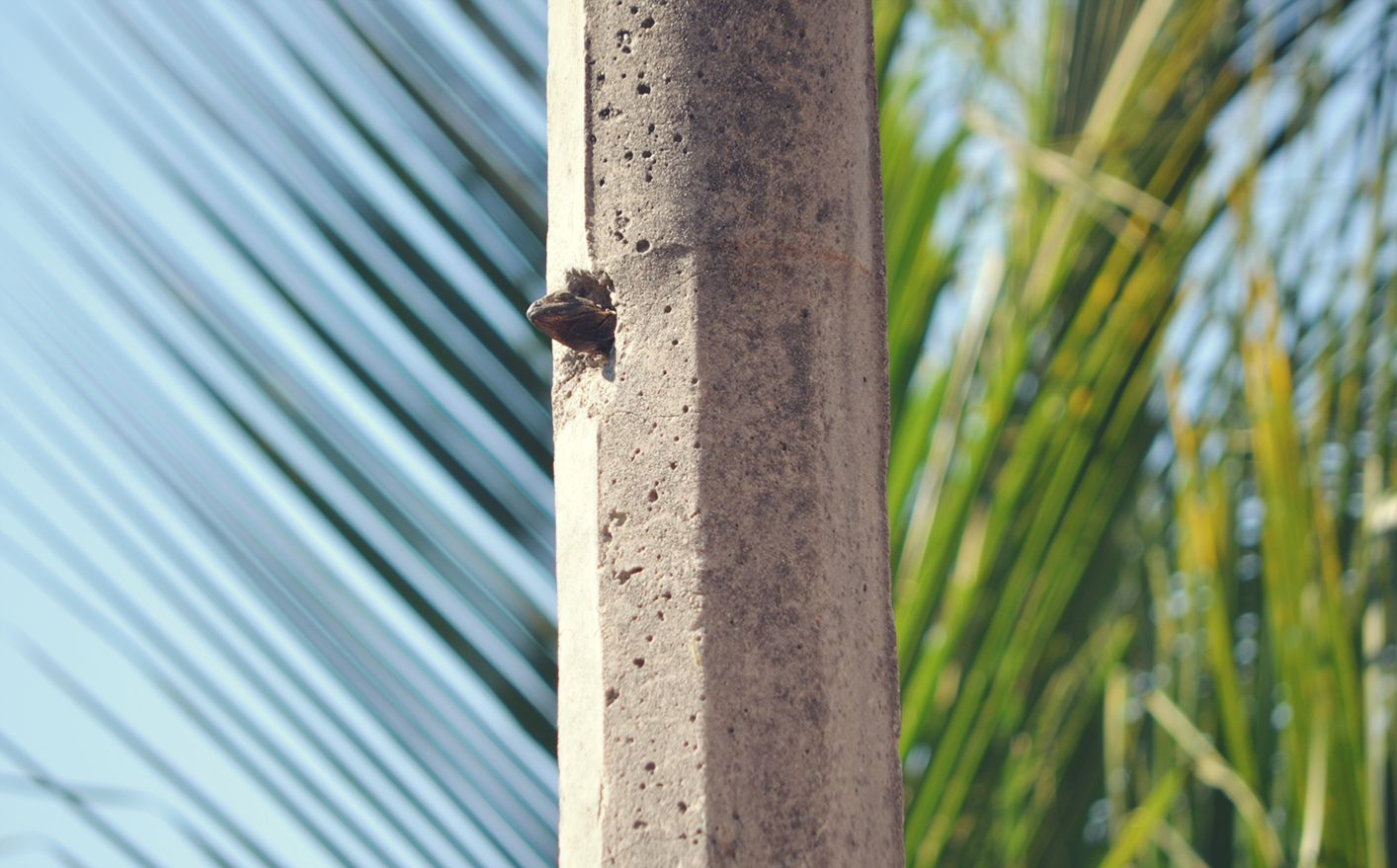 There are quite a few dog owners on the street. Actually I think everyone on the street and all around, have dogs living as their pets. Most of them live outside of the home, and can come and go as they please.
Not all of them though. This guy below, is very pampered and when we first got here two months ago, he was being carried everywhere and was even riding on the motorcycle with his human family.
Today he walked by on his own surprisingly, and I got his attention to take a photo. He stopped walking and looked up for me and posed. Yup that's for sure what he did. He is aware of his photogenic qualities.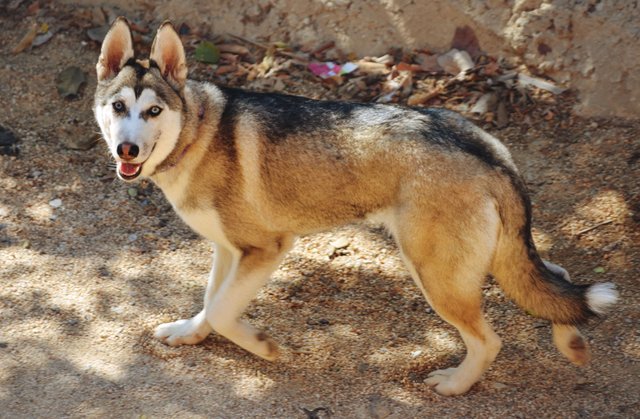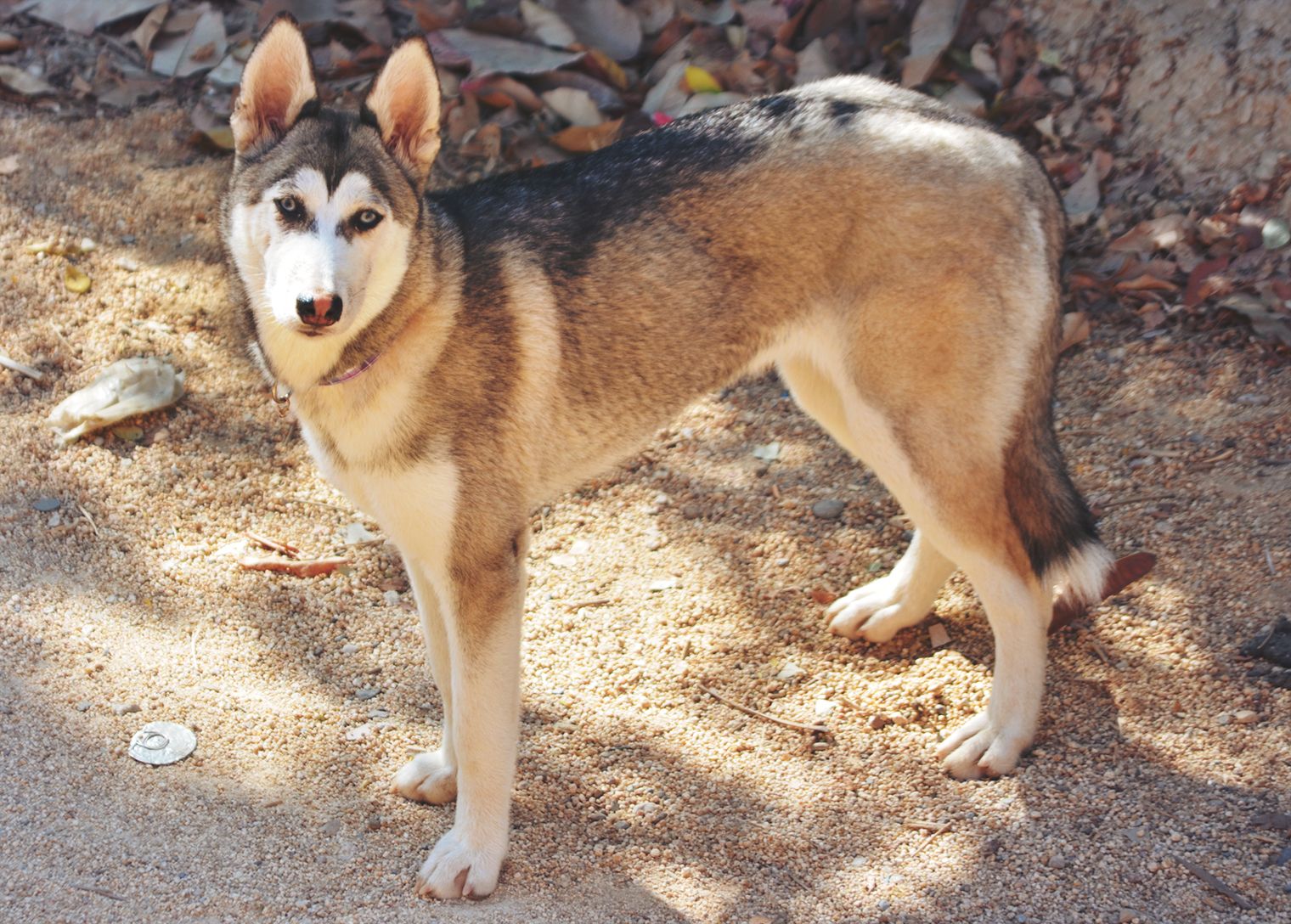 It is a pleasure to see the sights from this window. I am going to miss it so much. Fortunately there is a tree with a birdhouse in the backyard of the home we will be staying at. I can watch the birds and squirrels argue for seeds. There is also a wonderful large family dog waiting for us. He loves me so much. I look forward to our reunion.