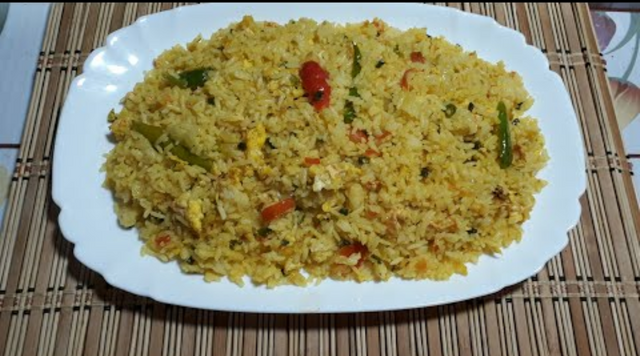 Greetings and Salutations,
I hope all Steemians doing good!
"May the blessings of Allah fill your life with happiness and open all the doors of success now and always."
Today I'm gonna share with you Fried Rice! Hope you'll enjoy it.
---
Ingredients:
Rice 1 bowl
Onion slice big one
6/7 green onion
6/7 garlic sliced
1.5 inch ginger sliced
4/5 green chili
1/4 spoon turmaric powder
2 tomatoes sliced
2 eggs
1 cup oil
Salt
Process:
Take a big pan. Put oil, add onions and stir. When onion will be soft add ginger-garlic slices. Stir again, get those little brown. Add green chili, green onions. Fry them 2/1 minutes. Add salt. Fry them well. Add tomatoes. Take eggs, put them aside and get it fried. Add turmaric powder, mix all together.
Add rice and little bit salt. Fry them until all mix properly. Rest it for 3/4 minutes.
Take out, serve hot.
Video Recipe:
As simple as that!
Happy Cooking!!
---
@bdcommunity is an initiative on the steem blockchain trying to help all Bangladeshi standard authors as well as foreigners and share their work to improve their skills. Discord