My cooking journey started when I moved to the Netherlands at the age of 18. Living alone for the first time, I realised that I cannot hang onto instant noodles. I have been fond of watching cooking channels with my parents and I guess this would be the best time to try those recipes out myself in my own kitchen.
The rest is history, curating recipes has become a routine. Trying recipes out and modify it to better suit my taste. Sometimes, when the creative gene is triggered, I would make my own recipe, like this Tempe recipe
This one is chocolate chip cookies recipe, from Food Wishes.
Chef John is one of my favourite chef on the internet, he has tons of simple recipe for newbies and my first journey as a home baker, started with this recipe. This recipe doesn't need any mixer and you rely on your spatula to mix everything.
Recipe link:
Welcome to the "Summer of Amena," and Her Triple Chocolate Chip Cookies!
Ingredients:
1 cup plus 2 tablespoons all-purpose flour
1/2 teaspoon baking soda
1/2 teaspoon salt
1/2 cup (1 stick) unsalted butter, very soft
1/4 cup packed light brown sugar
1/2 cup white granulated sugar
1/2 teaspoon vanilla extract
1 large egg
1/3 cup semi-sweet chocolate chips
1/3 cup white chocolate chips
1/3 cup milk chocolate chips
Direction:
Preheat oven 375F / 190 C
Using a spatula, in a big bowl, mash butter, sugar, and brown sugar, until everything is nicely combined.
Add egg and vanilla to the sugar dough and (change to whisk) mix everything together. It will take barely 30 seconds to do so.
In a separate bowl, sieve in flour, baking soda, and salt, then add it to the dough.
When everything is combined, add all the chocolate chips. Integrate everything.
On a lined baking tray, using a sorbet scoop (or just a spoon), and scoop the mixture on to the baking tray. Don't overcrowd them because they will expand, in a home oven, i would do about 9-12 scoops per tray.
Bake them for 10-12mins. Depending on your oven, mine is perfect at 10 minutes.
Remove from the oven, wait for it to cool down, then enjoy them with a glass of milk!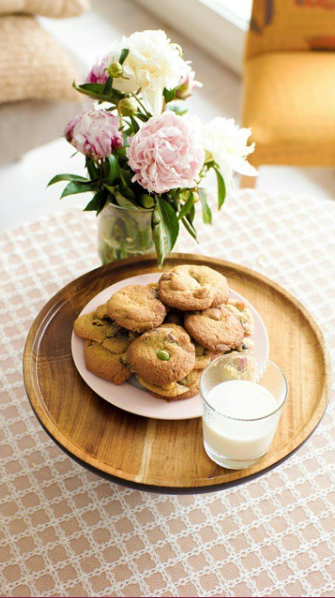 Peonies and Cookies rhyme, when it was peonies season then I'll bake cookies!
Let me know if you ever try it out!
Follow me on @astriela for your daily dose of sweetness and cheers