Hello everyone on steemit. Have a wonderful day or night to all my steemian friends.

Have you ever tried experimenting on the food you cook? I sometimes do that, so today I am going to share one of my experimental homemade recipe.

It is Spicy Tuna Fetuccine Pasta with Egg. Before I share my way of cooking this, I would like to tell you that every time we eat outside..I mean with my family...I'm kinda observant of the food especially the flavor or the taste and I always to try to do it at home but with a twist like just using some ordinary ingredients that I can afford or what is available in my kitchen. And my family @jhunalvarado and @tegoshei always love what I am doing and sometimes ask for more. Actually, even some of @tegoshei's friends who come in the house and dine with us. However, I also had a lot of failures in my cooking...hahaha


Now this is how I prepare "Spicy Tuna Fettuccine Pasta with Egg ala @arashikawaii"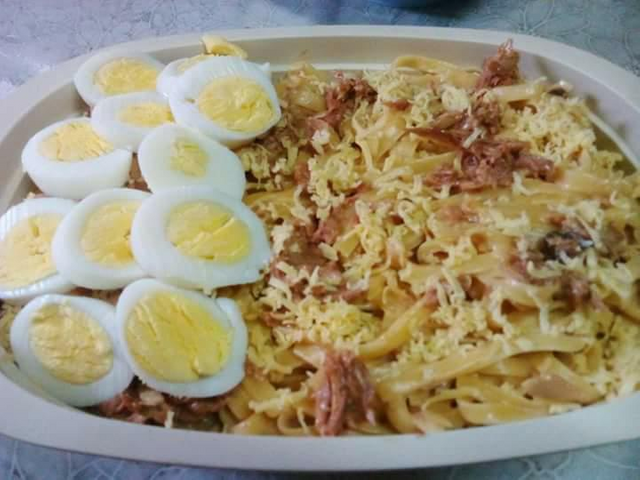 Ingredients:
400 gms fetuccine pasta
2 cans spicy tuna (century)
1 can flakes in oil century tuna
1 can nestle cream
1 box eden cheese
4 pcs eggs
Tabasco sauce
Onion
Garlic
Salt
Cooking oil


Procedure:
Boil pasta in salted water in a pot until it becomes aldente. (Just 1 tbsp of salt and a little cooking oil)
Strain and set aside.
Boil eggs in separate cooking pot until it is cooked. Then set aside.
Saute onion and garlic In a pan or pot.
Add the canned tuna, then put a little tabasco sauce or any sauce you like.
Then add the nestle cream and a pinch of sallt.
Then put pasta and mix.
Then after garnish it with sliced hard boiled eggs and cheese.


And there you have it. I hope you enjoy and try this recipe too. Happy cooking and eating!
See you again!
@arashikawaii