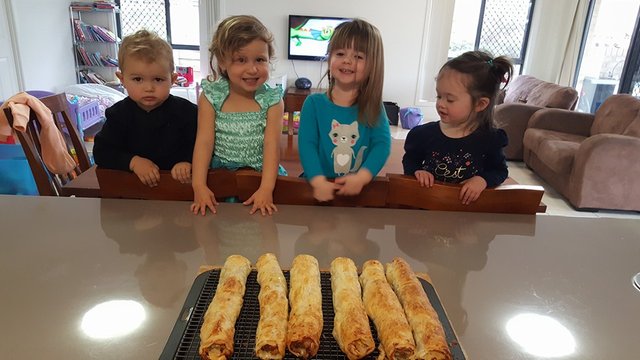 These ones were made by the wee babes! and they had great fun making such a mess and getting their hands in the mix!!!
Anybody of any age can eat these and they are SO much healthier than traditional sausage rolls made with sausage meat!!
We made these with:
1kg turkey mince
2x grated carrots
1x diced onion
1x clove garlic crushed
1/4 packet Maggi Chilli Con Carne Mix
3T mixed herbs
3/4 c breadcrumbs
Puff pastry sheets
Milk for glazing
Method:
Chuck all ingredients into a bowl and get in your fingers and mix!!! Place meat mix in the middle of a pastry sheet and roll up each side of pastry so that the seal is on the bottom when placed on a tray.
Glaze with milk.
Cook at 200 degrees celcius until nicely golden on top.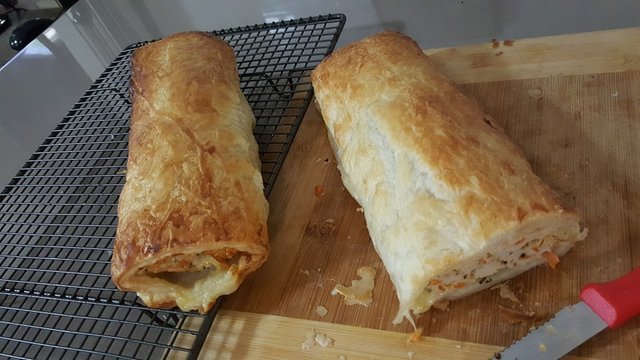 I made a batch and then the wee babes copied me and made their own, such a cool and great way to teach them early cooking skills and you can hide almost any vegetable in these! Win, win!!!
We also sometimes use chicken mince and add sneaky bits of grated cheese in.
You do not need to use breadcrumbs but it does stop liquid coming out of the meat during cooking which could result in soggy pastry underneath.
I am happy to post any recipe that you want after making it if you like! I will give anything a go and so will the tots!!!!