Fruit Salad with Peanut Sauce (Rujak Aceh) Bilingual
ENGLISH
---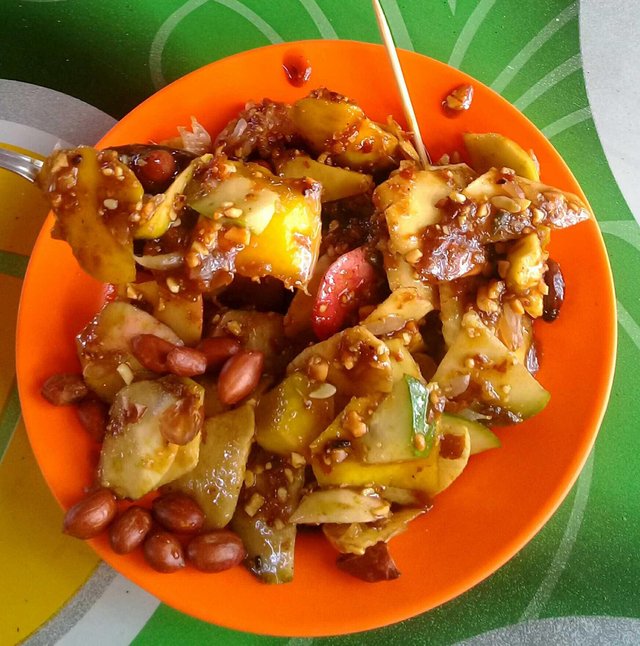 ---
Hallo steemians, good evening ..
May Allah SWT always give us health and sustenance that is lawful again blessing.
Steemians friend, for tonight I am not writing about recipes, but I want to share a meal that we rarely find in this holy month of Ramadan that is Fruit Salad with Peanut Sauce (Rujak)
---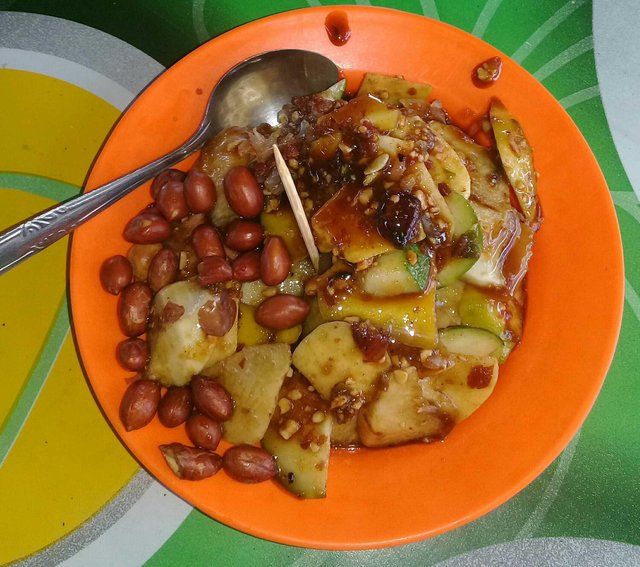 ---
Fruit salad with peanut sauce is a food or you can say snacks made from fresh pieces of fruit such as pineapple, mango, papaya, cucumber, bengkoang, guava and some other fruits too, which then in flush or mixed with peanut sauce made from water brown sugar and nuts as well as several additional spices.
Fruit salad with peanut sauce is usually sold in ordinary days and rarely we see fruit salad in the holy month of Ramadan but there are still selling it, this is in because the fruit used to make Salad peanut sauce tends to use fruit that has a sour taste so feared will be problematic with digestion and stomach if the consumption in the month of fasting.
The combination of sour and sweet flavors derived from the fruit and flavor spicy that comes from the peanut sauce will produce a delicious flavor, making fruit salad is much hunted by the community, and has become one of Aceh's special foods.
---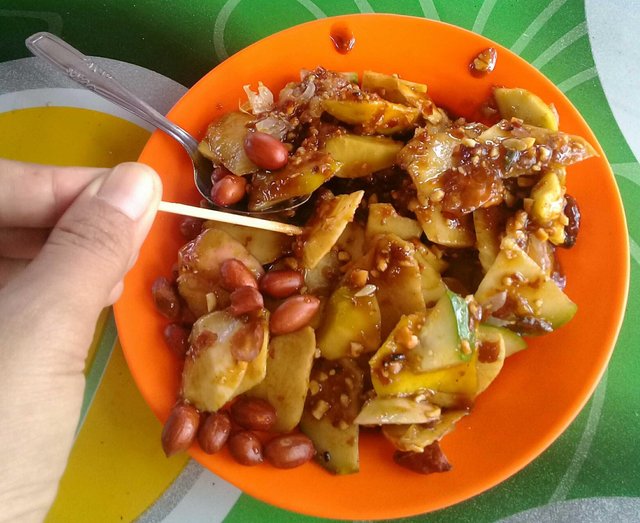 ---
Well, for friends steemians who are outside Aceh even outside Indonesia who are curious about the taste, you can visit Aceh and you will find some places seller Fruit Salad which is famous for its delicious salad flavors
Up here first all friends, and thank you for everything, see you again in the next post.
---
INDONESIA
---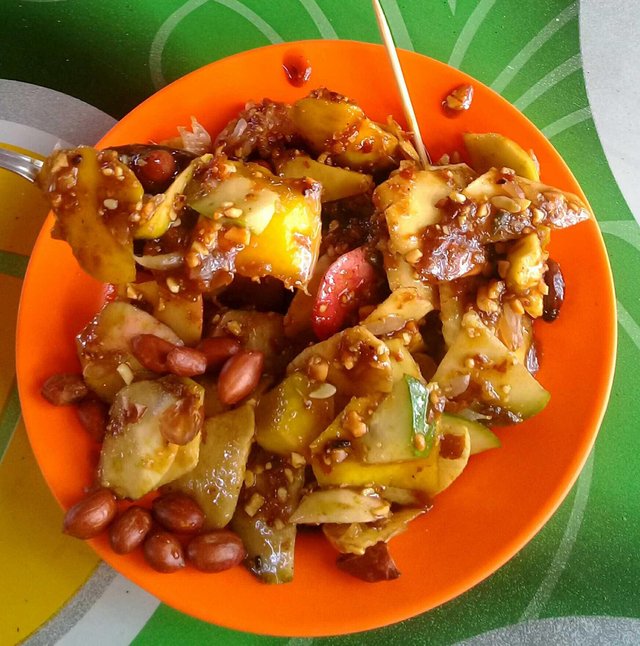 ---
Hallo steemians, selamat malam..
Semoga Allah SWT senantiasa memberikan kita kesehatan dan rezeki yang halal lagi berkah.
Sahabat steemians yang saya cintai, untuk malam ini saya tidak menulis tentang resep masakan, tapi saya ingin berbagi suatu makanan yang jarang kita temukan di bulan suci Ramadan ini yaitu Rujak Aceh.
---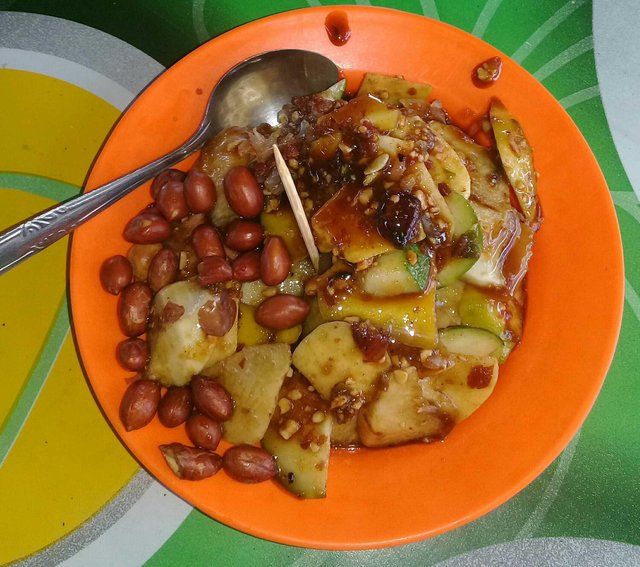 ---
Rujak Aceh adalah makanan atau bisa dibilang cemilan yang terbuat dari potongan-potongan buah segar seperti nanas, mangga, pepaya, mentimun, bengkoang, jambu air dan beberapa buah lainnya juga, yang kemudian di siram atau di campur dengan saus kacang yang terbuat dari air gula merah dan kacang serta tambahan beberapa bumbu lainnya.
Rujak Aceh ini biasanya banyak di jual di hari-hari biasa dan jarang sekali kita lihat Rujak Aceh pada bulan suci Ramadan namun tetap ada yang menjualnya, hal ini di karenakan buah yang dijadikan untuk membuat Rujak Aceh cendrung memakai buah yang memiliki rasa asam sehingga ditakutkan akan bermasalah dengan pencernaan dan perut jika di konsumsi di saat bulan puasa.
Perpaduan rasa asam dan manis yang berasal dari buah dan rasa pedas yang berasal dari saus kacangnya akan menghasilkan rasa yang lezat, sehingga membuat Rujak Aceh ini banyak diburu oleh kalangan masyarakat, dan telah menjadi salah satu makanan khas Aceh.
---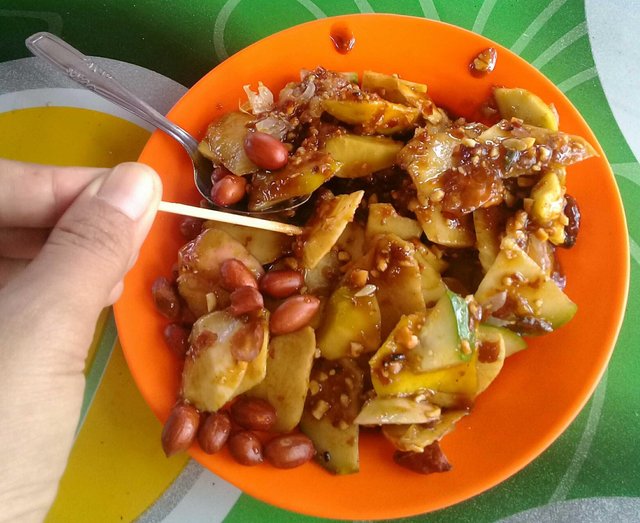 ---
Nah, bagi sahabat steemians yang berada di luar Aceh bahkan di luar Indonesia yang penasaran dengan rasanya, anda dapat berkunjung ke Aceh dan anda akan menemukan beberapa tempat penjual Rujak Aceh yang sudah terkenal dengan rasanya yang lezat.
Sampai disini dulu sahabat semua, dan terima kasih untuk semuanya, sampai jumpa lagi di posting selanjutnya.