Homemade Peach Cobbler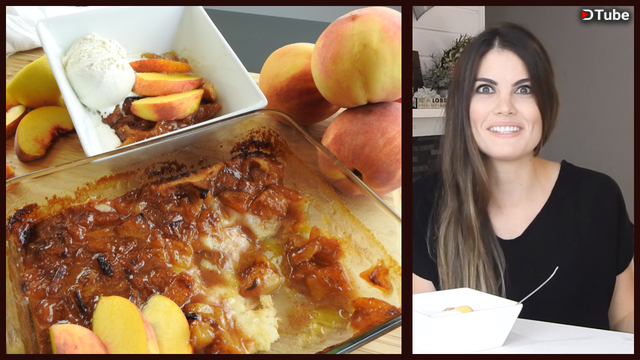 ---
Peach Cobbler
INGREDIENTS:
¼ C Salted Butter
3 Fresh Peaches (peeling and sliced)
½ C Sugar (divide in half)
½ t Vanilla
½ T Fresh Lemon Juice
½ t Ground Cinnamon
½ C All-purpose Flour
½ T Baking Powder
½ C Milk
INSTRUCTIONS:
Preheat your oven to 375 degrees. Add you butter in a 9x6 (or similar size) baking dish and melt in the oven, once your butter is melted, pull it out of the oven and set aside. In a medium size saucepan add in your peaches, ¼ cup of sugar, vanilla, lemon juice and cinnamon and mix together gentle until your mixture comes to a boil. After it has come to a boil, turn off heat and set aside. In a medium size bowl add flour, ¼ cup sugar, baking powder stir till combined and add your milk, mix until everything is combined. Pour your flour mixture over your melted butter (DO NOT STIR!!!). Next add in your peach mixture over your flour mixture, again DO NOT STIR!!! So, your cobble should be in this order, melted butter, flour batter, peaches. Place your baking dish over a cookies sheet just in case anything runs over. Bake for 40-45 minutes or until the top is lovely golden brown. Cool slightly.
Enjoy with vanilla ice cream!
Here is the Youtube video if anyone wants it: