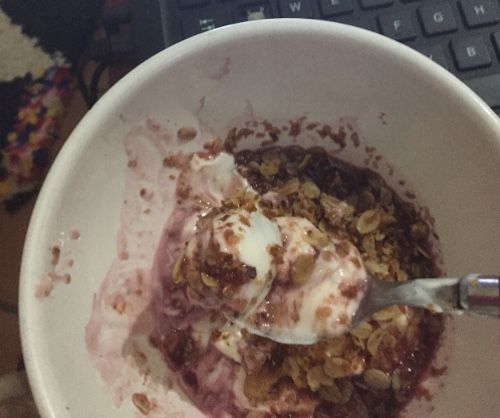 This is really cheeky. but I have been so busy all day that I have not had time to do my usual type of post.  
Well, sat here having supper, I suddenly realized that this is delicious, and why have I not taken the time to take pictures? 
Grabbed my iphone and tried to take a picture of:  'Supper with Steemit'!
Got the 'supper' element, but the screen has not come out......shame.
Oh well, lets discuss supper.
Greek Yogurt, Cherries Poached in red wine, and Homemade Granola Topping
The Greek yogurt was purchased from the supermarket; sorry, it has got to be full fat!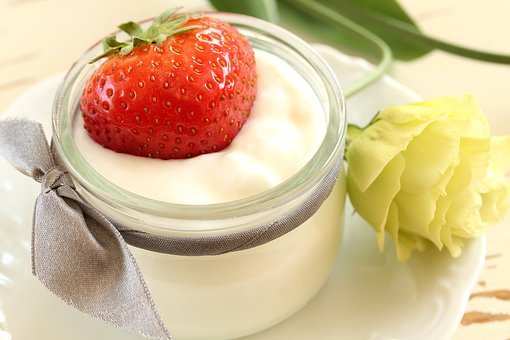 (Yogurt is really easy to make and I will do a post on that in the near future).
Cherries Poached in Red Wine:
Take some cherries and de-stone them.  
(I have a little contraption which cost me next to nothing.  Like a hand held hole punch, you sit the cherry in the little cup and use the scissor action; the prodder pushes out the stone.  Works with olives too)!
Put cherries into a small pan, 
add some sugar and a little red wine;
a cinnamon stick too.  
Poach until the cherries are just soft. 
Put into a bowl and when cool, into the fridge until required.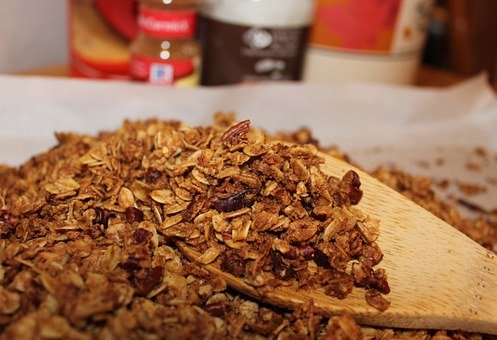 The highlighted blue in the title will take you straight to my post, which fully covers this recipe in greater detail.  However, I am writing a precis for you here, to save bother!  (Hope Cheetah doesn't nab me; my recipe anyway)!
 (As this is not required to be an 'exact' recipe - just put in what you feel like - I am only giving quantities in cups.  Any old cup will do as it is the volume which matters, not the weight). 
Ingredients Required: 
4 cups of rolled oats (not the instant variety) 
2 cups of coconut (fresh or desiccated it does not matter) 
2 cups of nuts (which ever 'tickles your fancy') 
3/4 cup of oil (sunflower works just as well as olive oil) 
1/2 cup of honey (mmmmmm!) 
Method: 
1. Put all into a big bowl and get your hands in to mix it all together really well.  This ensures even distribution of the ingredients. 
2. Spread onto a large baking sheet and put into a medium oven.   
3. Bake for 45 minutes or so in your oven until evenly coloured. 
4. Every so often, especially towards the end of baking, stir well: bring the sides into the middle and the middle to the sides.  (It always colours from the edges first so you don't want burnt edges and pale inner).   
5. Leave to cool on the tray and when cold seal up in an airtight container of your choice.  
To Complete the Dish:
1.  Put Greek yogurt into the bottom of a dish.
2.  Add the cherries in red wine, (as much s you want).
3.  Top with crunchy granola.
It really, really is delicious; try it and see!
Cheat really as this took me about 3 minutes to put together.  Much longer to cook everything else.....hey ho, still a meal ready in less than 30 minutes!
Now for more Interesting Posts:
 @indepthstory  has help from his family making this delicious lemon pie.
 @writemore  gives us his take on a cheese and onion omelette as a breakfast dish; it looks very tasty.
 @highwings .  Her easy cupcake recipe with buttercream looks wonderful.  No excuse not to 'get baking' now!
@get-baking has done a great little series of posts on pasta making.  Here is a delicious tomato sauce to go with the pasta.  Take a look, a real treat!
and finally for now:
@cake-lady-jen in her words 'created a monster (cake), now you can too'.  Yes you can with this post!   
Please take the time to keep on writing those quality posts; as all I want to do is:
and......

as well as:

As often as I can. :)X