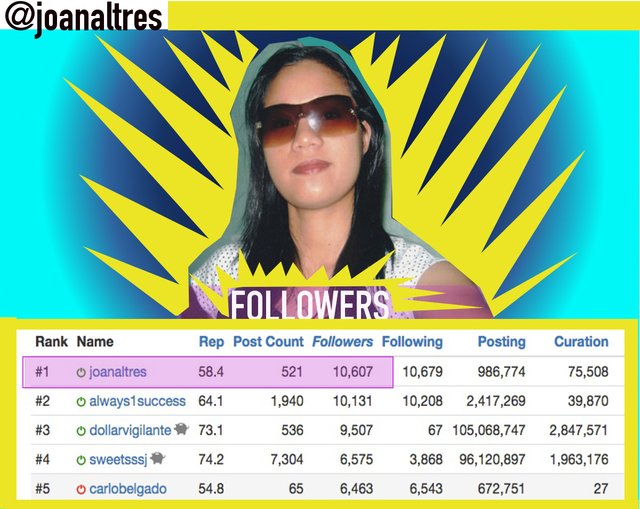 Have you ever checked out steemwhales.com to see who has the most followers, the most money or the most blog posts?
I bet you have. We all have. Comparing ourselves to others seems to be a universal human trait.
Well, have you ever noticed that @joanaltres has more followers than anyone else on Steemit? She has 10,728 followers to be exact. She has more than @sweetsssj and more than @dollarvigilante. Have you ever seen her on the trending pages? Do you know who she is? I bet you don't. I didn't, but I have been curious about who @joanaltres is and why she has so many followers. She has more than double the amount of followers that I have, and I blog almost every day on Steemit. I've never actually seen one of her blogs before. Have you?
So who is she? What is her secret to having the #1 spot as far as Steemit followers?
I reached out to @joanaltres on Steemit Chat to get my nagging questions answered.
Here are her answers:
Q: How did you become the Steemian with the most amount of followers? Did you bring them from other social media sites?
@joanaltres: I did not bring them from other sites.
I might have a dozen or so that came over here from my mentions about Steemit in email marketing that I do and my social accounts, but most of the followers I have are from what I call "courtesy following".
Courtesy following is different than "follow for follow" in that you don't ask anyone to follow you. You simply follow them first, and some of them, usually out of courtesy, follow you back.
I started following people back in December of 2016 after my Mother had a stroke and the financial strain on me became burdensome to the point of putting me in financial ruin. Doing a lot of following was just a simple way for me to do something to put the situation out of my mind for a time. But I wasn't an aggressive follower at that point. I would do it maybe two times a week.
When I got to the point of having about 1200 followers, I decided to resteem a post, and I saw the views, comments and upvotes for that post start going up immediately. I thought that was pretty cool, and it was from that point forward that I became more aggressive about following, so I could affect the outcome of some posts that I felt deserved more exposure and reward.
Q: Are you famous?
A: I'm definitely not famous and I'm not a big deal on Steemit at all.
And I don't think my 10,000+ (currently) followers make me a big deal, either. And when I write a comment on a post, followed by my usual "Resteeming this to x-amount of followers", I don't do it to brag, but to cause a pleasant surprise for the author.
It's almost like getting to play Santa Claus, and before HF19 one of my resteems could have more impact than a whale vote.
The best outcome I had from a resteem was when @darthnava posted about his need for help with surgery expenses. His post has been up for a day with around $5300 and seemed to have reached the point of stagnation. I resteemed it – views and upvotes started pouring in again for him, and it reached a good $8,000-something within just a few hours.
I won't claim that the resteem made him most of the $17,000+ total he earned by the end of the pay period, but it did spark things back up for that post. The best case scenario for a resteem is when others who see the resteem also resteem it, and I'm sure that's what happened in that case.
Since HF19 went into effect, however, I've noticed a sharp decline in the amount of money earned from posts I resteem. The reward pool has dropped and the price of Steem has also dropped. Plus we have the whole issue of self-upvoting comments going on, and people upvoting less because of the 40-vote-daily limit reduced to 10.
Q: How do you define a Christian Anarchist?
A: I define a Christian Anarchist as a citizen of the Kingdom of God, under the reign of God as one's sole authority.
If government tries to impose on that citizen any law or policy in opposition to God's authority, then that law or policy can and should be rejected.
Basically, it's being under the law of God as taught through Jesus Christ. Wars are started by governments, but the Gospel teaches us to war only by sacrificial giving and the Word of God; therefore, I reject wars and won't support war efforts.
I wouldn't say I'm a "pure" Christian Anarchist, however – it's just that, of all the classifications I know of, I hold opinions that are more closely aligned with Christian Anarchism than with anything else.
Q: Are there a lot of Christian Anarchists?
A: I have no idea. Lol.
I don't follow anything about Christian Anarchism. In my opinion, if you are a Christian, you are a Christian Anarchist by spiritual birthright. But it's not essential to claim it or even to know anything about Christian Anarchism.
Ultimately, you are either a believer in the testimony of Jesus Christ or not, and that's what decides your fate. Being a Christian Anarchist isn't necessary, and I don't care if anyone else claims to be one or not. If you're a Christian, then you're a Christian. So am I.
Q: What's your advice for people who want followers?
A: My advice is to simply connect more with the people who you would like to have as followers, and with whom you share common interests.
I don't think my way is the best way for people to gain followers, because out of the 10,000+ followers I have currently, they have many different interests. If I see a good photography post for example, and resteem it, only 100 to 200 people might be interested enough to have a look. That's only 1 to 2 percent.
So if you're a photography blogger, you'd be wasting a lot of time trying to gain thousands of followers using my method, when most of them will likely never view your posts. You won't necessarily earn more money by having a lot of followers, especially if most of them don't have a strong interest in what you post about regularly.
Q: Why don't you write your own blogs? Are you not financially motivated?
A: I don't care about blogging. Never have.
When I signed up to Steemit last October, I posted 5 or 6 times to contribute something to the platform, but that was it until my recent post almost 2 weeks ago, where I offered to resteem some posts for newbies and minnows.
I'm not financially motivated for myself on Steemit, true. I'm more concerned about the success of Steemit overall. Even when I was facing complete financial ruin, I've never abused Steemit for money, ever. I never asked for help, because at the time I was going through my own personal hell, Steem was priced at 0.10, and I didn't want to be the reason for draining some of the reward pool, period.
I even offered to sell my account to someone, things had become so bad. But he talked me out of doing that and loaned me some money instead. I still owe him a big chunk of it too, because I'm still paying off my debts and I haven't caught up yet. But I will.
Q: If you're not financially motivated, what does motivate you?
A: I want to see Steemit continue to grow and for the new people on this site to experience success.
If things go well, I can envision a time where people in poor countries, including mine, will have their own community sites with their own community tokens (coming soon).
That's going to equate to real financial freedom on a large scale for a lot of people! $5 per day may not mean a lot to a person living in the USA, but I can tell you that here in the part of the Philippines where I live, many people earn only about $2.50 per day, and they work 12 hours a day to get that.
Making $5 per day is totally doable for anyone on Steemit right now, but I think it will be even better when community tokens come into play. If my understanding about community tokens is correct, anyone will be able to create a community token that will have its own price, determined by price discovery like any other token, and that can be traded against Steem, just like we currently trade Steem against Bitcoin.
That means any business, church, hobby group, organization, or whatever, can have its own Steemit-like site, and its own reward system based on Steemit's, and the members can earn money without the negatives of the current, prevailing voting behavior that has stifled some from seeing results for their effort.
Then you'll have people with much more common interests, sharing common goals within the same community, and that's what will bring in investors who also have those specific interests. I tried to bring in a Christian organization into Steemit and they declined. They saw the NSFW content, and when they scanned some of the posts in other categories, they weren't impressed.
So what motivates me is my vision for the future of Steemit and for the future communities that will benefit from it. Steemit will be the parent site and the portal to community sites.
Q: If you don't write blogs, how do people find and follow you?
A: They don't need to bother themselves with finding me. Sooner or later, I find them.
Thank you Joan for answering my questions.
Thank you also for resteeming my mom's post. I think your resteem of her post put the energy schizzle back into it, thereby allowing other people to find it. You're a real Steemian and I hope this story of you travels far and wide. You are an example for everyone.
All rewards from this post are going directly to @joanaltres. Let's take this a step further and send donations to @joanaltres. I just sent her 50 sbd, as a thank you for all the work she has done for Steemit. We can help her get out of debt, as most of us have benefitted greatly from her resteeming activities, I think it's time to show her some appreciation. Join me if you have any extra to give.
After reading about her story, I actually feel ashamed of myself. I think perhaps we have a real saint on Steemit here and I am very honored that she spent her time answering my questions. She is the Patron Saint of Steemit: Joan of Alt.