To Follow or Not To Follow - That is the Question
Every time I look at my feed, I am excited to browse though the rich content that is home delivered straight to my screen. Thus far I have managed to keep my ratio of followers and Steemies I am following at a somewhat even rate. But the numbers are misleading.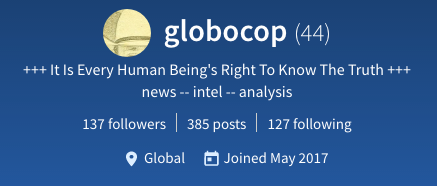 I am following creators that do not follow me back. Similarly, there are some who follow me that I do not follow back. Why is that?
Quid Pro Quo vs. meaningful Follow-Ship
Following back someone only for being followed creates in my view a false economy. What good is a post that I don't see? If I have 137 followers and receive 26 views, 7 of which engage, that's a 2 per cent success rate. Some readers may not be Steemit members, as I often promote an article externally. Let's look at a prime example: In one case, I received 1,882 views, generated 11 upvotes with a $0.07 reward and 4 replies. Mind boggeling, don't you think? I am not complaining. I am glad so many externals got to see the article, and hopefully some joined the Steemit community. But numbers can be misleading and they can promote a false economy.


Please do not upvote the post above anymore - payday for that article has come and gone.
😃
Who Wants to Be Spam?
Those whom I follow deserve Curation
How many users can we reasonably follow and give the attention they deserve? I rather follow 300 and pay attention to their work than 2,000, which are impossible to curate, even full time.
It is than only logical that I'd rather have 500 followers who value my articles than 2,000 that would hardly ever see my submissions. So far so good... please bear with me...
Would then not only my, but every single subscriber's work be watered down because of a drowning feed? Who wants to be Spam? I could not possibly be respectful of others in doing that. Perhaps, I got it all wrong, and there is a way to mass consume? If you know how, please let me know!
No Hard Feelings
This then lends itself to a real problem for both of us: The impression that I disrespect those I do not follow back. I don't. Just the opposite.
I respect those whom I follow enough to give due attention to your work, just as much as I hope my followers would.
There are many good people who follow me and I may not follow back. That gap will widen. Their content is often great. Yet I still do not follow back? Is this not hurting their feeling? It may, though I sincerely hope it doesn't. This is one reason for this post. If I don't follow back, it may just mean that the majority of your interests are not necessarily mine. If I am not interested in how cars work but I write about issues that add value beyond cars to a subscribers life, that's a natural dynamic. It is not personal. However, ignoring your post because I have put too much on my plate - that is personal. Does that make sense? Do you feel the same? Do you have a different view? I'd love to hear from you!
I see it like this: If someone is interested in @globocop content, they subscribe. If someone subscribes to my channel for the sake of a follow-back, it's for the wrong reason. The feed on either side becomes a Bulk Mail Inbox. And most stuff that lands in my email bulk folder is marked spam. Who wants to be Spam?
A Fluid Feed
The fact that I do not follow back is not a static given. Life changes. Users leave. New ones come on board. Interests change. The world develops - and so do we. Sometimes an upvote or comment and always a resteem entices me to visit that channel - and I may just follow - or follow back.
At the same time, content of channels that I do follow has changed in a way that does not lead me to engage - I unfollow so I can concentrate content that I can engage in... A 360 win, don't you think? Let me close with saying that I humbly appreciate each and every one of my followers. Thank you!
I look forward to reading your thoughts and suggestions.
ch @globocop
---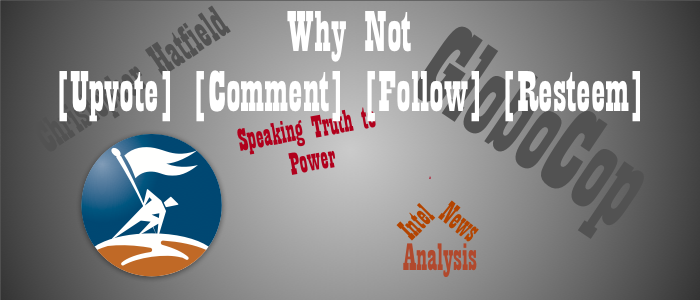 ---