According to mainstream history taught in all educational systems throughout the world, it has been settled science for about 400 years that we have known the earth to be spherical. In fact, one of the first thing you learn in the indoctrination camps to this day is the heliocentric ball earth model. This model is propped up by all forms of media, entertainment, and higher education institutions as an unquestionable scientific fact. To get people to fall for consensus science, the history we were given painted all indigenous cultures who had alternative cosmology's as savage and uneducated so nobody would look into our true past.
The fact is, we now know that the educational system and the his-story we were taught was implemented to trick us into thinking we were technologically advanced and free when we are actually the most enslaved society from what we know to be recent history.
A newspaper published in Cook County Minnesota on April 21st, 1900 shows another example proving that the timeline of our recent history we were fed was a lie and that their were always people questioning the spherical earth doctrines. The title of the article begins with, "Says Earth Is Round And He May Be Thrown Into Prison".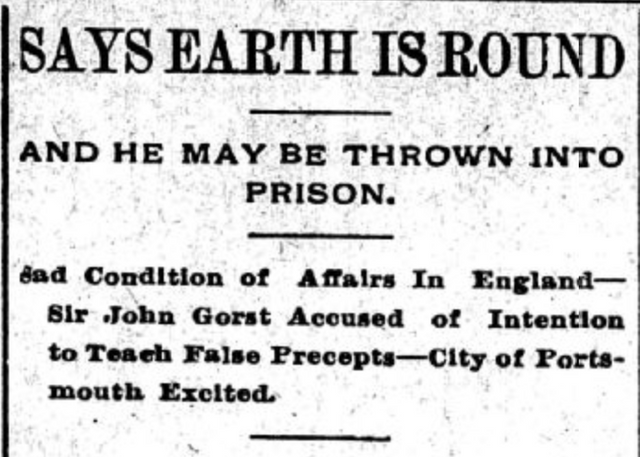 As you can see the people of Portsmouth were not very pleased with the intentions to teach the false doctrines of the heliocentric model.

The article goes on stating that they have allowed the false teaching's regarding the shape of the earth for too long and can no longer tolerate their children being corrupted with this most "heretical doctrine". Mr. Ebenezer Breach and other taxpayers were clearly aware that their children were being corrupted with false teachings and were taking a stand against the British Educational Department. Ebenezer and his friends meant business and had served a formal notice upon the Portsmouth school board that the teaching that the earth is a sphere "cannot be allowed to continue under any circumstances, plea or explanation whatever." The group was even planning on bringing the head of the educational department to court and be prosecuted under the "imposters act". Under the act, certain pains and penalties such as forfeiture of estate and even burning at the stake were involved!
We can clearly see from this historical document that entire communities just over 100 years ago were outraged with the idea of the spherical earth being taught to their children. It's most likely that they didn't get their way fighting the British Educational Department in court judging by how corrupted all public school's are today. However, I salute Mr. Ebenezer and his fellow taxpayers for looking out for their children and calling the head of the educational system out. In this day in age it seems like this would never happen because people are so hypnotized and entertained with nonsense to clearly see the sad state of affairs we are faced with.
Link To Newspaper Archive: https://newspapers.mnhs.org/jsp/viewer.jsp?doc_id=mnhi0031%2F1HMB815A%2F00042101&init_width=600&recoffset=0&collection_filter=All&collection_name=47250251-83ea-48bd-969d-14341926855f&sort_col=title&CurSearchNum=-1&recOffset=0