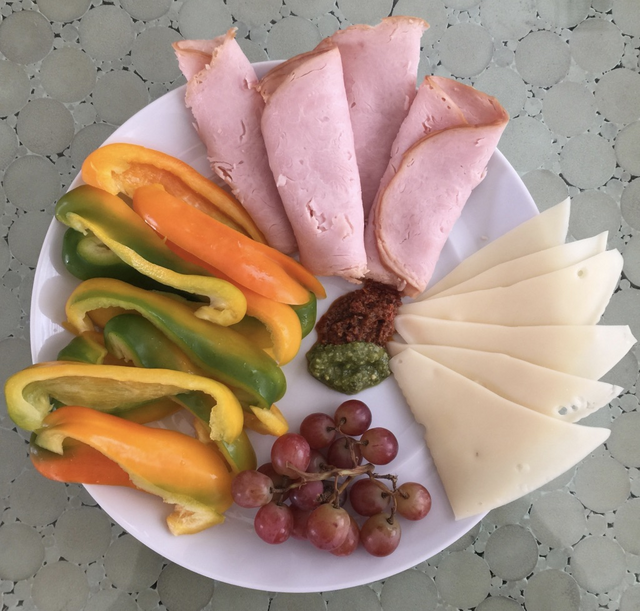 I know I say this a lot, but it's true - healthy food does not have to be complicated.
You don't need to constantly cook complicated recipes with countless ingredients in order to stay healthy and fit - sometimes it's easiest to stay on track by just throwing some things together, whether it makes a whole lot of sense as a meal or not!
If you're pressed for time, out of energy, or low on ideas, just grab what you have and throw the elements on a plate - and there you have a snack lunch!
I went this route yesterday because I'm visiting my family, and I'm not in my usual element but I wanted to keep my diet as healthy as possible while I was here...
Plus, I love snacks! No matter what they are, I just love 'em. It's more fun to eat little bites of all kinds of things than actual food sometimes - so why not make a whole healthy meal out of healthy snacks?
So my all-snack lunch plate had protein-packed lean deli turkey, some light cheese for even more protein, a whole multi-colored bell pepper sliced up, a little bit of sun-dried tomato pesto plus a little basil pesto for healthy fats and tons of flavor, and a few grapes for something sweet. It took me 5 minutes to put together and was satisfying and tasty!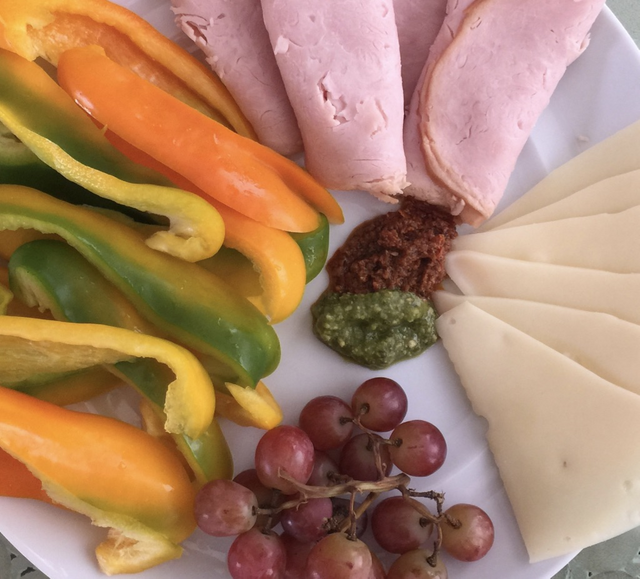 Everyone's nutrition approach will be different, of course, but my favorite way to structure a snack plate is as follows: plenty of protein, some healthy fats, something fresh (a veggie or two) and a little bite of sweet (keep it small!)...
You can always add in some more carbs if you need them, back off on the protein, or substitute other fats - basically whatever floats your boat, the possibilities are endless. Keep it simple, make it look appetizing (we eat with our eyes first, friends!), and have fun with it!
What will you put on your snack lunch plate?
Please feel free to comment, upvote, or resteem if you'd like! :)