So as you probably saw, I was able to get out of town last weekend and spent some time on the Colorado River. While there, I was able to do a little fishing, so this post will be a fishing report from last weekend.
Between watching the kids and needing to spend time with family, my fishing opportunities were somewhat limited, but I did manage a couple of fishing sessions.
I was able to go out one morning and fish a point where the river and a lagoon meet. This causes swirling waters with a deep hole where Striped Bass like to hang out. Early summer is hit or miss with the Striped Bass in this part of the river, as they migrate up from Lake Havasu, but there is no guarantee they have actually started coming upstream - often they are not even around yet. While fishing this spot for Striped bass, I saw a few trout swimming around. I didn't end up finding any Striped Bass in this spot yet, so I switched gears and went after the trout instead. I managed to catch 4 Rainbow Trout in an hour, which was surprising as the trout fishing is usually better in the winter. As it turns out, they had just done a major trout stocking on the river, which is why the trout were plentiful. Trout are good eating and these were stocked fish (as opposed to natural fish born in the river), and I ended up keeping a couple of them for dinner – here are a couple of pictures: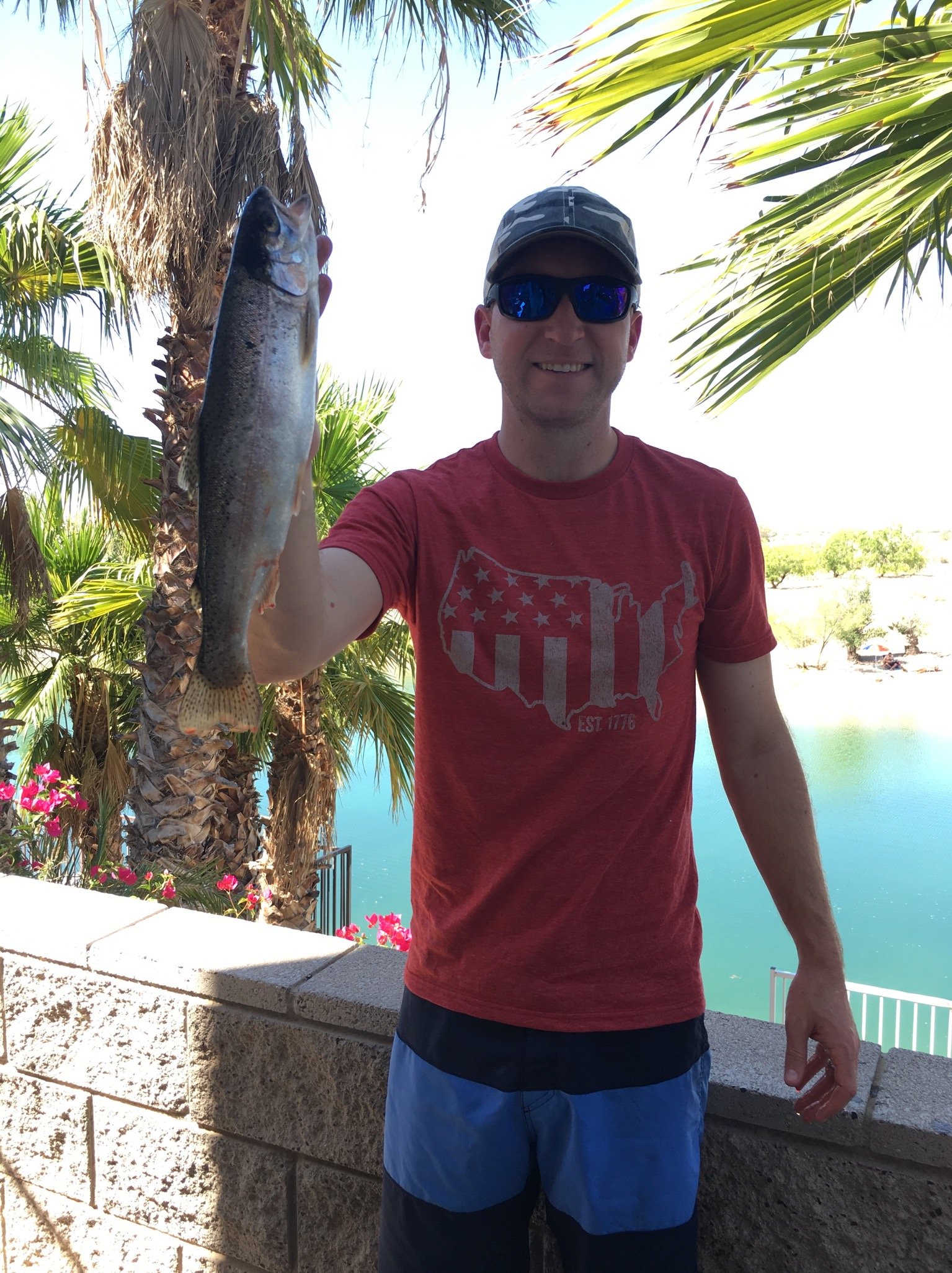 I also tried night fishing for Striped Bass when the kids were sleeping on two of the nights. It was a near full moon weekend, so there was lots of moonlight in which to see, but the fish do have a harder time finding your bait/lures at night so it is generally harder to catch a lot of fish. I ended up finding a school of small Striped Bass who kept stealing the frozen anchovies I was using. After getting a bunch of little Striped Bass stealing my anchovies, I decided to downsize my rig and catch one so that I could at least say I did not get skunked. Here is a picture:
Overall, I managed 1 Striped Bass, 4 Rainbow Trout and 1 Sunfish while out there on this trip to the Colorado River. Not a hugely successful trip, but still a fun time out on the water!
Thank you for reading!
Brian