Apocalypse and Pretzels
First Part by @f3nix
Early in the morning, in the bitey air of an unripe April, fine pearls of rain drew averted trajectories, trying to prolong their run towards the ground. The morning sunlight slipped through them, caressing their lopsided dances.
A freshly baked pretzel perfume mingled with the acrid, yet familiar note of wet tarmac. Similar to the inviting singing of a mermaid, that fragrant smelling trail traveled for blocks coming from who knows where, bringing the illusion of a tasty breakfast at hand.
On Madison, the sound of a distant pneumatic hammer, disinterested in that diaphanous moment of peace, reminded the city of its daily duties. The need to renew the infinite interweaving of order and chaos, the human sap of a monotonous and, at the same time, different becoming.
An old beggar was taking shelter from the drizzle under the entrance of the Met Breuer.
He seemed to come out of nowhere and, in a sense, gave the idea of ​​having been there forever. The shabby headgear with ear-muffs could barely contain the explosion of white hair, gathered in damp, frayed cords due to the persistent drops of aerosol. The festive and bizarre trichological chaos reigning on his head only sharpened the contrast with the fixedness of his gaze, veiled by a cataract under the crusty eyelashes. Forearms and hands rested parallel, laying on a small and unusual pink plastic banquet that seemed to have been recovered from an abandoned nursery.
In front of him, carefully lying on the small pink table, he placed a typical cardboard square. Strangely enough, where a message of help was supposed to be found, not even a "everything helps" decorated the miserable panel which, laconic and brash together, was left naked to look at the sidewalk.
None of the hasty passers-by would have ever bothered to look down at the bizarre old man but, if someone had stopped for a while, perhaps he would have noticed that his open lips uttered a constant chant, a whisper of elusive and continuous vibrations.
"Now the distortion around him has become almost visible, how much do you think it could go on?". In truth, for several hours what had happened under the gray shed had captured the growing interest of two luminescent figures, on the other side of the road. From time to time, they exchanged positions to steal each other the best view. Their feet seemed to slip soft like fog on the cold sidewalk.
"Learn about silence once and for all, Duth. Would it make sense to even just hazard a guess in front of this.. thing?".
"But how is it possible for a human to perform the Chant, or to just gather.."
"And instead, if you bothered to listen, you would have noticed that this supposed human has just added the sixth voice," the archangel interrupted him, punctuating the words as he tried to separate red pomegranate grains from their peel.
"I think we've observed enough, we do not want him to start opening a seal, do we?", he continued, trying to resume his usually compassionate tone, "We have to report about it to Metatron. Stop stalling, let's move".
The old man's eyes suddenly gnawed them, like a blacksmith's hot pincer. Duth did not even have time to finish wondering how a simple homeless had been able to identify them on the subtle plane from which they were watching him.
An Autie Anne's Pretzels van sped in the direction of East Harlem, sprinkling the city with its fragrant trail. For an instant, the driver seemed to have heard a curious song, but he didn't pay too much attention.
My Part
The old beggar makes his way inside the museum, a maze of art before him.
The assemblage resting on top of the cylindrical marble pillar is made up of a chrome-plated rabbit punctured through the belly and the back by a skeleton key, which is hung by a translucent string to the three-dimensional arch protruding out five inches. A dinosaur with spikes, the body made from tiny gold and silver gear parts and the spikes are hypodermic needles, loomed over a small vial with the white lettering of mirth etched into a dark wood beneath it. A domino piece is suspended above the dinosaur's tail. There are small hands encased within a figure eight sticking out the back holding balls crafted from wood.
The beggar twists his arm around his back to scratch an itch.
A caretaker for the museum who has a stiff lower back walks up behind him. "Sir, would you like me to take your ear-muffed hat and your damp ... rags and save them for you here until you return from your walk around the museum?"
"No. I will not be here long. I just need to find the message left to me by the angels."
The caretaker rolled his eyes because he had heard too many crazies who thought they could speak to the angels when in the same room as the statues. "Fine, sir. Just, don't touch anything." He gave one last bitter stare at the beggar and then moved on to a couple bring in a newborn baby.
The beggar follows a strong fragrant of herbs and spices along with an undertone of a mouth-watering pretzel. His eyes are caught by The Woman in a Red Chair. His whole face lights up. Genuflecting to his swollen knees, he makes a prayer hand signal and bowed his head. "My mind is ready to accept all beauty in all of its geometric shapes and it's multitude of forms."
The caretaker, who is following the beggar through the various room, is appalled by the beggar's behavior. He hurriedly scurries over to him and bends down to whisper in his ear. "Sir, this is a proper establishment. If you can't observe and follow the rules, I'm going to have to ask you to leave."
The beggar gets up when his arm gets tugged. "Isn't she beautiful?"
The caretaker looks at the man before him from head to toe. "What does a man like you know of beauty? ... Stay on your feet, do what you need to do and leave." He is again distracted by a man with a haircut in the style of flat-top and sunglasses with an air freshener in the shape of a van and red lettering saying acceptance of beauty hanging down from the top bar. "Another hooligan," he says under his breath as he walks in that man's direction.
The End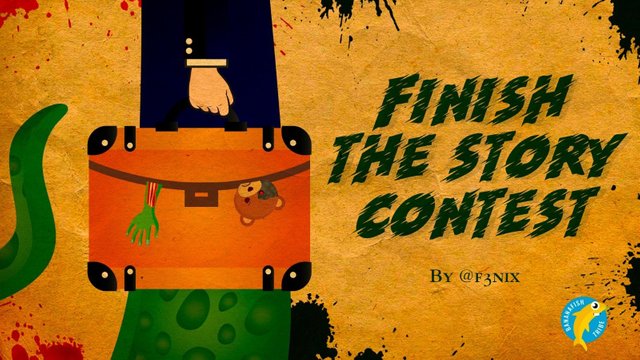 ===
If you are enjoying my work -
Upvote my posts through steem auto and add the other people and groups you would like to support.
---
---
Tools:
---
---
Ongoing Contests