About the Contest
This story is written in response to @bananafish's Finish the story contest which can be found here.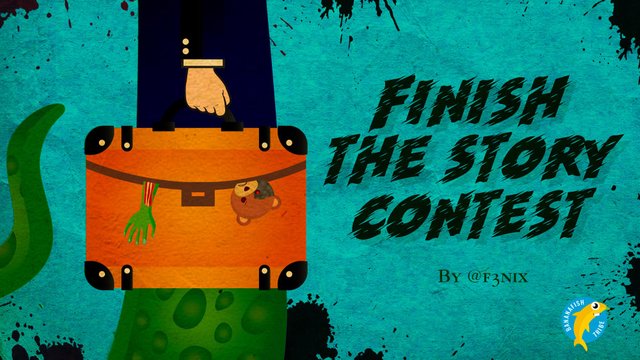 -----------------------------------------------******--------------------------------------------------
First Part (Prompt)
Condensation clung to the window, occasionally releasing a surge that cleared a path making the outside world visible. The cold white light refracted in the tiny water droplets. It was pretty, Shannon thought, as her breath spread across the cold window. 
She checked her phone, the bright screen dazzling her. Her eyes darted to the mirror. The baby didn't stir, still sound asleep in his comfortable car seat. She checked the time, the numbers read 23:46. There was no message. 
She slipped it back into her coat pocket, wrapping her fingers around each other in an attempt to bring them back to life. 
The CD stopped playing, the story finished. She pressed replay. The kid would no doubt wake up if it went silent. The story started up from the beginning. It was one she had listened to herself as a child. The narrator had a soothing voice, Shannon felt calm despite her predicament. 
She checked her phone again. Still no message. Her eyes darted back to the boy, his blond hair showing underneath his fluffy hat. His cheeks pink. His blue eyes hidden beneath heavy eyelids. 
A gloved hand rapped against the window. Shannon jumped, she quickly rolled down the window. 
A clean shaven man ducked his head down to look at her.
"You have the package?" 
His eyes glanced around the car, resting a few moments on the sleeping boy before returning to her face. 
She nodded, her heart hammering in her chest. This was the first time she had done something like this. 
She removed the key from the ignition and opened her door, the man stepped out of the way. She was not surprised to measure up as shorter than him. She fumbled with the key in her hand. She found it hard to swallow. 
"How many times do I have to do this?" Her voice shook. She wrapped her arms around herself, giving her hands something to grip onto. 
"Until you've paid what you owe." 
His voice clawed at her insides. He stepped closer, a hungry look in his eye. 
Shannon shivered. She was mentally kicking herself for getting into debt. But there was only one thing she could do now.
-----------------------------------------------******--------------------------------------------------
The Story Continues…

That one thing though threatened to damn Shannon's life forever. But what does a cornered tiger do? Tear apart the aggressor. And that's what Shannon thought she was going to do. 
Her palms were sweating. It was in stark contrast to the freezing pain her fingers felt a moment back. Her change in intent seemed to trigger her body's response too. The thawing of the palms was indicating her warming up to the idea of something nefarious.
Shannon did not have much time, and she had to do it when the man's attention was away from the car and her boy.  
"Let me crank up the engine. I don't want Dylan to get up." 
"What? Yeah," the man was least interested.  
Shannon opened the driver side door, reached for the glove box and got her Smith and Wesson out. All the while Dylan was in his angelic sleep probably chiming to the rhythmic beats of the music. Shannon, on the other hand, was trembling with the weight of the weapon and what she intended to do. 
Surprisingly, the man was tearing the parcel in his hand and did not even mind checking on Shannon. From experience, he must have thought that nothing was out of place — a fatal mistake.
Shannon took one last look in the rearview mirror. She saw no lights around and took two deep breaths. It was now or never. The door opened with an audible grunt indicating the lack of grease. The adrenalin rush was frighteningly nerve-wracking. She remembered Daniel Craig in the movie James Bond mentioning that while firing you need to counter for the adrenalin rush. Shannon had no clue why she remembered that now, but more than a million thoughts were rushing down her brain-way. She wanted to waste no more time. 
"Bang Bang." Dylan jumped out of the sofa. "We got daddy. We got daddy." 
"Dylan, how many times should I tell you not to shout before your part." Wendy was angry. "Mom we will never go through the entire part like this." 
"He is just a kid, Wendy. We will do it again," Shannon intervened. 
"And how many more times do I die?" Steve turned around on the carpet and Dylan jumped on his father.
"I don't know, dad. I want to get this done. If I don't get the detective episode done by next week, it is a clear "B-" or worst still "C"." 
"Com' on now, that's not how my daughter speaks." Steve was supportive.  
"I hope so, dad," Wendy was tired reshooting the entire episode multiple times on her Galaxy S10.  
"We will get it done this time," Shannon said. "Let's go. Narrator, please start." 
Wendy switched on her camera for recording and started the narration. "Condensation clung to the window….." 
-----------------------------------------------******--------------------------------------------------
Image Courtesy: OpenClipart-Vectors / 27429 images at Pixabay